It has been an incredibly volatile day for the Valeant stock price. VRX stock jumped more than 15% to $31.59 this morning (Monday) after the pharmaceutical giant announced sweeping changes to its board.
Valeant Pharmaceuticals International Inc. (NYSE: VRX) shares were briefly halted after the news broke. When trading resumed, Valeant stock plunged. Ten minutes into today's session, the Valeant stock price was down 1% to a new 52-week low of $26.
But shortly after 11:00 a.m., the Valeant stock price was once again up 7% on the day.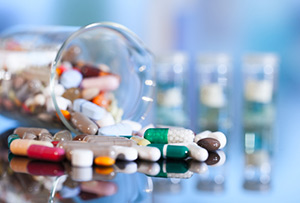 Just after 10 a.m., more than 31 million shares had changed hands. Average daily volume is 13.5 million.
While the stock is posting huge gains today, there is one clear way to play Valeant stock in 2016. But before we get to that, here's the news that is driving the Valeant stock price higher today…
The company announced today that it has initiated a search for a new CEO to succeed J. Michael Pearson. Pearson will continue to serve as CEO and a director until his replacement is appointed.
"It's been a privilege to lead Valeant for the past eight years," Pearson said in a statement. "While I regret the controversies that have adversely impacted our business over the past several months, I know that Valeant is a strong and resilient company, and I am committed to doing everything I can to ensure a smooth transition to new leadership."
Valeant also announced that Bill Ackman, CEO of Pershing Square Capital Management LP, will join its board of directors, effective immediately. Ackman's firm has a 9% stake in Valeant. He will be joining Pershing Square's Vice Chairman, Stephen Fraidin, on the board.
Since the maximum size of Valeant's board is fixed at 14 directors, Katharine B. Stevenson voluntarily resigned from the board to create a vacancy to permit Ackman's appointment.
Valeant is in the process of restating financial statements for 2014 and 2015. The restated financial statements will be included in the company's annual report (10-K) for the year ended Dec. 31, 2015. Valeant intends to file its 2015 annual report with the U.S. Securities and Exchange Commission and the Canadian Securities Regulators on or before April 29, 2016.
Valeant has identified misstatements that would reduce previously reported FY2014 revenue by approximately $58 million. Net income should also be reduced approximately $33 million, while basic and diluted earnings per share should be slashed by $0.09. A substantial part of the earnings impact of these misstatements will reverse in the first quarter of 2015. These misstatements would reduce Q1 2015 revenue by approximately $21 million.
Valeant believes that after the restatement, it will have remained in compliance with all of the financial maintenance covenants in its credit facility at the end of each affected quarterly period.
As reported in a March 15 preliminary earnings call, Valeant could also receive a notice of default under its bond indentures because of its delayed filing. If Valeant doesn't file its 10-K by March 30, there will be a default under the credit facility.
Worries of a default contributed to the 61.2% crash in the Valeant stock price last week. Over the last six months, the VRX stock price is down 87.58%.
Last week, Valeant also reduced its 2016 revenue outlook to $11.1 billion from $12.6 billion. Plus, it slashed its EPS outlook to $10 from $13.50. That was another factor in the Valeant stock price crash.
That huge drop has some investors wondering if the Valeant stock price is presenting a good discounted entry point. Here's how Money Morning experts recommend handling Valeant stock…
How to Play Valeant Stock in 2016
The key problem is that Valeant's business model is flawed. That's something Money Morning been warning investors about since summer 2015.
Money Morning Global Credit Strategist Michael E. Lewitt saw the Valeant stock drop coming. Back on Oct. 4, Lewitt described Valeant as a "deeply troubled company" and warned that the company's troubles were just beginning.
Lewitt said the company is "emblematic of just about everything that's corrupt and toxic in today's market."
He cited Valeant's practice of bankrolling acquisitions with junk bond financing, firing most of its employees, and hiking the prices of the drugs it had just purchased the rights to.
"Valeant's predatory business model places it at a disadvantage with investors because it depends on inflicting harm on people to make money," Lewitt said. "The bottom line is that Valeant is getting what it deserves. This predatory business model has enriched management and a bunch of hedge funds but has left everyone else with whom the company has come into contact severely damaged."
Money Morning Defense & Tech Specialist Michael A. Robinson says Valeant has become an "industry pariah." Investigations into sales and distributions "call the company's core operations into question, along with the steadiness and integrity of its leadership."
While Valeant is taking steps to right itself, it has a long road ahead. It has abandoned its controversial yet once profitable business model. And the $9 billion market cap company is sitting on $30 billion of debt.
It will take a while to determine if there is any value left in its assets. That's why we remain bearish on Valeant stock in 2016. It's best to completely avoid Valeant stock for the rest of 2016.
Stay informed on what's going on in the markets by following us on Twitter @moneymorning or liking us on Facebook.
The Essential Guide to Buying Gold and Silver: Precious metal investing is widely regarded as the best "crisis insurance" for your portfolio. This guide gives you everything you need to know about the best stores of value in history, gold and silver. Read more…
Related Articles: