The Red Dragon government is not happy about a treaty reached between the United States and the Philippines last Friday...
The agreement allows for a "rotating" U.S. military presence on five Philippine bases in the South China Sea.
China believes this kind of presence is tantamount to "militarization."
U.S.-Philippine cooperation should "not be targeted at any third party nor harm other nations' sovereignty or security interests," China warns U.S. officials, picked up by Reuters yesterday.
But the security of all the nations affected is part of the larger South China Sea dispute. You see, the Red Dragon claims as its own most of the waters and resource-rich archipelagos surrounding neighboring countries like Malaysia, the Philippines, Taiwan, and Vietnam.
These smaller, far less powerful nations believe those waters and territories, however, belong to them.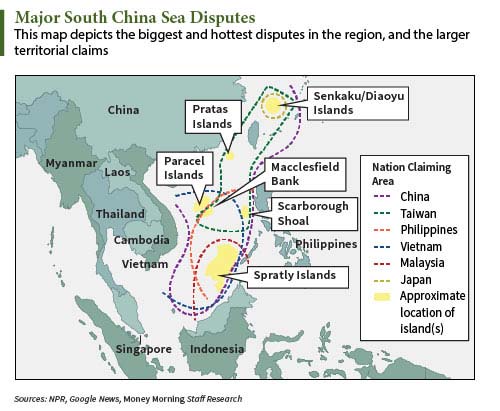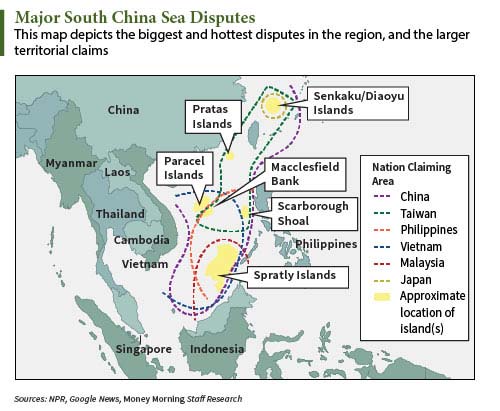 China's warning didn't stop at cautioning the United States against moving into what China deems its rightful territory...
U.S.' Presence in South China Sea - It's Tough to Describe
China went on to admonish the United States for double-speak.
"I also want to point out that recently the U.S. military likes to talk about the so-called 'militarization' of the South China Sea," Chinese Foreign Ministry spokeswoman Hua Chunying said at a conference held yesterday, according to Reuters. "Can they then explain, isn't this kind of continued strengthening of military deployments in the South China Sea and areas surrounding it considered militarization?"
In other words, Hua admitted that the Chinese government believes the U.S. boasts about "militarizing" the South China Sea stateside -- while denying such is the case to China.
The United States has increased its military presence in the area, but it maintains that it has done so neutrally. U.S. officials say America will take no sides in the South China Sea dispute; it simply wants to ensure "free navigation" through the various maritime territories. (Trade routes in the South China Sea are among the busiest worldwide. Therefore, the extra military presence is to guarantee that these busy routes remain unblocked and in full operation.)
Thus far, China has not obstructed these trade routes; at least, not yet.
But it is beginning to look more and more like a blinking contest in the South Pacific.
For up-to-date information on the South China Sea dispute - including how it affects your investments - follow us on Twitter @moneymorning, or like us on Facebook.
The Chinese Economy Is Not Out of the Woods: The New Year started with sharp declines in the Chinese stock market that spooked investors around the world. In recent weeks, conditions appear to have stabilized -lending rose in China by 67%, iron ore prices rallied by 64%, and housing sales in China's top four markets also surged. The yuan also regained about half of the 7% it had lost against the U.S. dollar since November. But the news is not all good...
Related Articles: