Cancer is of course one of the most challenging pathologies patients and doctors can face; the disease cells are fiendishly adaptive as the body tries to fight them off, making them stronger.
Until very recently, medicine's best shot at fighting cancer was to bombard the patient with harsh, poisonous chemicals or radiation in the hope that the illness died before the body.
But science is poised to turn the page on this disease, with some novel breakthroughs in the past few years, and new therapies that show a great deal of promise in fighting previously intractable cancers, making some of these deadly diseases treatable or even curable.
In fact, it's immuno-oncology, the newest form of immunotherapy, that's making the fastest strides.
Wall Street concurs. According to Allied Market Research, the immuno-oncology market has been growing at a solid 7.1% annual clip since 2014, and it's expected to hit $110 billion by 2020.
My read on this is: That's a very conservative number. I'll show you how big I think it's actually going to be, but that's not even the best part…
You see, this company's therapy hasn't even made its full impact yet, but it's already paying one of the richest dividends on the market, and for value, it's unbeatable…
This Kind of Investing Was Impossible a Few Years Ago
According to Forbes, the current traditional oncology treatment market is well on its way to $150 billion (a 50% jump in just the past year) in the next year or so. And RNR Research projects that immuno-oncology therapies will make up 60% of this market, or about $90 billion in the next five years.
But, even if growth rates and market share stay flat – which they certainly won't – I think we're looking at a $200 billion global market in the next few years. The reality is likely to be a lot bigger.
What's more, immuno-oncology is just the jumping off point for these therapies.
As with many drugs, pharmaceutical companies find a specific condition that they can build drug trials around – a path of least resistance. Once the drug clears the trials and is made available to the public, the pharma firm can then expand its use to other conditions.
For example, in the case of immunotherapies, once one passes muster for, say, a specific type of melanoma, the company can then apply to have the use expanded to other cancers and eventually to other autoimmune diseases, like Crohn's disease or rheumatoid arthritis.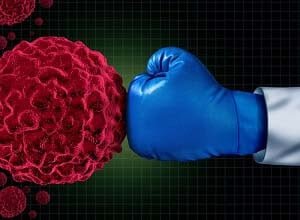 Since the original trials have to prove the drug to be safe and effective, it's much easier to get the drug through other approval processes after the initial approval is done.
One company that embodies the exciting opportunities in this new world is Adaptimmune Therapeutics Plc. (Nasdaq ADR: ADAP). This UK-based firm is one of the growing number of biopharmaceuticals – compounds that are built or synthesized from biologic or synthetic-biologic sources.
It wasn't easy for a small company like this to make it…
A few years back, there was a significant court case where it was determined that pharmaceutical companies could not patent naturally occurring biological properties. Before that landmark decision, big pharma was building patent portfolios of naturally occurring substances, from neem trees to turmeric to T-cells.
But the ruling meant that small firms could now use all biologics, which opened the floodgate to new research in a variety of fields, but especially immunotherapy companies.
Another massive development was the ability for computing power to help develop modeling and analysis significantly faster than it ever had before.
Now, in the lab, genetic sequencing for custom immuno-oncology treatment takes a mere six weeks. That's a customized cancer treatment for each patient… in a month and half.
Frankly, that's a stunning testament to how significant immunotherapy is now and will be in coming years.
So it's in this favorable environment that Adaptimmune does its pioneering work with T cell receptors. T cells are the body's immune infantry; its first line of defense against any foreign entities.
You see, the main challenge with many cancers is they build cells that the T cells don't recognize as cancer, or the T cells can't attach to kill or interrupt the cancer cells.
There are now two competing (and complimentary) therapies that are showing impressive results in animal and human testing. One is transgenesis and the other is "CAR-T." The former focuses on inserting an exogenous gene into a cell (a cancer cell) and changing the nature of that cell and making it reproduce the new activity. The latter is using chimeric antigen receptors to allow T cells to bind to cancer cell receptors and access their DNA to disrupt their growth.
Both therapies mean significantly less need for radiation or chemotherapy. And that in turn means patients with healthier immune systems to supply T cells.
To be sure, Adaptimmune is one of the top players in transgenesis – but there's a much better way to play this.
Our Best Investment in This Space
The problem is, for as impressive as Adaptimmune's immunotherapy is, it's a one-trick pony at this point. It will live or die depending on how well it keeps up with big pharma and the many other focused biotechs in the field.
What's more, smaller biotechs don't have the network or resources to sell and manufacture their therapies globally.
That's why the best way to play this is through a big-cap pharma company. They're more diversified, and once the smaller firms have built successful therapies, they will simply step in and buy them.
We're just in time, because that's exactly what GlaxoSmithKline Plc. (NYSE ADR: GSK) is doing to Adaptimmune right now. In early February, GlaxoSmithKline announced that it was expanding its strategic immunotherapy collaboration with Adaptimmune.
GlaxoSmithKline will help Adaptimmune on its synovial sarcoma trials and will bring its extremely powerful R&D resources to bear in a collaboration on at least eight other studies of Adaptimmune's transgenesis technology.
It takes big-cap pharma resources to be able to pull that off.
What's more, GlaxoSmithKline is big enough to cut deals with major CAR-T players like Merck & Co. (NYSE: MRK) and work on complimentary therapeutics using both transgenesis and CAR-T.
That's incredibly exciting news, but GlaxoSmithKline's shares are electrifying right now. This is one of the best pharma bargains on Wall Street. It's half the price of the S&P 500, but delivers three times the dividend, paying an astronomical 5.9%.
And compared to its competitors Pfizer Inc. (NYSE: PFE) and Merck, it's extremely undervalued. Pfizer has a price/earnings ratio of 26 right now; Merck's is 33. GlaxoSmithKline's P/E is is below 8.
GlaxoSmithKline is a great buy now on its own, for its current drug library that includes Advair, Flonase, Levitra, Valtrex, Wellbutrin, Zantac, and a host of others, to say nothing of its diverse and lucrative consumer healthcare product lines.
But… GlaxoSmithKline is an even better buy to ride the revolution in immunotherapy; buy up to $48 for the long term.
Follow Michael on Facebook and Twitter.
Join the conversation. Click here to jump to comments…
About the Author
Michael A. Robinson is one of the top financial analysts working today. His book "Overdrawn: The Bailout of American Savings" was a prescient look at the anatomy of the nation's S&L crisis, long before the word "bailout" became part of our daily lexicon. He's a Pulitzer Prize-nominated writer and reporter, lauded by the Columbia Journalism Review for his aggressive style. His 30-year track record as a leading tech analyst has garnered him rave reviews, too. Today he is the editor of the monthly tech investing newsletter Nova-X Report as well as Radical Technology Profits, where he covers truly radical technologies – ones that have the power to sweep across the globe and change the very fabric of our lives – and profit opportunities they give rise to. He also explores "what's next" in the tech investing world at Strategic Tech Investor.