CEO Mark Zuckerberg's recent trip to China is potentially a huge growth catalyst for the FB stock price in 2016.
On March 18, Zuckerberg shared a post announcing he was happy to be back in Beijing. He started his visit with a run through Tiananmen Square and met with Alibaba Group Holding Ltd. (NYSE: BABA) Chairman Jack Ma.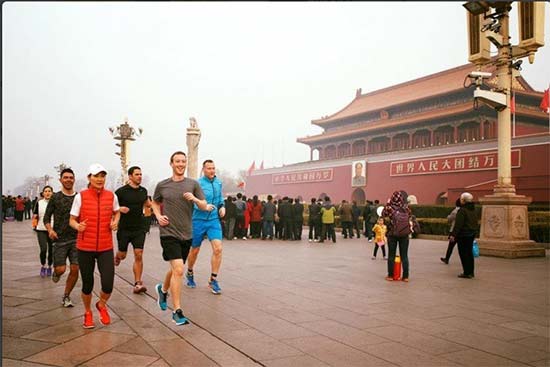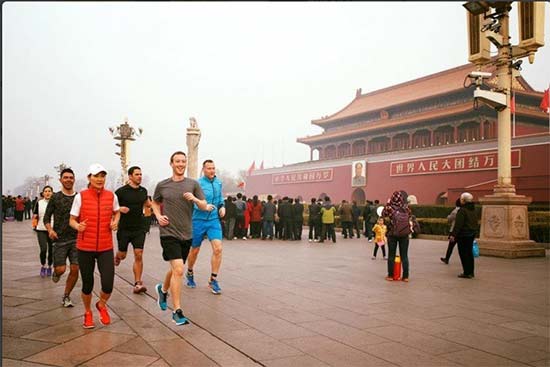 But his most important visit was with China's Propaganda Chief, Liu Yunshan…
You see, Facebook Inc. (Nasdaq: FB) is blocked in China right now. According to The New York Times, Facebook is missing out on advertising to roughly 700 million Chinese Internet users, which some estimate could be worth more than $65 billion…
Before we get to that major catalyst, I want to make sure Money Morning readers know exactly why the FB stock price has been volatile in 2016, despite strong Q4 2015 results.
After reporting $5.36 billion in revenue on Jan. 27 (a 51.68% increase from the previous year), the Facebook stock price opened at an all-time high of $115.27 on Feb. 3. But less than a week later, FB opened at $97.14 per share on Feb. 9. That's a 15% loss in a matter of days.
During this time, fears of a global stock market crash were heightened. Extremely volatile oil prices, China's economy growing at its slowest pace in 25 years for 2015, and the U.S. Federal Reserve not ruling out negative interest rates made investors question the strength of the American economy.
These are still issues, but investors are slowly trusting the markets again. Over the last month, the Dow Jones Industrial Average has climbed 7.22%, and the S&P 500 is up 6.45%.
Facebook stock isn't immune to bearish markets, as we've seen this year.
But the company's strong fundamentals, and major catalysts like the one we found in China, will continue to send the Facebook stock price skyrocketing…
The FB Stock Price Ready to Soar Off of $65 Billion Catalyst
As of November 2015, 74% of Facebook's total revenue came from advertising, according to data provider Statista.
So any revenue growth for Facebook will be directly tied to its advertising growth.
Facebook currently has 1.59 billion monthly active users (MAUs), which is the largest user base of any social media site. But the company is still looking to add users, and that's why Zuckerberg has his sights set on China.
Right now, China is a completely untapped market for Facebook. But analysts estimate it could be worth over $65 billion in value to Facebook…
One way analysts determine value for social media companies is the worth per user. To do this, you divide a company's market cap by the users it has. Facebook has a market cap of $322.32 billion with 1.59 billion MAUs. That currently places the value of each Facebook user at $202.71.
If Facebook added China's 700 million Internet users to its MAU totals, that would add another $65 billion in value to Facebook's market cap.
But what if Facebook can't add every single Internet user in China to its network? According to China Daily, LinkedIn Corp. (NYSE: LNKD) had 10 million users in China as of July 2015. Even if Facebook only added 10 million users from China, that would still bring the company an additional $2 billion in user value.
That shows the incredible upside China could have on the FB stock price. And before this deal even takes place, the Facebook stock price is currently trading at a discount…
Morningstar consensus estimate data shows the average estimate for the Facebook stock price is $138 per share. FB opened at $112.01 today, which means it's trading at a 23% discount.
But that estimate might be too cautious…
Money Morning Defense & Tech Specialist Michael A. Robinson believes FB stock could trade as high as $250 per share by 2020. For even more reasons why we think the Facebook stock price can skyrocket even further, watch the video below…
The Facebook stock price will skyrocket once China lifts its ban. But there are three other growth catalysts you need to know about. Watch the video to learn more…
Jack Delaney is an associate editor for 
Money Morning
. You can follow him on
Twitter
 and follow 
Money Morning
 on 
Facebook
.
A Market Crash as Bad as 2008: Governments were desperate for answers back in 2008 when the world's financial system was on the brink of a total meltdown. So they did what they do best – they threw money at it. That saved the day back then, but created a bigger, more insidious problem that is very close to again undermining the global markets. The fuse on this economic dynamite is very close to the ignition point…