Emerging markets are the best way to get the kind of explosive growth that the United States hasn't offered since Harry S. Truman lived in the White House.
The 23 economies of the MSCI Emerging Markets Index represent a full 13% of world market capitalization. These economies can and often do surge by double digits each year, offering windfall profits to investors with the intestinal fortitude for volatility.
But today, I'm going to introduce you to a place you won't find on the MSCI Emerging Markets Index, though considering what just happened, it likely won't stay off for long. In fact, until just a few months ago, it was pure poison for investors.
But everything has changed structurally and politically, and this country's economy is about to go on a bull run for the history books.
And with so much room to run, it would be criminal to miss out on the potential gains here. It likely won't be long before global growth investors start pouring in, so let's get started now...
Everything That Could Go Wrong, Did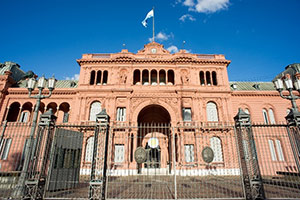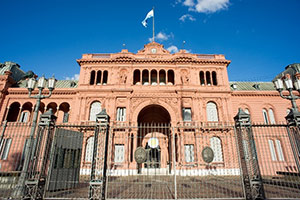 A hundred years ago, someone who struck it rich would be called "as rich as an Argentine."
It's easy to see why. At the time, Argentina was, per capita, the fourth-wealthiest nation on earth. Its free-market orientation, robust international trade and immigration, and booming agricultural sector meant the average Argentinian saw their wealth multiply...
...and so it went until the global economy tanked in the Great Depression. Like many countries, Argentina's politics were swept up by the rise of fascism.
It was all downhill from there.
1946 brought Juan Perón who, along with his wife and de facto "co-president" Evita, nationalized every significant industry and controlled everything he could - including the press.
By the time the United Kingdom defeated Argentina in the 1982 Falklands war, and the ruling military junta collapsed, the country had for decades lurched between the destructive extremes of the far right and the far left.
But the return to democracy didn't go much better, as the country was ruled largely by a succession of democratically elected, populist kleptocrats whose policies wrecked the economy.
The massive, all-pervading government interference (and theft) caused virtually every possible economic disaster to come down on Argentina at one point or another: hyperinflation, depression, currency collapse... anything you'd care to think of.
For instance, the Argentine peso collapsed toward the beginning of the 2000s. Most Argentinians rightly didn't trust their government or their banking sector as far as they could throw them, so they began buying every U.S. dollar they could and withdrawing as much as a billion dollars a day in the process.
That bank run caused the government to severely limit cash withdrawals, which, naturally, killed business - who had no cash with which to do business. A few months later the peso was devalued by 30%, and soon dollar accounts were outright converted to pesos. Accessing even that suddenly worthless cash was still highly restricted.
Over $80 billion in sovereign bonds were defaulted on as the economic crisis took its toll.
Then it got worse...
The country became notorious for near-perpetual default, stiffing creditors the world over. Néstor Carlos Kirchner was elected in 2002, and his wife, Cristina Fernández de Kirchner, succeeded him in 2007. Both used the country's wealth as their own private piggy bank. By some estimates, Fernández de Kirchner may have helped herself to as much as $10 billion.
This environment led to soaring inflation and mass capital flight, which was made worse when President Fernández de Kirchner hijacked a controlling interest in YPF SA (BCBA: YPFD), Argentina's largest energy company.
But YPF was also owned by Spanish energy giant, Repsol. When those assets were seized, the country's economy was practically radioactive for foreign investment.
By 2013, the government was pursuing consulting firms in court for criminal "speculation" if they dared to publish inflation data that didn't agree with government reports.
But then... it got better. A lot better.
Finally, fed up Argentinians have voted for a sea change in their most recent national elections.
Renewed Hope... and Double-Digit Profit Potential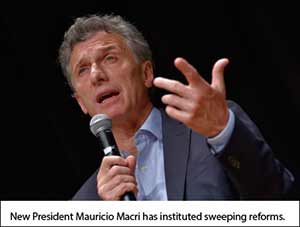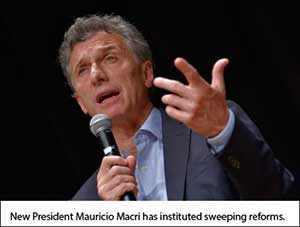 On Nov. 22, 2015, Argentina elected a conservative businessman, and former Buenos Aires mayor, Mauricio Macri as president.
This is a real change in the country's politics; since 1916, all Argentina's non-military, democratically elected presidents have come from either the Socialists' Radical Civic Union party, or the Peronists' Justicialist party. Elected under the country's first experiment with ballotage, Macri is the first ever from neither party.
One of Macri's first actions was to devalue the peso to bring it in line with "actual" rather than "official" exchange rates. While initially detrimental to locals, in the longer term it will attract foreign capital and boost exports as well as the wider economy.
Macri also promised to initiate large scale free-market changes. In just his first two weeks, he eliminated farming quotas, rolled back a majority of agricultural export taxes, and cut personal income taxes. Further, he liberalized energy prices, raised interest rates, and axed thousands of public sector workers.
Earlier this month, Macri even decided to declare a "national statistical emergency." The government statistics agency is in such disarray, its numbers are considered completely untrustworthy.
Argentina's also intent on reopening its mining sector for business. Miguel Morley, president of the Argentine-Canadian Chamber of Commerce, recently affirmed that it's open to foreign investment in the sector.
Not so radioactive anymore...
The country even looks close to finally settling its long-outstanding sovereign debt issue with holdout creditors.
It's a totally fresh approach for the country, with some stiff challenges... but huge opportunities for investors.
The (Double) Bottom Is Already In
With Macri now at the helm, Argentina's future is looking brighter than it has in a long, long time.
Contrast that with its large neighbors, and you'll see what I mean.
Venezuela, for one, is an economic and political basket case. First under Hugo Chávez and more recently under Nicolás Maduro, things have gone from awful to horrific. Venezuelans live with constant, crippling shortages of basic goods and food staples, thanks to overregulated prices.
The government's response has been to install fingerprint scanners to limit purchases.
When he died three years ago, Chàvez was worth $2 billion. It can't be a coincidence that today his daughter Maria is the richest woman in the nation, worth an estimated $4.2 billion.
Though it once sported enviable growth, Brazil, Argentina's largest trading partner, is not much better. Despite being reelected last year, President Dilma Rousseff oversees one of the worst-performing currencies and economies in Latin America, not to mention some grave corruption scandals.
For its part though, Argentina has likely already hit rock bottom, and things are going to improve from here.
It's already started...
The Best Way to Play Argentina's Turn for the Better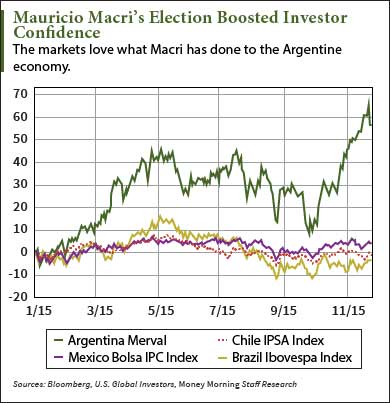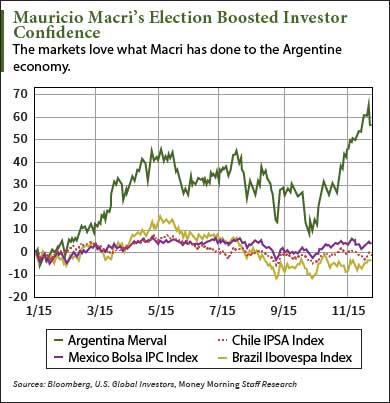 Over the three-month span preceding Argentina's November elections, its Merval Index climbed an astounding 30% as the market discounted a probable win by Macri.
But this is likely just the beginning.
Macri's drastic improvements to Argentina's legal and economic landscapes mean it should thrive going forward, making it the most attractive market in Latin America.
And the best way to play this trend is through the Global X MSCI Argentina Fund (NYSE Arca: ARGT).
The ARGT fund holds a number of the largest Argentine public companies across a variety of sectors, including basic materials, consumer cyclical, financial services, real estate, utilities, communications, and energy, with names like Tenaris SA (BCBA: TS), Mercadolibre Inc. (Nasdaq: MELI), YPF SA (BCBA: YPFD), Adecoagro SA (NYSE: AGRO), and Telecom Argentina SA (BCBA: TECO2)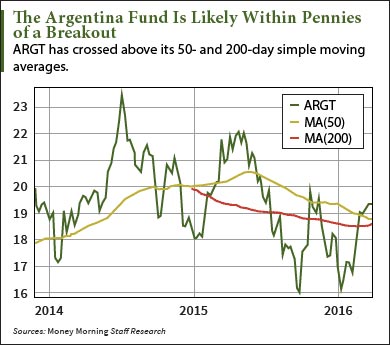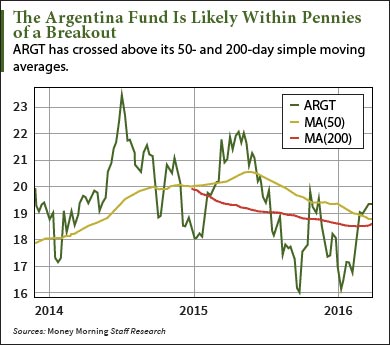 It appears that ARGT has put in a double bottom, first in late September and again in late January. I suggest you watch for a breakout above $20, which is just 3.75% from current levels. If ARGT can sustain a close above $20 and gains momentum to move higher, that will be your cue to add Argentina to your portfolio.
Now we'll have to watch closely to see whether Argentina's sickly neighbor economies of Venezuela and Brazil can turn the tide by seeking leaders who disavow corruption.
And maybe, just maybe, some of Argentina's future success will rub off.
For now, it's your chance to become "as rich as an Argentine."
Follow Money Morning on Facebook and Twitter.
U.S. Election Spending Could Fuel a 420% Gainer: Mauricio Macri's recent election could turn Argentina into the most attractive market in Latin America, but the United States has its own pivotal election happening right now, and with billions of dollars to be spent between now and November, there are fortunes to be made... if you know where to look. Keith Fitz-Gerald has found the one company that's perfectly positioned to deliver gains of up to 420% as campaign spending ramps up, with 92 TV stations across every battleground state. Click here for all the details, and receiving all Keith's Total Wealth research free.
Join the conversation. Click here to jump to comments…
About the Author
Peter Krauth is the Resource Specialist for Money Map Press and has contributed some of the most popular and highly regarded investing articles on Money Morning. Peter is headquartered in resource-rich Canada, but he travels around the world to dig up the very best profit opportunity, whether it's in gold, silver, oil, coal, or even potash.