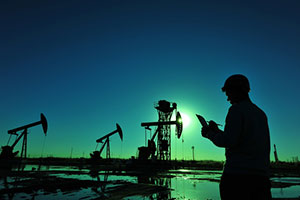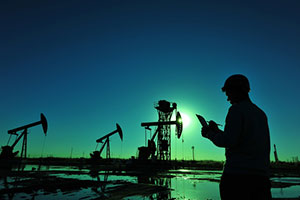 Yes, it's difficult to find a good crude oil stock to invest in during this low oil price environment. Although West Texas Intermediate (WTI) crude oil prices are up 19.3% over the last month, they're still trading near $40.10 - roughly 39% below the 52-week high of $65.39.
But that doesn't mean you should avoid the oil sector altogether. In fact, we've found one crude oil stock that boasts not only upside potential in this volatile price environment, but also one of the strongest dividends in the energy sector.
But before we get to the best oil stock to buy now, we want to point out the type of crude oil stock you should avoid in 2016. Because it's the type of oil stock that many investors are turning to right now...
Stay Away from These Dangerous Crude Oil Stocks Now
It's important to avoid investing in "Big Oil" companies while prices are this low.
You see, massive corporations like BP Plc. (NYSE ADR: BP), Chevron Corp. (NYSE: CVX), and Exxon Mobil Corp. (NYSE: XOM) rack up huge operating costs. That's because they operate countless gas stations, refineries, and other facilities in nearly every country in the world. Exxon - the world's largest independent energy company - owns 10,399 gas stations in the United States alone. That doesn't even include refineries and other facilities.
This huge number of locations leads to sky-high operating expenses, which is the last thing a company needs when a barrel of oil costs about the same as an electric razor. These high expenses can increase debt levels and threaten a company's credit. In fact, Exxon's $35 billion in net debt has started rumors that the firm is about to lose its cherished AAA S&P credit rating.
According to Money Morning Global Energy Strategist Dr. Kent Moors - an oil industry veteran with over 40 years of experience advising U.S. and Russian energy agencies - the best crude oil stocks to buy right now are non-Big Oil refining firms. These are the ones that are heavily involved in both domestic distribution operations and export markets. That means they don't deal with the less profitable areas of the production process, like well drilling.
"You see, unlike earlier cycles, your returns won't be coming from a rise in aggregate oil production," Moors said on Feb. 29. "Rather, you're going to profit (at least initially) from the usage of supply already out of the ground."
That's why we think this crude oil stock will be a strong addition to your portfolio in 2016...
One Crude Oil Stock to Buy in 2016
One of our top oil stock picks this year is Phillips 66 (NYSE: PSX).
Phillips processes and refines oil and other petrochemical products. It merged with Conoco to create ConocoPhillips (NYSE: COP) before being spun off as its own company in 2012.
[mmpazkzone name="in-story" network="9794" site="307044" id="137008" type="4"]
Most of Phillips' revenue comes from its "downstream" services. These include refining, chemical production, and marketing. Refining services turn oil into consumable products like gasoline and petroleum, while marketing services sell these refined products to retailers.
Refining is the main source of revenue for oil companies when the WTI crude oil price is $40. Since gasoline always has high demand, cheap oil also makes it cheaper for refineries to make more gasoline and turn a profit.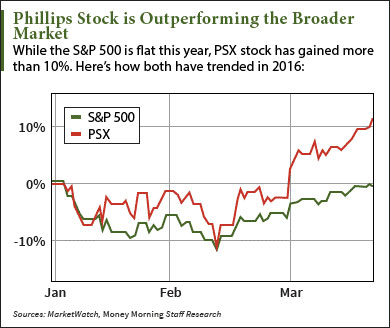 That's one of the reasons why PSX has outperformed Big Oil stocks lately. Shares of Exxon and BP are down 1.9% and 24.8% since last March, while Phillips is up 12.1%.
Those gains have also outpaced the broader markets, as the Dow is down 3.4% in that same time.
Plus, the company constantly beats earnings estimates. Phillips has beaten EPS expectations for the last six quarters. It also made $99 billion in revenue last year despite the 36% crash in oil prices.
Phillips is one of Money Morning Chief Investment Strategist Keith Fitz-Gerald's favorite energy picks. Fitz-Gerald - a seasoned market analyst and professional trader with more than 30 years of experience - likes the refining stock because its consistent profitability comes from its insulation from price volatility. Since it makes most of its money from refining rather than production, the company's profit isn't directly influenced by low prices.
"It doesn't drill for oil or natural gas, which means it's not as vulnerable to sustained low oil and gas prices as other oil companies are," said Fitz-Gerald.
Analysts surveyed by Thomson/First Call have an average price target of $91.83 for PSX, but have one as high as $105. That high target would be a gain of 19.2% from its current price of $88.06. That's a solid forecast considering the firm's revenue is expected to grow 39% to $130 billion this year.
Not to mention PSX has a fast-growing dividend policy. Since the company's formation in 2012, its quarterly dividend has nearly tripled from $0.20 per share to $0.56. It currently offers a 2.6% yield.
Alex McGuire is an associate editor for Money Morning. You can follow him on Twitter at @AlexMcGuire92.
Like us on Facebook: Money Morning
The Shocking Forecast for Oil Prices in 2016... It's no surprise that oil prices took a nosedive last year. In fact, WTI crude fell nearly 40% in 2015. But there are a number of forces working together right now that will make prices more than double their current value. Here's our precise reading for oil prices in Q3, Q4, and beyond...