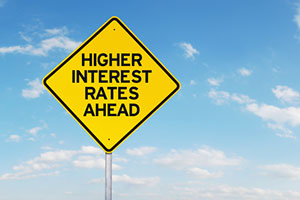 We don't know when the U.S. Federal Reserve will raise interest rates, but we can be ready with the best stock to buy ahead of time.
The Fed decided last Wednesday to delay raising rates - which wasn't a surprise.
"What happened Wednesday is another very deliberate move in a long string of moves that's designed with one intention and one intention only - to manipulate markets," said Money Morning Chief Investment Strategist Keith Fitz-Gerald.
Also not surprising - the Dow Jones Industrial Average finished up 349 points for the remainder of the week.
But with investor sentiment hinged on the Fed's every move, the next Fed rate hike could reverse the market gains we've had this year. When the Fed last raised rates in December 2015, the Dow tanked 8% from January to mid-February.
Many believe there's a strong chance of a rate hike in June, although the next Fed meeting is in April. And the pressure is on Fed Chair Janet Yellen. Four of the 17 members of the Federal Open Market Committee disagreed with her dovish statements at last Wednesday's meeting, with one saying the Fed should "get on with" rate hikes, according to CNBC.
You can protect your portfolio from another downturn by grabbing the best stock to buy before the next Fed rate hike. This top stock has a proven history of long-term growth that's perfect for enduring market downturns.
But before we get to our stock pick, let's look at how the Fed's policy moves typically affect the markets' performance.
How the Fed Influences the Markets
A new research report from Brian Barnier, a principal at ValueBridge Advisors, suggests that 93% of all U.S. stock growth since 2008 has been linked to the Fed.
Since 2008, U.S. equity growth has been primarily driven by the Fed.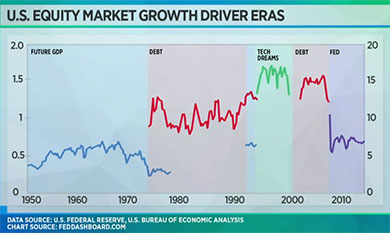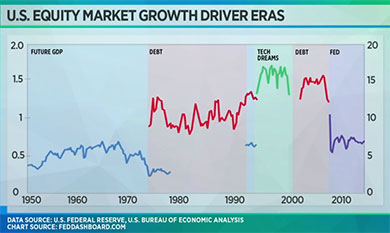 Barnier analyzed all publicly traded stocks since the 1950s and divided the total value of stocks by other economic factors. He did this until he found the factors that produced a causal relationship with U.S. equity growth.
While no financial model is perfect, Barnier's model shows us how increasingly the Fed - not a healthy economy or corporate growth - dictates share-price growth (or a lack thereof). The past eight years of the Fed's zero-interest-rate policy have given us the longest bull market run since World War II. And now, as the Fed moves to take ZIRP away, the markets are vulnerable to a reversal.
Barnier quantified the suspicions that many investors have had for years. As seen in the chart above, while other factors like future GDP, non-profit liabilities, and open market papers had an impact on the markets in the past, their influence has been muted since 2008.
Now that we've seen how the Fed moves the markets, let's look at the best stock to buy to continue finding growth even after the Fed hikes rates...
The Best Stock to Buy Before the Next Fed Rate Hike
Our best stock to buy for a post-Fed rate hike environment is Lockheed Martin Corp. (NYSE: LMT).
Created from a merger between two aerospace companies in 1995, Lockheed Martin is one of the world's leading corporations in the aerospace, defense, security, and technology industries.
During the last Fed-incited market downturn earlier this year, LMT beat the S&P 500 by an average of 5.5%. And at $220 as of Tuesday's close, Lockheed is up almost 2% year to date.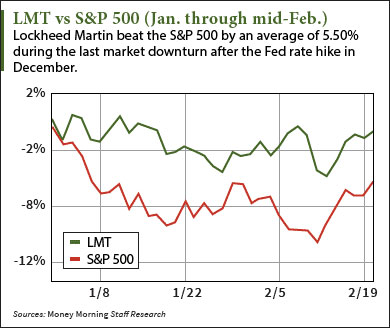 One factor that makes Lockheed one of our best stocks to buy is it has long been recognized has a growth machine, even during unstable economic recoveries. Since 2008, it has gained over 250% to where it sits today. That's over $100 per share higher than the price it was averaging right before the Great Recession.
Lockheed benefits from the $580 billion annual U.S. defense budget that our politicians are reluctant to reduce, according to Fitz-Gerald.
Unlike most other companies, Lockheed's extensive work with the U.S. and foreign governments means that its profit margins are "baked in" at 7.8%, according to Fitz-Gerald. In other words, by working with governments, Lockheed has an almost guaranteed demand for its services. That ensures it maintains a strong profit margin, even when times get tough.
As the world gets more dangerous, Lockheed profits. And - sad but true - it looks like times are only getting worse as tensions in the Middle East and terrorist threats escalate.
Another reason to consider Lockheed as a best stock to buy for rate hike protection is because of its dividend, which it has raised every year since 2003. The $0.12 quarterly dividend it had in 2003 is now $1.65. That's an increase of 1,275% in 13 years. Lockheed's current dividend yield is 2.98%.
"Management has a history of dramatically increasing payouts," Fitz-Gerald said in support of Lockheed Martin stock. "Plus, the company is tapped into what I like to call an Unstoppable Trend - War, Terrorism, and Ugliness. That's one of the biggest Unstoppable Trends of all."
The average EPS estimate of 21 analysts for December 2017 is $13.67, up 15% from this year. Using LMT's current price/earnings ratio of 19.36, Lockheed Martin stock could reach $264 per share by December 2017, a 20% gain.
That's a solid forecast considering Lockheed's nearly 9% projected sales growth this year. Also keep in mind - you can be more certain Lockheed will reach its price target than other stocks. That's because Lockheed is a value stock. It's heavily driven by solid financials - not speculation. That's a business model that's built to last in a time where monetary policy dictates the mood of the markets.
Tweet the author @cgsaucier, or leave a comment on Money Morning's Facebook page.
The Gold Mining Revolution: Technological advancements in gold mining have been stagnant, but one tiny Canadian company is about to change that. Its special extraction method will slash production costs and send gold prices soaring. In fact, this nano cap could disrupt the entire industry...