The "Internet of Things" (IoT) market is growing at an alarming rate. According to Cisco Systems Inc. (Nasdaq: CSCO), the market will bring in as much as $14 trillion in profits over the next several years.
That's why we've pinpointed one of the best tech stocks to buy in this revolutionary market.
But before we get to this top tech stock to buy, here's why the IoT market is growing so rapidly...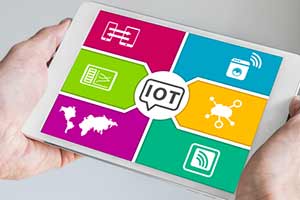 IoT is the network of physical objects -- devices, vehicles, buildings, and other items -- embedded with electronics, software, sensors, and network connectivity that enable these objects to collect and exchange data.
"When you think of 'connected' devices, you probably picture your smartphone... or maybe your tablet," Money Morning Defense & Tech Specialist Michael A. Robinson said. "But that's just the start. You see, the coming wireless revolution will go far beyond those handheld mobile devices."
By 2020, we'll be using 50 billion connected "things" worldwide.
"I'm talking about connected cars, factory robots, thermostats and household appliances, vending machines, industrial tractors and plows, warehouse forklifts... well, everything." Robinson said.  "And in order to make this revolution possible, our wireless Internet is going to have to get faster - much, much faster."
What will get us up to speed is a new superfast wireless ecosystem known as 5G.
"Once this huge breakthrough in mobile communications takes hold, the wireless Internet will run up to 50 times faster than existing 4G connections," Robinson said.
With 5G, a movie download on a smartphone will be completed in seconds instead of minutes.
A premier tech strategist and investor, Robinson has been searching for a way to play this huge growth market and generate gains. What he has found is one of the best tech stocks you can buy today...
One of the Top Tech Stocks in the $14 Trillion IoT Market
One of Robinson's favorite tech stocks is Crown Castle International Corp. (NYSE: CCI).
Based in Pittsburgh, Crown Castle is a wireless infrastructure provider of towers, antenna systems, and rooftop sites. And the company has racked up an amazing track record of success in a relatively short amount of time.
The firm started in 1998 with just 908 towers. That figure today has swelled to more than 40,000, making it the largest provider of "shared wireless infrastructure."
Crown Castle leases its towers and other infrastructure sites to several wireless carriers (such as Verizon and AT&T) at the same time, meaning they share.
"It's like several corporations renting space in the same office building," Robinson explains. "And it means that no matter what happens with 5G standards, equipment, transmission frequencies, and the like, Crown Castle stands to gain."
Industry analysts say the nation's existing cell towers won't be able to host all the gear needed to make the migration to 5G.
"That's good news for Crown Castle as well, as it develops and leases more tower and rooftop sites," Robison said.
The company has invested heavily in making sure it can offer high-speed mobile bandwidth.
To date, Crown Castle laid down at least 16,000 miles of fiber-optic cable needed to keep up with the growing demand for more cell connections and high-bandwidth applications like mobile video.
There's more for investors to like about Crown Castle besides the potential for significant growth...
This Top Tech Stock Pays an Excellent Dividend
Crown Castle offers investors a stable and attractive dividend as well.
The company recently completed its transition into a real estate investment trust (REIT). A REIT must pay out 90% of its taxable income to its shareholders, which are known as unit holders.
Crown Castle has a forward dividend of 4.1%, or 80% more than the S&P 500.
"That yield doesn't take into account the fact that Crown Castle also offers superior returns," Robinson shared. "Over the past two years, the stock has gained 13.3%, or 53% more than the S&P 500. You can expect those kind of returns to keep rolling in."
At $85.58, shares are up 11.46% over the last six months. Deutsche Bank rates Crown Castle "Buy," with a $98 price target. That means they think CCI has room for another 15% gain. In February, Goldman Sachs added Crown Castle to its coveted Conviction Buy List.
CCI stock won't return explosive gains in the short term, but profits and dividends will regularly flow. And you'll have less volatility with CCI than some other tech stocks.
Stay informed on what's going on in the markets by following us on Twitter @moneymorning or liking us on Facebook.