You'd hardly consider the daily paper to be a pioneer in cutting-edge technology.
Sure, most papers maintain a strong online presence - and some are even true innovators.
However, most daily papers are slowly dying - and plenty are already kaput.
So, it comes as a surprise that Gannett Co. Inc. (NYSE: GCI) - the publisher of USA Today and more than 90 other daily papers - is leading the way in a brand-new tech sector. The USA Today Network will be the first media company to broadcast a regularly scheduled news show in virtual reality (VR).
Set to launch in the spring, "VRtually There" shows how VR technology is on the verge of mass adoption.
And the virtual reality market could be worth $150 billion by the end of this decade.
It's already being adopted by video-game developers, film studios, and TV broadcasters.
And as VR develops, it's going to disrupt healthcare, education, manufacturing, and other huge sectors.
Now, I've found a high-tech leader that's poised to benefit from VR's rapid growth in all these areas.
Take a look...
From the Vanguard to Mainstream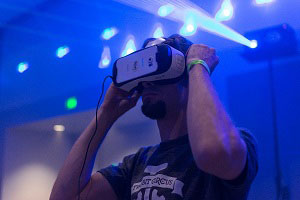 Now then, "VRtually There" won't be the first VR news report. The New York Times, Wall Street Journal and Sports Illustrated have all produced VR reports.
But those were all one-offs. Those publications have yet to invest the kind of time and resources needed for a regular TV broadcast.
I believe Gannett's commitment shows that we're at a precipice - VR still feels like an exciting new technology... but it's about to become as ubiquitous as tablets and video-game consoles.
This year marks the debut of several new VR headsets for a mass consumer market.
Facebook Inc. (Nasdaq: FB) is launching the Oculus Rift VR headset today, along with 100 games that can be played on the device. The debut comes exactly two years after Facebook acquired tech startup Oculus for $2 billion.
But VR isn't just about games. Facebook believes the new immersive experience will underpin the future of social media, enabling consumers to interact in incredibly futuristic ways.
Sony Corp. (NYSE ADR: SNE) is now taking pre-orders for its own headset, PlayStationVR. The world leader in gaming consoles will begin by integrating many of its titles into the headset. But analysts expect it to add other entertainment applications soon.
Samsung Electronics Co. Ltd. (KRX: 005930) recently launched GearVR with an entry level price of just $99. Designed for its Galaxy line of smartphones, GearVR allows users to play games and stream video from Hulu and Netflix.
Though it isn't selling a headset, Alphabet Inc. (Nasdaq: GOOGL) is building the base for a big push into the field. The firm recently named Clay Bavor as head of VR - a new position. Bavor already has had great success as the development chief for Gmail and Google Docs.
That tells me Google sees a market that's set to explode.
Research firm Digi-Capital predicts VR sales will be reach $150 billion by 2020. That's up from basically zero just five years ago.
Clearly, a lot of money is up for grabs.
How to Grab It
At the dawn of a new industry - like where we are now with VR - tech investors ought to consider a play that targets the whole industry rather than try to handicap the winners and losers.
That's where Intel Corp. (Nasdaq: INTC) comes in. This Silicon Valley chip leader is investing heavily in the field and could reap billions from VR and augmented reality ("smart glasses") in the next few years.
Just three weeks ago, it bought Dallas-based startup Replay Technologies Inc., which is already working with professional sports leagues to provide 360-degree VR views of replays. Replay's technology is tricky, requiring the synchronization of 28 different high-definition cameras - and a whole lot of high-speed chips from Intel.
Intel, whose co-founder and longtime CEO Andy Grove passed away earlier this week, has added to its VR arsenal by making at least two investments in Avegant. That startup makes Glyph stereo headphones, which integrate with VR.
Intel has also has invested in startup Eyefluence, which develops eye-tracking technology used for virtual and augmented reality.
Based on the company's investments as well as the sector's potential, Intel seems to be particularly interested in augmented reality (AR). This is a field that will disrupt multiple industries - from auto and aircraft manufacturing to delivery and logistics to maintenance and engineering.
AR glasses work great on the factory floor or in delivery vehicles by giving wearers value-added, visually displayed data on the go through wireless connections.
In January 2015, Intel invested $25 million in small-cap leader Vuzix Corp. (Nasdaq: VUZI). That firm has won a string of awards for its AR eyewear targeted at industrial customers.
I believe these moves into the AR end of the market make huge economic sense. Turns out, Digi-Cap says, AR sales will reach $120 billion in the next five years.
Meantime, Intel also is developing AR and VR technology in its own RealSense division. Along the way, Intel has shrunk its core processor technology so a chip will fit on eyeglass frames.
It then paired those chips with three display units: a 1080p high-definition camera, an infrared camera, and an infrared laser projector. Those cameras and chips are designed to create a sense of "vision" that will far exceed the capabilities of the human eye.
This is becoming familiar ground for Intel. Last summer, it acquired Recon Instruments for a reported $175 million. Recon makes a set of glasses that gives athletes all the vital data they need while running, cycling, or skiing.
And all these moves point up another very important aspect about Intel. Beyond VR and AR, the company is moving aggressively to reduce its dependence on chips for the declining PC market.
Beyond Intel Inside
The firm has revamped products and introduced new ones designed to add sales in smartphones and tablets, wearable technology, cloud-computing data centers, and Internet of Everything sensors.
Indeed, Intel partnered with Micron Technology Inc. (Nasdaq: MU) in July 2015 to introduce a new computer memory device with broad applications throughout the global tech ecosystem.
Known as 3D XPoint, the memory chip operates at speeds of up to 1,000 times faster than conventional computer memory. Intel says it's geared for PCs but could be applied to other platforms, like gaming consoles and data center servers - not to mention VR.
Intel stock closed yesterday at $31.88, giving it a market cap of $148.55 billion. The stock offers shareholders a 3.2% dividend and is in a nice rebound. Since bottoming out on Feb. 11, Intel has gained nearly 13%.
Thus, this is a company that gives us nice stability along with a solid yield in a low interest environment.
VR is not, as the new USA Today show puts it, "VRtually There" - it's arrived.
That makes Intel a seamless way to invest in the about-to-explode VR market with a single stock you can count on for income and appreciation for years to come.
Follow Money Morning on Facebook and Twitter.
Why This Indicator Is a Bullish Sign for the S&P 500: We like to be ahead of the Street. This chart, which shows how the market has crossed another critical bullish threshold, can help you get out ahead. Very few people are talking about this year - and that makes it a big opportunity for you...
Join the conversation. Click here to jump to comments…
About the Author
Michael A. Robinson is a 36-year Silicon Valley veteran and one of the top tech and biotech financial analysts working today. That's because, as a consultant, senior adviser, and board member for Silicon Valley venture capital firms, Michael enjoys privileged access to pioneering CEOs, scientists, and high-profile players. And he brings this entire world of Silicon Valley "insiders" right to you...
He was one of five people involved in early meetings for the $160 billion "cloud" computing phenomenon.
He was there as Lee Iacocca and Roger Smith, the CEOs of Chrysler and GM, led the robotics revolution that saved the U.S. automotive industry.
As cyber-security was becoming a focus of national security, Michael was with Dave DeWalt, the CEO of McAfee, right before Intel acquired his company for $7.8 billion.
This all means the entire world is constantly seeking Michael's insight.
In addition to being a regular guest and panelist on CNBC and Fox Business, he is also a Pulitzer Prize-nominated writer and reporter. His first book Overdrawn: The Bailout of American Savings warned people about the coming financial collapse - years before the word "bailout" became a household word.
Silicon Valley defense publications vie for his analysis. He's worked for Defense Media Network and Signal Magazine, as well as The New York Times, American Enterprise, and The Wall Street Journal.
And even with decades of experience, Michael believes there has never been a moment in time quite like this.
Right now, medical breakthroughs that once took years to develop are moving at a record speed. And that means we are going to see highly lucrative biotech investment opportunities come in fast and furious.
To help you navigate the historic opportunity in biotech, Michael launched the Bio-Tech Profit Alliance.
His other publications include: Strategic Tech Investor, The Nova-X Report, Bio-Technology Profit Alliance and Nexus-9 Network.