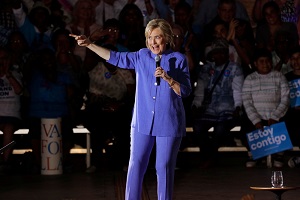 Easter Sunday this year brought us news of an egg hunt we've long been familiar with: the Hillary Clinton FBI probe.
Clinton admitted to using a private email server during her tenure as secretary of state. Since 2013, the server was stored at a data center in New Jersey. Its unsanctioned use prompted an FBI counterintelligence investigation that began in July 2015.
Since then, the Hillary Clinton email scandal has become a black mark on the Democratic front-runner's 2016 presidential election run.
And now, the FBI's probe has entered a new phase, The Los Angeles Times reported on Sunday: It's time for one-on-one interviews with FBI officials to commence...
Sign up for SMS so you never miss special events, exclusive offers, and weekly bonus trades.
"The interviews are critical to understand the volume of information they have accumulated," said James McJunkin, former head of the FBI's Washington field office, according to The Los Angeles Times. "They are likely nearing the end of the investigation and the agents need to interview these people to put the information in context. They will then spend time aligning these statements with other information, emails, classified documents, etc., to determine whether there is a prosecutable case."
No dates have been set for questioning the advisors. However, a federal prosecutor called Clinton's lawyers, as well as those of her aides, in recent weeks to alert them of upcoming interviews. Clinton herself is expected to be sought after for an interview, reported The LA Times, though no specific date on that has been released.
Clinton and her supporters maintain that she did nothing wrong.
But the Inspector General for the U.S. Intelligence Community expressed concern to the Justice Department last summer that classified information that may have been stored on Clinton's private server may have been "compromised."
That's what triggered the FBI investigation in the first place...
We've been bringing you the latest news about the Hillary Clinton FBI probe since it first broke. Keep up with us on Twitter @moneymorning or Facebook.
Related Articles: