The broader markets were mostly flat last week, but the best penny stocks on the market all posted double-digit gains. In fact, one of these penny stocks climbed almost 50% in just four trading sessions.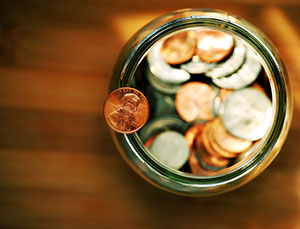 It's those double-digit gains in just a matter of days that draw investors to the best penny stocks...
While the best penny stocks can bring huge profits, most penny stocks are extremely volatile. That's why Money Morning experts advise that penny stocks should only represent a small percentage of your portfolio. And one penny stock should never account for more than 2% of your investing capital.
Money Morning Chief Investment Strategist Keith Fitz-Gerald says the key to finding the best penny stocks in 2016 is the same as finding any other stock to buy. You need to perform the proper research, have the right risk tolerance, and maintain perspective.
At Money Morning, we focus primarily on penny stocks listed on major exchanges like the NYSE and the Nasdaq. That's because they are less risky than penny stocks trading on the Over-the-Counter market or the Pink Sheets.
While they are slightly more expensive, they still offer the potential for substantial gains over a short time frame. And they're much less risky.
Here's our list of penny stocks to watch this week...
The 5 Best Penny Stocks to Watch This Week
Best Penny Stocks No. 5: American Realty Investors Inc. (NYSE: ARL) engages in the acquisition, development, and ownership of residential, hotel, and commercial real estate properties. Shares across the hotel sector were active last week because of the bidding war for Starwood Hotel & Resorts Worldwide Inc. (NYSE: HOT). Marriott International Inc. (NYSE: MAR) improved its offer for Starwood after Chinese AnBang Insurance Group made a move for Starwood. Most of ARL's properties are located in Dallas, Texas. Real estate in the oil-rich state has been hit hard by the precipitous fall in energy prices, but ARL shares have weathered the market. ARL ended last week at $5.09, a 22.4% gain.
Best Penny Stocks No. 4: Can Fite Biorphara Ltd. (NYSEMKT ADR: CANF) is clinical-stage biopharmaceutical company based in Israel. It develops small molecule therapeutic products for the treatment of autoimmune inflammatory, oncological, and ophthalmic diseases. In January, CANF announced several 2016 clinical milestones for its drug pipeline. Some of its biggest breakthroughs were phase 3 submissions in Europe for its trial rheumatoid arthritis and psoriasis treatments. The company also completed phase 2 patient enrollment in a liver cancer study. Additionally, CANF released a glaucoma phase 2 data report and filed a phase 1 study with the FDA for its sexual dysfunction treatment. On March 17, CANF announced it submitted to the European Medicines Agency a protocol design for its phase 3 trial and registration plan for its lead compound CF101 in the treatment of rheumatoid arthritis. The global trial is expected to commence in Q2 or Q3 2016. CANF closed last week at $2.93, up 23.1% for the week.
Best Penny Stocks No. 3: NQ Mobile Inc. (NYSE: NQ) provides mobile Internet services in the People's Republic of China and internationally. Products and services include mobile security, privacy, productivity, personalized cloud, and family protection. The company is in the midst of divesting part of its mobile unit. Investment firm Rosenblatt has a "Buy" rating on NQ, with a $13 price target. The firm cited NQ's upbeat outlook, including solid Q4 2015 earnings and NQ's robust guidance for FY2016. NQ shares ended last week at $4.88, a 29.8% weekly gain. Year to date, shares are up 35.44%.
Best Penny Stocks No. 2: Centrus Energy Corp. (NYSEMKT: LEU) supplies low-enriched uranium (LEU) for commercial nuclear power plants globally. Based in Bethesda, Md., Centrus was founded in 1951. Shares rose last week on much-improved earnings and some insider buying. Monday, the company announced a new $32.2 million U.S. Centrifuge Technology Advancement contract with an operator of the U.S. Department of Energy. Under terms of the agreement, Centrus will continue to perform engineering and testing work to preserve and advance U.S. uranium enrichment technology to support future national security and energy security needs. Shares ended last week at $3.21, a 33.2% gain. Shares added more than 10% Monday to $3.84.
Best Penny Stocks No. 1: MER Telemanagement Solutions Inc. (Nasdaq: MTSL) is an Israel-based company that provides telecommunications expense management (TEM) solutions for enterprises. The company also provides billing solutions for information and telecommunication service providers worldwide. Shares of the thinly traded company jumped more than 60% last Tuesday following much improved Q4 results. Revenue rose 10.5% quarter over quarter, while video advertising rose 45%. The company also said it inked several new long-term customer contracts in 2015. MTSL shares ended last week at $1.15, up 46.60%.
Stay informed on what's going on in the markets by following us on Twitter @moneymorning or liking us on Facebook.
What the World's Leading Energy Insiders Fear Most: There's a crisis brewing in America's oil fields that's not unlike the 2008 credit crunch. Soon, it's going to spread to the rest of the world. The fallout won't be pretty, but don't worry. You'll be prepared - and ready to play it for some gains...