Former Republican nominee Mitt Romney's name was seldom uttered by the mainstream media after his loss to U.S. President Barack Obama in 2012.
But now he's reemerged in force. Not as a nominee in election 2016 — but as a harsh critic of GOP presidential front-runner Donald Trump.
It began in late February, when Romney demanded that Trump release his tax returns in a Twitter tirade: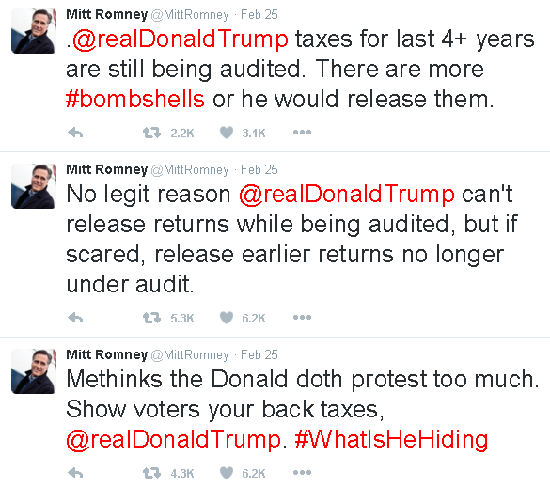 Next, Romney blasted Trump in a televised speech that aired on March 3. He called the real estate mogul a "phony" and a "fraud." He implored the nation's Republicans to unite against the candidate.
On March 22, Romney released a wave of robo-calls supporting Texas Sen. Ted Cruz for the GOP presidential nomination. Once again, he asked GOPers to help him "defeat Trump."
And now, the former governor of Massachusetts is power-brokering his way to the Republican National Convention this summer — at the behest of another Trump rival, John Kasich…
Mitt Romney in the Middle
You see, "Team Kasich" has asked Romney to broker a back-channel deal with Ted Cruz, according to CNN late last night. The pact would involve hashing out a plan to present a united front against Trump from now until the Republican National Convention on July 18.
Of course, Romney was more than happy to oblige…
However, it looks like Team Cruz isn't interested in joining forces.
Kasich campaign adviser John Weaver told CNN that Romney did, in fact, urge Cruz campaign manager Jeff Roe to contact the Kasich campaign.
But Roe has yet to do so.
Roe told CNN that he did speak with Romney, but declined to discuss further details of their secret conversation.
One likely reason for the Cruz campaign's hesitancy to help Kasich has to do with the fact that Cruz has long maintained Kasich's "spoiler status" in the GOP presidential race. The Ohio governor takes votes away from him, alleges Cruz, not Trump.
Meanwhile, Romney is now seen as favorable by just 28% of Republican primary voters, according to a Public Policy Polling survey released today. A startling 62% of GOP primary voters view him unfavorably, the poll found, while 10% said they were not sure.
Is Mitt Romney's emergence this election cycle helping or hindering Donald Trump? Tell us on Twitter @moneymorning or Facebook.
That's Weird. Why Did This Money Come with a Note That Says "Be Quiet"? A Ted Cruz super PAC made a curious donation back in June 2015. It gave half a million dollars to former tech executive Carly Fiorina's super PAC, Carly for America. Super PACs that explicitly support a candidate almost never give in support of other rival candidates. That's why the donation was such a mystery…