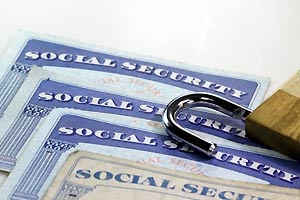 Waste, fraud, and abuse.
These are the words Republican front-runner Donald Trump used in the Feb. 13 GOP debate to describe the current state of the Social Security Administration (SSA). He vowed to "take care of" these problems within the administration, alluding in particular to Social Security fraud and elderly individuals. Trump pointed out that thousands of people over one hundred years old are currently collecting Social Security benefits.
"Now, you know they don't exist," the real estate mogul said. "They don't exist."
Trump is right. According to Social Security's Office of the Inspector General (OIG), there are as many as 6.5 million Social Security numbers linked to people over the age of 112. However, as of Sept. 20, 2015, the Gerontology Research Group had confirmed only 44 people age 112 or older were living…
in the world.
Even more worrisome than the missing death information is that 66,920 of the 6.5 million Social Security numbers belonging to these purported supercentenarians had been used to commit identity theft.
In fact, upwards of $3.1 billion in wages was claimed with their information between 2006 and 2011, according to OIG.
Thanks to non-updated information in the Social Security Administration system, one particular fraudster had even used the same SSN a whopping 613 times before he was caught.
This kind of Social Security fraud isn't an anomaly, either…
There are literally thousands of cases reported every year. Tens of thousands.
Here's a look at three of the most outrageous examples of Social Security fraud "we the taxpayers" have had to foot the bill for…
Three of the Most Outrageous Social Security Fraud Schemes
Social Security Fraud No. 1: The Deceptive Granny
On Nov. 25, 2015, 73-year-old Eva J. Allen was indicted for forging documents to continue collecting both Social Security and Ohio Public Employees Retirement System (OPERS) pension benefits in the name of a relative who was actually deceased.
Allen began receiving these benefits way back in 1991 and continued for nearly 23 years. The total of fraudulent payments granted to her was estimated to be more than $650,000 from OPERS and more than $290,000 from Social Security.
Allen enjoyed nearly $1 million in combined illicit SSI and OPERS pension benefits before she was finally busted by the feds.
Social Security Fraud No. 2: The Greedy Assets Manager
On April 11, 2012, Matthew Hutcheson of Eagle, Idaho, was arrested by the FBI for 17 counts of wire fraud and 14 counts of theft. Hutcheson was a trustee and fiduciary for three individual wealth management firms: G Fiduciary Retirement Income Security Plan, the National Retirement Security Plan 401(k), and the Retirement Security Plan and Trust. People could combine their SSI with their personal savings and assets via these firms to grow their wealth.
Hutcheson defrauded the SSI-infused plans. He misappropriated more than $5 million in assets.
According to the indictment, from January 2010 to December 2010, Hutcheson misappropriated approximately $2 million of G Fiduciary Retirement Income Security Plan assets for his personal use. During this time, he extensively renovated his own home, purchased luxury automobiles and all-terrain vehicles, and repaid personal loans with the filched cash. On 12 occasions, Hutcheson even directed the plan's record keeper to make wire transfers of plan assets from an account at Charles Schwab to bank accounts controlled by Hutcheson and to other bank accounts for his personal benefit.
When people requested information about the location and status of their plan assets, Hutcheson misrepresented that they were safely invested.
Social Security Fraud No. 3: The High-Rollin' Faker
In one of the largest fraudulent single disability compensation claims in Veterans Affairs history, the VA and the SSA found that one man – Dennis Paulsen – had swindled about $1.5 million in Social Security claims.
After being diagnosed with multiple sclerosis and discharged from the Navy in the early 1990s, Paulsen began receiving a monthly VA benefit. Unsatisfied with the amount he was receiving, he then began a pattern of malingering by claiming MS had rendered him unable to use his hands or feet in any respect. Still unhappy with the money he was awarded, Paulsen ramped up his claims, presenting himself as wheelchair-bound and lying to his doctors about not feeling better.
At the same time, Paulsen used the same impairments to convince the SSA that he was entitled to Social Security disability benefits, which he eventually received.
Paulsen was finally caught, however, when someone grew suspicious of the way he was living.
You see, Paulsen resided in a non-handicapped accessible home. In his downtime he liked to ride his motorcycle and play baseball.
Big changes should be made to SSA's antiquated records systems. But soon, they'll instead change the Social Security code itself. For more information on how to take advantage of what's available to you now – including 11 loopholes about to be nixed from the books – click here…
Follow us on Twitter @moneymorning or like us on Facebook.