We've found the best gold ETF for investors to buy in 2016 as the price of gold continues to outpace the markets. Gold prices are up 16.53% year to date, compared to a gain of just 1.6% for the Dow Jones Industrial Average in the same time.
And we see the price of gold continuing to beat the market in 2016. But before we get to our favorite gold ETF for 2016, here's how gold prices are trending…
After rising $15.70, or 1.29%, to $1,235.60 an ounce on Tuesday, gold prices were mostly flat Wednesday. Dovish comments from U.S. Federal Reserve Chair Janet Yellen have been the catalyst for gold prices this week.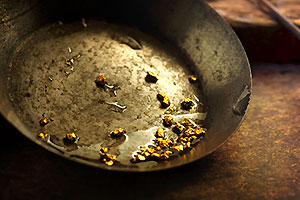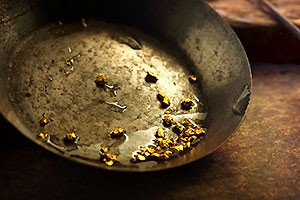 Yellen said the U.S. economic growth pace has weakened and the pace of interest rate increases by the Fed will be only gradual. That means investors can expect lower rates for longer. That's bullish for gold prices in 2016.
And this low interest rate landscape has put a damper on the U.S. dollar rally, which is also bullish for gold. A weaker dollar makes dollar-dominated precious metals (like gold) less expensive for foreign investors.
Bloomberg's dollar index, which tracks the dollar against 10 major peers, has lost 3.7% in March. The index is on pace for a second consecutive monthly drop and its biggest decline since September 2010.
But the Federal Reserve interest rate decision isn't the only reason we're bullish on gold prices now. The use of negative interest rates around the world, growing concerns of a global recession, and vast geopolitical risks are all bullish catalysts for gold.
Demand from emerging markets is yet another reason. Interest has been particularly strong in emerging markets as currencies in these regions have fallen sharply in the last 12 to 18 months against the U.S. dollar. Consumers in these markets are buying physical gold, which is seen as a safe haven in tumultuous times.
Further, investors in China are fleeing stocks after a volatile start to 2016. Mounting worries of a liquidly crunch in the country have also rattled markets. Now, small and large investors alike are piling into safe-haven gold.
The People's Bank of China has been a robust gold buyer this year. China's central bank expanded its holdings by 0.6% to 57.50 million ounces in February from 57.18 million ounces in January, according to statistics on its website.
Part of the gold-price rally of 2016 can be traced to the reduction in availability. According to the World Gold Council (WGC), total supply declined 4% in 2015 to 4,258 tons. That was the lowest level since 2009.
Now that we've explained the myriad reasons why we are so bullish on gold in 2016, here's the best gold ETF to buy now. It's easier than buying physical gold and offers market-beating gains…
The Best Gold ETF for 2016
The purest way to play gold prices is with physical gold, such coins and bars. But for some people, holding physical gold is impractical. Delivery charges, storage fees, and insurance considerations simply make owning physical gold out of the question for some investors.
One of the best ways to get exposure to gold prices is through exchange-traded funds (ETFs). The SPDR Gold Trust (NYSE Arca: GLD) is one of the best gold ETFs to buy today.
GLD offers investors an innovative, relatively cost-efficient, and secure way to access the gold market.
Originally listed on the New York Stock Exchange in November 2004 and traded on NYSE Arca since Dec. 13, 2007, GLD is the largest physically backed gold ETF in the world, with a market cap just shy of $33 billion.
The gold ETF was launched to provide investors with a way of participating in the gold bullion market without having to take physical delivery of gold. The gold ETF also allows investors to buy and sell the metal through the trading of a security on a regulated stock exchange. GLD shares trade like stocks. The value of GLD shares relates directly to the value of the gold held by the ETF (less its expenses) and to fluctuations in the price of gold.
During the first week of March, investors poured more than $1.1 billion into GLD. That was the largest amount of money flowing into any exchange-traded product, according to FactSet data. It also reflects the uneasiness that persists among investors even as markets reversed most of this year's earlier losses.
Year to date, GLD has risen 15.43%. In comparison, the Dow and S&P 500 are up 1.7% and 0.98%, respectively. The tech-heavy Nasdaq is down 2.83%.
Stay informed on what's going on in the markets by following us on Twitter @moneymorning or liking us on Facebook.
Solar Power Will Boom in 2016: Solar outperformed the rest of the energy market in 2015, and that trend shows no sign of slowing down. In fact, there's one incredible factor that will drive solar stocks to new highs in 2016. Here's the best way to play this skyrocketing industry…
Related Articles: