Anticipation for next month's OPEC meeting has been building, and it's showing in the recent oil price rally. News of the OPEC meeting has put crude oil prices on track for their best month in almost a year.
The cartel's sit-down next month will push prices higher due to a historic change expected to come out of the meeting. And one country's reluctance to comply won't be a factor, despite what some analysts think now...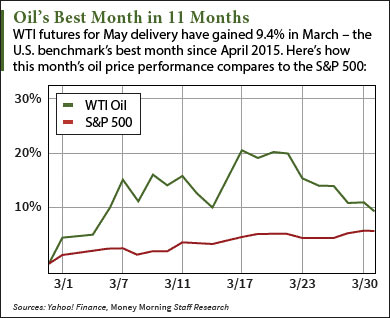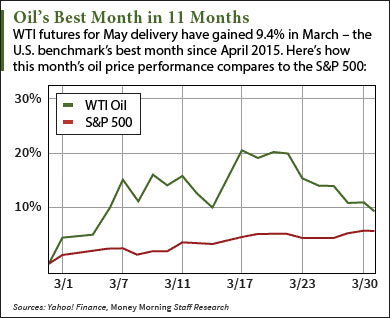 But before we get to that, here's just how big oil's rally was in March...
As of 10:25 a.m. today (Thursday, March 31), West Texas Intermediate (WTI) crude oil prices have soared 9.4% in March to $38.93 - the best monthly gain since April 2015. That even beats the S&P 500's 6.9% jump, which is the index's best March performance since the market began its bull rally back in March 2009.
Brent crude oil prices are also poised for their best month since last April. The global benchmark - priced in London - is up 9.4% to $40.74 this month.
And it's all thanks to the upcoming OPEC meeting's anticipated effect on the global supply problem...
How the OPEC Meeting Will Affect Crude Oil Prices
On April 17, 12 oil-producing OPEC and non-OPEC countries will meet in Qatar to discuss oil production.
According to Associated Press reports, the confirmed attendees are Saudi Arabia, Russia, Kuwait, the United Arab Emirates, Venezuela, Nigeria, Algeria, Indonesia, Ecuador, Bahrain, Oman, and Qatar.
To understand how this meeting's outcome will unfold - and how it will affect the price of oil - it's important to look at the state of these countries' economies...
Sign up for SMS so you never miss special events, exclusive offers, and weekly bonus trades.
Since most of the OPEC nations rely disproportionately on oil revenue to make money, they've been hit hard since 2014. Venezuela's economy contracted 5% last year due to the 40% plunge in oil prices. Even the government of Saudi Arabia - the world's largest oil exporter - saw its debt increase from 4% of the country's total GDP to 9.4% last year.
"Even Saudi Arabia is cutting spending and increasing taxes," explained Money Morning Global Energy Strategist Dr. Kent Moors - an oil industry veteran who's been a top advisor to U.S. and Russian energy agencies - on March 17. "Some OPEC economies - Venezuela, Libya, and Nigeria being the worst - are either careening headlong into crisis or are already basket cases."
That's why the OPEC meeting will be used to institute an important change that's never been agreed upon between cartel and non-cartel members...
These nations expect to agree on a production freeze to help their economies. A freeze would keep OPEC production at its January level of roughly 10 million barrels a day. This stagnating output - coupled with annual demand rising 1.2% to 94.85 million barrels a day, according to the U.S. Energy Information Administration - will lower supply and raise oil prices in 2016.
Now some oil industry watchers worry that one country could throw a wrench in this plan.
Iran doesn't plan to attend the OPEC meeting. The country is also having economic troubles. It saw GDP growth slow from 4% to 1% due to the oil price plunge in 2014.
But Iran has refused to cut output until daily production hits four million barrels. Iran's reluctance to attend the meeting and refusal to lower output has investors worried oil prices will fall from their 2016 highs.
Here's why that won't happen...
Why Iran's Absence from the OPEC Meeting Won't Lower Prices
Since the beginning of 2016, Iran has ignored requests from other OPEC members to keep output steady. You see, Iran is building up oil operations because it wants to make up for a decade of sanctions that halted oil exports. The country already shipped 1.75 million barrels per day from Jan. 21 to Feb. 19 - the Iranian month of Bahman.
Investors fear Iran's refusal to attend the OPEC meeting and keep output in check will pull oil prices lower. After all, the country has 157.5 billion barrels of oil reserves - the third most of any OPEC country. That's more than enough to flood the oversupplied market and send prices spiraling out of control.
But Moors says Iran isn't ramping up exports as much as people think. That's because the country's equipment and infrastructure are in poor condition. Pipelines rupture on a daily basis and refined petrochemical products are simply exploding.
In other words, the Iranian oil market will remain a joke if the country doesn't get funding and technology from Western countries. This will force OPEC to give Iran a grace period to get it together and let them export as much as they want - for now.
"OPEC will give Iran a modified pass here, granting it some exceptions to the general production deal, and Tehran will show up at the negotiating table sometime in April, just like everyone else," Moors said earlier this month.
"That should help oil prices stabilize and is yet another reason to conclude that the bottom in oil was hit earlier this year, when WTI crude oil prices closed at $26.55 a barrel."
Alex McGuire is an associate editor for Money Morning who writes about energy. Follow him on Twitter for all the biggest oil and gas updates.
Like us on Facebook: Money Morning
The Shocking Forecast for Oil Prices in 2016: Crude oil prices plunged in 2015, but our forecast points to a turnaround this year that will send the price of oil higher. Don't miss our full-year target and the key developments that will move oil prices in 2016. Read more...