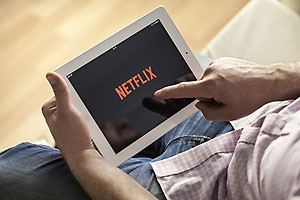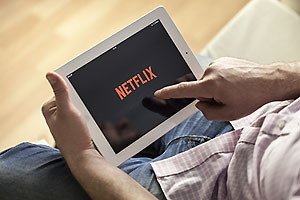 The Netflix stock price has been dragged down nearly 10% this year over fears that its domestic subscriber growth is dwindling.
Yes, subscriber growth has been slowing.
But also consider that Netflix Inc. (Nasdaq: NFLX) already captures a huge segment of the domestic market for streaming consumers. Because that growth was so rapid in years past, it was going to slow down…
That does not mean the value of Netflix stock to investors has drastically plunged. There are three reasons to be bullish about the Netflix stock price. Any one of these three reasons is enough to trump concerns over Netflix's domestic subscriber growth.
Before we talk about these reasons, let's look at Netflix's subscriber growth concerns more closely.
Netflix's total number of domestic and international subscribers is almost 75 million. That's huge.
But in its last earnings report, Netflix reported in Q4 2015 that number grew by 34 million fewer subscribers than in Q4 2014. The company also expects subscriber growth of 1.75 million in Q1 2016, compared to the 2.28 million it had in Q1 2015.
Netflix expects to pare its subscriber growth for its second and third fiscal quarters, too. The lower growth expectations are due to an expiring HD plan that charges $7.99 for certain members. Those members will soon be required to pay $9.99 to continue their HD plan, or be downgraded to the SD plan.
Another subscriber growth concern for Netflix is increased competition. Streaming services like HBO, Hulu, and Amazon's Prime Video are eating into Netflix's subscriber reach. And newcomers are on their way.
The company that owns the rental service Redbox, Outerwall Inc. (Nasdaq: OUTR), is working on a new streaming platform dubbed Redbox Digital. The video-on-demand service will be similar to iTunes and Google Play. While Redbox Digital is still in its development stages, it presents a looming threat to Netflix investors, along with other streaming upstarts.
Now that we've covered Netflix's subscriber growth concerns, let's look at three reasons why we're still bullish about the Netflix stock price….
3 Reasons the Netflix Stock Price Will Climb Through 2016
Reason No. 1 We're Bullish on the Netflix Stock Price: Netflix's fast-growing international subscriber growth. We covered Netflix's slowing domestic growth, but this is an international company. Netflix's growth abroad has rapidly accelerated after its 2010 debut in Canada. Since then, it has expanded to 130 countries around the globe. Netflix added a record 5.5 million subscribers in its fourth quarter due to its international subscriber growth, which accounted for four million of those subscribers.
"Right now, they [Netflix] are going through an Amazon.com Inc. (Nasdaq: AMZN) style growth period. It's the Bezos model – build, build, build – then the profits will follow," Money Morning Defense & Tech Specialist Michael A. Robinson said after Netflix's Q3 2015 earnings report in October 2015.
Reason No. 2 We're Bullish on the Netflix Stock Price: Netflix's new content strategy. For Netflix, less is more. It reduced its video catalog by almost one-third in the past few years, according to the trafficking site AllFlicks. But as its catalog has shrunk, Netflix has been adding more shows that people love. Instead of trying to stream everything, Netflix CEO Reed Hastings said his company is striving to improve the overall quality of Netflix's catalog.
Users don't have to search through unappealing titles to find the shows or movies they actually want to watch, like "House of Cards" or "Making a Murderer." Both of these titles were created by Netflix, which is building up its reputation for original content. In 2016, Netflix is planning on debuting 60 new shows, and 30 of these will be originals. Netflix is also negotiating an exclusive movie deal with Walt Disney Co. (NYSE: DIS) for 2016.
Reason No. 3 We're Bullish on the Netflix Stock Price: Netflix's Q1 2016 results. Netflix reports its Q1 results on April 18. If Netflix's results are anything like they were in Q1 2015 (when it went on to outperform nearly every stock in 2015), then investors will be piling on. The company expects to add six million more subscribers – a number that will undoubtedly please investors.
Most of those additions are international. Netflix is banking on strong demand for the new season of "House of Cards" and new episodes in Marvel's "Daredevil." In this quarter alone, Netflix's Chief Content Officer Ted Sarandos said the company released more titles than most networks do in a year.
Stay informed on what's going on in the markets by following us on Twitter @moneymorning or liking us on Facebook.
This Penny Stock Will Double Your Money – and Save a Dying U.S. Industry: It's not easy to find a truly compelling penny stock, which is why this one is such a remarkable find. Not only is this green energy stock capable of a gain of 100% or more, it's just now rolling out technology with the potential to rescue the struggling coal industry. But this 21st century success story has only just begun, making now the perfect time to buy this stock…