The Tesla stock price today (Friday) soared 7% to $247.90 after the company debuted its new car for the masses. The TSLA stock price is now up 29.33% over the last month.
And we see the Tesla stock price climbing much higher than this in the long term. You see, Tesla's new vehicle will put the electric car company "head and shoulders" above its competition in a new $488 billion industry.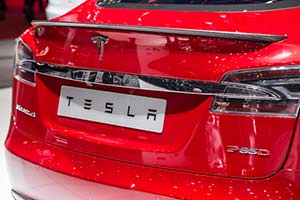 Before we get into that, here's some details about Thursday night's highly anticipated launch of the new Tesla Model 3.
In a grand gesture, Tesla Motors Inc. (Nasdaq: TSLA) CEO Elon Musk pulled the cover off the company's fourth vehicle last night. Dubbed the "everyman car" for its $35,000 price tag, the Model 3 sticker price is less than half that of Tesla's other vehicles.
Still, the Model 3 flaunts all the sleekness and sophistication of Tesla's other cars.
At least 20% smaller than the Model S, the Model 3 seats five comfortably. The windshield and back window nearly touch, which makes for an almost complete view of the sky over an occupant's head. The only thing in front of the driver are air-conditioning vents.
The Model 3 will be fitted with Tesla's "autopilot" features, which have helped the car become one of the safest on highways. A rectangular touchpad screen mounted on the dashboard between the front seats is the sole information display. The car's speed is displayed in the upper left corner within easy view of the driver.
And the Model 3 is fast. It is able to go from 0 to 60 mph in less than six seconds. The electric car is expected to get 215 miles on a charge.
"We don't make slow cars," CEO Elon Musk said at the unveiling. "You will not be able to buy a better car for $35,000, or even close, even if you get no options."
Musk said he's "fairly confident" the first Model 3 vehicles will be delivered as planned by late 2017. The Fremont, Calif., factory where Tesla builds its cars used to produce nearly half a million cars annually when it was owned by General Motors Co. (NYSE: GM) and Toyota Motor Corp. (NYSE ADR: TM). So it shouldn't have any trouble meeting Tesla's needs for this third model. Also, Tesla's massive new Nevada Gigafactory should be able to produce more than enough lithium-ion batteries to meet demand.
Less than 12 hours after the Model 3 unveiling at Tesla's design studio in Hawthorne, Calif., the number of Model 3 reservations topped 150,000. One factor that may have spurred some people in the United States to place a Model 3 reservation is the $7,500 federal tax credit for buying an electric vehicle.
That incentive is currently scheduled to be phased out after an automaker sells 200,000 electric vehicles. At current sales projections, Tesla will run out of those tax credits sometime in 2018 - just as Model 3s start rolling off production lines.
The Tesla brand, like the stock, enjoys a kind of cult following. The Tesla Model 3 will be much less complex than its predecessors. Elon Musk has learned from issues ramping up production of the Model S and Model X, which both missed his initial production targets.
That's good news for Tesla customers and shareholders. But the best news is that Tesla has perfectly positioned itself to profit from a new $488 billion industry...
Why the Surge in the Tesla Stock Price Today Is Just the Start
The introduction of a $35,000 vehicle is huge for Tesla, because its Model S sedan and Model X SUV retail for $70,000 and $80,000, respectively. The lower-priced model allows Tesla to tap into a whole new market.
And with worldwide revenue from electric vehicles forecast to bring in $488.54 billion by 2030, Tesla stock needs an affordable vehicle to appeal to the masses.
Money Morning Technical Trading Specialist D.R. Barton is bullish on the Tesla stock price today and says it is "head and shoulders ahead in the electric car front."
Yet with the kind of volatility Tesla and global markets have experienced this year, TSLA stock is not for short-term investors. But for long-term investors looking to buy and hold a stock for five to 10 years, TSLA is an excellent choice.
Musk's unparalleled vision and ability to create innovative products have propelled Tesla to the forefront of the electric vehicle market.
"I think Musk is the most innovative CEO on the planet and that he sees value others don't yet recognize," Money Morning Chief Investment Strategist Keith Fitz-Gerald said in 2015. "Cars, batteries, innovative business models - nobody knows where it will go but ultimately if you're along for the ride, I think it'd be very hard to go wrong over time."
Over the last three and five years, Tesla shares are up 483.66% and 803.76%, respectively. And more upside is projected.
On March 21, Argus Capital upgraded Tesla to "Buy" from "Hold" with a $333 price target. That would be another 34% gain from today's high for TSLA stock.
Stay informed on what's going on in the markets by following us on Twitter @moneymorning or liking us on Facebook.
The 5 Most Important 2016 IPOs to Watch: There was a shocking absence of IPO activity in 2015. But we'd like to see these five companies go public in 2016. If they do, they'll be the most exciting and promising deals of the year...
Related Articles: