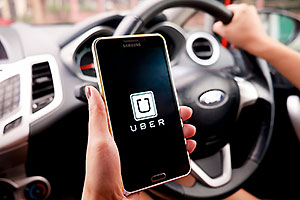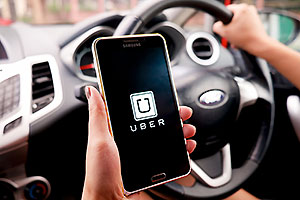 Sorry investors, CEO Travis Kalanick decided to delay the Uber IPO date as long as possible.
In an interview with CNBC on March 29, Kalanick said he didn't need fundraising from the public markets. He also said he has a moral obligation to provide liquidity to his early investors and employees with equity.
So don't expect to see an Uber IPO date in 2016 after all.
But even when Uber inevitably offers its IPO, Money Morning believes there is one glaring issue with Uber's business model that makes it a speculative investment for long-term investors.
But before we get to that, let's dig deeper into Uber's aggressive expansion over the last year.
Kalanick stated at a March 25 forum in China that Uber generates a profit of more than $1 billion a year in its top 30 cities globally. Uber operates in over 400 cities now, and the ride-hailing service sees global expansion as the key to even further success.
In February, Uber raised some eyebrows when officials said they were spending more than $1 billion a year to expand in China.
But according to Kalanick, the key to success in China is rapid growth.
"If we launch in the U.S. and then it gets copied in China, we'll be behind," Kalanick stated. "So we're starting to orient some of our innovation at China first."
Kalanick's plans seem to be working. In January 2015, Uber only had 1% to 2% of the market share in China, according to Business Insider. As of March 2016, the company now has 30%. That's a 2,900% increase in a little over a year.
But when Uber's CEO was asked point-blank if the Uber IPO date would be in two, three, or five years, he didn't give an answer. He told CNBC's Geoff Cutmore that he had no idea, but that he would keep Cutmore posted.
A public offering is inevitable. But even when the Uber IPO date is set, Uber stock will be a highly speculative investment because of this one major flaw…
After The Uber IPO, Keep Your Money on the Sidelines
Uber is a true disruptor to the transportation industry, and it's the reason why Reuters projects its global bookings will reach $26.12 billion in 2016.
But there is a major red flag with Uber's business model…
You see, Uber's greatest asset is also its greatest liability: its drivers.
Since Uber treats its drivers as independent contractors and doesn't own the vehicles, it is able to keep a much lower overhead than traditional transportation services. But the problem is Uber has to solely rely on these independent contractors to generate a profit.
And according to a recent study by Princeton Professor of Economics Alan Krueger and Uber Head of Policy Research Jonathan Hall, Uber is having a difficult time keeping drivers.
The study revealed that 62% of Uber drivers had a full-time job or a part-time job outside of their gig with Uber. The study also revealed that just slightly more than half of the people who start at Uber are still working for the company a year later.
Uber had more than 120,000 active drivers (drivers who give at least four rides per month) at the end of 2014, but only 32,000 worked for the company full time. The study also revealed that 51% of the drivers only work 15 hours or fewer a week.
If the majority of Uber's workforce is part-time contractors, then the company is always at risk of declining profits. In California for instance, the minimum wage will likely raise to $15 over the next six years. While Uber drivers can make up to $30.35 per hour, that doesn't include the cost of car insurance, tolls, and vehicle maintenance. A higher minimum wage would mean Uber would be a less appealing option as a part-time job.
Also, competition from transportation services like Lyft and China's Didi Kuaidi could create price wars in terms of contractor pay. Uber's sole source of revenue is through commissions, so Uber would start to lose money if it had to lower commission rates to attract more drivers.
Not to mention, Uber has been sued because of its drivers.
Uber Lawsuits Hurt the Uber IPO Date
The National Federation of the Blind chapter in California filed a lawsuit in 2014 against Uber because of discrimination of blind users. The lawsuit claimed that over 30 blind customers were refused service, and a driver allegedly locked a service dog in the trunk of his car.
More shocking, in January 2015 a female customer from Delhi claimed to have been raped by her Uber driver.
Uber has also dealt with negative publicity from one of its drivers in February. Jason Dalton passed a background check and had no criminal record before he became a driver, but he went on a deadly rampage and killed six people in Michigan. According to CNN, he was still picking up passengers between his shootings.
The Bottom Line: Delaying the Uber IPO could prove costly for the transportation company. Because driving for Uber isn't considered a full-time job, it's always going to have a high turnover rate. Also, Uber has to deal with negative publicity and lawsuits because of its employees. The longer CEO Travis Kalanick waits to go public, the less appealing Uber stock will be.
Jack Delaney is an associate editor for Money Morning. You can follow him on Twitter and follow Money Morning on Facebook. 
Profit Alert: Since Money Morning Executive Editor Bill Patalon launched his Private Briefing program just a few short years ago, he's recommended 192 stocks that have either doubled or tripled in value. The service has completely revolutionized the way people invest. Keep reading to find out more about his extensive research and premium stock picks…