The Under Armour stock split date has been set for this Thursday, April 7. Through the split, Under Armour Inc. (NYSE: UA) will issue a new class of stock that will be distributed to investors via a 2-for-1 stock split.
Because of the Under Armour stock split, investors are now wondering if this is a good time to buy into UA stock.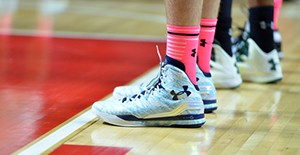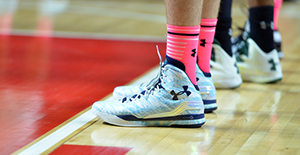 But before we get to that, here are the must-know facts ahead of the Under Armour stock split date...
Shares of Class C Under Armour stock will be distributed on April 7 to stockholders of record of Class A and Class B stock on March 28 on a 1-for-1 basis.
The new shares will trade under the ticker "UA.C." Shares of Under Armour's Class A stock will continue to trade under the ticker "UA."
The new shares will not give holders the power to vote on board elections, company resolutions, or other matters.
Founder, Chairman, and CEO Kevin Plank owns all the Class B shares, which have 10 times as much voting power as the Class A shares. The new class of stock, which comes with no voting rights, ensures that Plank retains control over the company.
A Maryland native and former special teams captain for the University of Maryland football team, Plank started Under Armour in 1996 in his grandmother's basement. He started the company with a prototype for a sweat-wicking compression shirt. His aim was to create workout and performance wear that was superior to cotton T-shirts.
Plank has built Under Armour into an $18.26 billion company and a formidable rival to Nike Inc. (NYSE: NKE). Today, Under Armour sells sneakers, golf shoes, workout accessories, and tech devices that help athletes improve performance.
Under Armour also has lucrative sponsorship agreements with star athletes, including Tom Brady, Stephen Curry, Lindsey Von, Jordan Spieth, and Dwayne Johnson.
In August 2015, Plank signed a non-compete agreement with Under Armour for five years if he leaves the company. That's important to many investors who believe he is the driving force behind Under Armour.
Plank argued for the new Class C stock as a way to maintain a "founder-led approach" to corporate governance that has indeed resulted in soaring sales, profits, and stock value for a decade.
Under the new plan, should Plank's ownership fall below 15%, all of his Class B shares would convert to Class A shares. That would effectively end Under Armour's uneven voting structure. Plank owns 15.9% of the company's outstanding stock but controls 65.3% of the voting shares, according to the company's latest proxy statement.
Various class structures like Under Armour's have become more common. Nearly 7% of large-cap S&P 500 firms have dual- or multiple-class voting structures in place, according to the ISS QuickScore database.
But following the Under Armour stock split, is UA a stock you want to own? Here's our position on where the Under Armour stock price is headed following the split...
Should I Buy UA After the Under Armour Stock Split?
When a company splits its shares, the market cap before and after the split remains the same. In short, shareholders own more shares, but each is valued at a lower price per share. However, a lower-priced stock on a per-share basis often attracts a wider range of buyers. That can end up boosting the share price.
The April 7 split marks Under Armour's third stock split in as many years. And more Under Armour stock splits are likely.
The company doesn't plan to conduct another Class C split. But Under Armour said during its August 2015 shareholder meeting that there will be "lots more regular splits" in the future.
Under Armour stock has been an outperformer since its November 2005 IPO, when the company priced shares at $13. At a recent price of $84.47, Under Armour Class A shares are up 197% and 353% over the last three and five years, respectively.
The company is projected to post earnings per share of $0.05 when it reports Q1 2016 results on April 17 before the open. That would match EPS posted in the same quarter a year ago.
Money Morning Technical Trading Specialist D.R. Barton is bullish on UA stock and sees it climbing this quarter...
"I think [Under Armour stock] is going up," Barton said on his regular appearance on FOX Business. "I think they're going to get a great hit as the NBA season winds down. Steph Curry, the company's bell cow is really doing amazing things."
And the company's star power isn't the only reason for optimism.
"They have a lot of good things going on, especially in China. They're catching Adidas for number two in China, so they're doing some really great things overseas as well."
Using its current price/earnings ratio of 81.20, Under Armour stock has a $136 price target by December 2017. That's a more than 60% gain. Even accounting for the stock split, the percentage gain remains the same.
Under Armour trades at approximately 81 times earnings, which is high. But shares have always traded at a high multiple because of its history of impressive double-digit sales growth. And that enviable growth shows no signs of slowing down. By December 2017, Under Armour expects another double-digit year - at 25.5% sales growth.
Follow Money Morning on Facebook and Twitter.
The 5 Most Important 2016 IPOs to Watch: There was a shocking absence of IPO activity in 2015. But we'd like to see these five companies go public in 2016. If they do, they'll be the most exciting and promising deals of the year...
Related Articles: