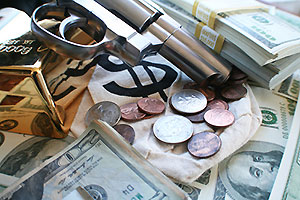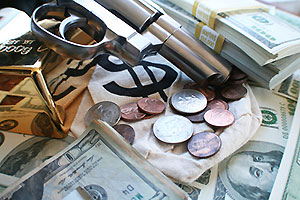 When most investors think of growth stocks, gun stocks don't typically come to mind. That's because many see gun stocks as controversial and discredit them entirely.
But Money Morning Chief Investment Strategist Keith Fitz-Gerald reminds us that often the best investments are those made without emotion.
"As we have discussed several times, sin stocks - including firearms - are usually more about value than vice when you get right down to it," Fitz-Gerald said. "And that means they can introduce an element of stability in your portfolio."
Gun stocks have a proven history of steady growth, even during market and economic downturns. The most recent market dip in January through mid-February saw three of our best gun stocks to buy actually rise as the Dow Jones Industrial Average fell nearly 8%.
The gun industry's sales also doubled from 2008 to 2011, rising from $6.8 billion to $13.6 billion when the wavering economy grew just 1%. That was during the crux of the Great Recession and the slow start of the economic recovery.
The firearms sector has been booming ever since Washington started calling for more gun control, fueled by the recent terror attacks in Paris, San Bernardino, and now Brussels. Consumers have been stocking up on guns and ammo in fear of new regulation.
There was a consecutive increase in processed firearm applications last year from July to December - the month of the San Bernardino shooting. There were 3.3 million gun applications in December - the most ever in a single month since 1999, according to Federal Bureau of Investigation statistics.
So far in 2016, monthly firearm applications are already averaging 2.5 million, according to the FBI. That's an average of 600,000 more applications than in 2015.
With the latest terror attack on Brussels last Tuesday, expect gun sales and gun stocks to continue their climb the next few months.
We've picked the three gun stocks that will benefit investors the most...
The Three Best Gun Stocks to Buy
The three best gun stocks to buy beat the S&P 500 by an average of nearly 16% through March. That's Sturm, Ruger & Co. (NYSE: RGR), up 14% this year; Smith & Wesson Holding Corp. (Nasdaq: SWHC), up 21%; and Vista Outdoor Inc. (NYSE: VSTO), up 16%.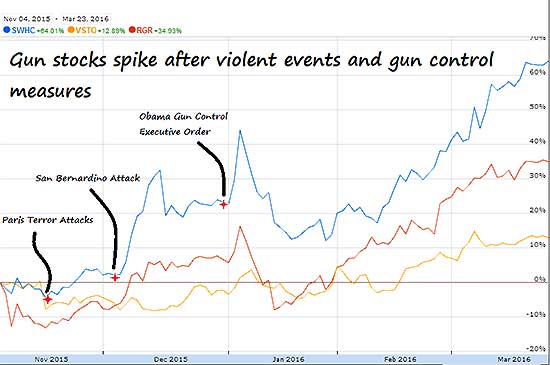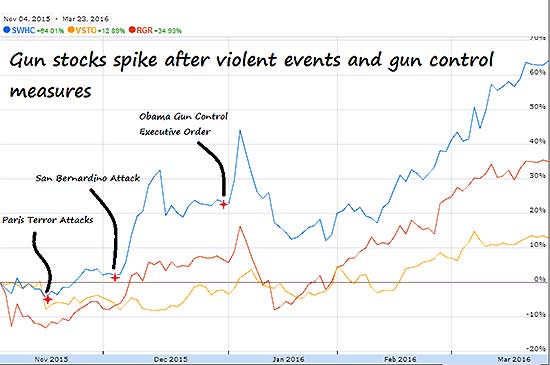 Let's start with the most appealing and well-known gun stock to buy: Smith & Wesson. Headquartered in Springfield, Mass., Smith & Wesson manufactures handguns, rifles, and law enforcement equipment.
Smith & Wesson sells its products both domestically and internationally. Because of this, SWHC offers stockholders a broader sales base than most other U.S. gun makers, even if the majority of its sales are in the United States.
The gun maker also crushed its last earnings report. It beat Zacks revenue and EPS expectations by $28 million and $0.18, respectively.
SWHC's figures were boosted by its 56.4% increase in firearm sales year over year. This would suggest the manufacturer is meeting a bulk of the increase in demand for guns in the United States.
SWHC also raised its revenue projections for fiscal 2016. It expects revenue between $712 million to $717 million, up from $650 million to $660 million.
SWHC stock is up 85% year over year - the highest gain compared to its competitors, VSTO stock and RGR stock.
Based on an EPS estimate of $1.75, the price target for SWHC is $49 per share by April 2017 - an 88% gain from where it traded at the end of March.
"SWHC stock is perennially underestimated," said Fitz-Gerald in November 2015. "Socially it's the financial equivalent of a stray dog that you begrudgingly welcome to the family picnic. That sets up a contrarian opportunity based on nothing more than sentiment."
Ruger is our next gun stock to buy. The Connecticut-based company is strictly a firearms manufacturer and doesn't sell ammo or accessories.
Even so, Ruger has carved out its own highly reputable niche in the gun industry. The company offers exceptional customer and dealer support, and a special points program to encourage loyal customers.
Ruger has returned 270% over the past four years. In its last earnings report, it also handily beat FactSet revenue and EPS expectations by $15.4 million and $0.13, respectively.
Based on an EPS estimate of $4.14, Ruger has a price target of $98 per share by December 2017 - a 44% gain from where it traded at the end of March.
Vista Outdoor is our last gun stock to buy. Based in Clearfield, Utah, the company has two self-explanatory divisions: shooting sports and outdoor products. Vista is known for its brands like CamelBak, Bushnell, and Bolle, and it's also a top ammo and scope seller.
Vista differs from other gun companies because it also makes high-quality, high-margin outdoor gear. That enables it to capture a whole other segment of the gun and outdoor gear consumer base.
On Feb. 25, Vista acquired Bell Sports' Action Sports division, which includes brands like Bell and Riddel. The move expands Vista's reach in the outdoor product industry. It also balances Vista's brand portfolio between its firearms and outdoor products divisions.
In its last earnings report, Vista beat consensus revenue and EPS estimates by $15.2 million and $0.13, respectively.
Based on an EPS estimate of $2.81, Vista has a price target of $71 per share by March 2017 - a 40% gain from where it traded at the end of March.
Follow us on Twitter @moneymorning or like us on Facebook.
The Essential Guide to Buying Gold and Silver: Precious metal investing is widely regarded as the best "crisis insurance" for your portfolio. This guide gives you everything you need to know about the best stores of value in history, gold and silver. Read more...