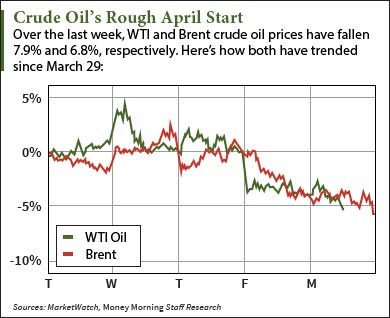 There's uncertainty brewing over the upcoming OPEC meeting on April 17, and it's dragging down crude oil prices today.
At 12:40 p.m., WTI crude oil prices today fell 1.4% to trade at $36.26 a barrel. Futures for May delivery are off to a weak start this month after rocketing 7.8% in March. The U.S. benchmark is now down 9.3% on the year.
Brent crude oil prices were also down in midday trading today. The global benchmark tumbled 1.5% to $38.10. As of today, futures for June delivery are down 5.4% in 2016.
And it's all thanks to the largest oil producer in the world getting cold feet ahead of the April 17 meeting…
This Is Why Crude Oil Prices Today Are Heading Lower
The factor pulling down crude oil prices today is Saudi Arabia's hesitance to freeze production ahead of the April 17 meeting of OPEC and non-OPEC countries.
On Friday, April 1, the world's leading oil exporter said it won't freeze production if other producers, including Iran, don't agree to do the same. The statements dragged crude oil prices down 4% on Friday alone. The announcement of the meeting helped prices have their best monthly gain in a year last month, but the outcome now is now uncertain.
Most of the disdain centers on Iran. Most OPEC members have repeatedly requested that Iran produce at a steady pace. But the country is quickly ramping up export operations to make up for 10 years of zero export revenue. According to the International Energy Agency (IEA), Iran currently churns out 3.2 million barrels a day and boosted daily exports by 100,000 barrels last month.
If Iran refuses to keep production in check, Saudi Arabia will likely maintain its current output of roughly 10.2 million barrels a day.
That's because there's a $608 billion Saudi debt crisis – and this chart shows how it could get worse…
Low Crude Oil Prices Are Causing This Crisis in Saudi Arabia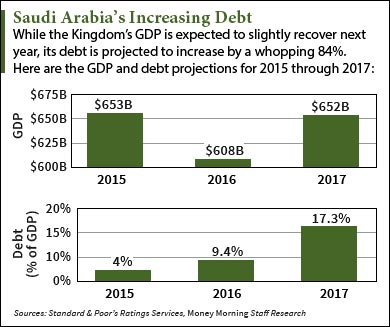 Saudi Arabia is taking on debt at an alarming rate.
As this chart shows, its 2016 debt is expected to hit $608 billion – or roughly 9.4% of the country's annual GDP. Even worse, that number is expected to reach 17.3% in 2017 – the highest of the last decade.
And ratings agency Standard & Poor's responded by cutting the country's debt rating twice. A country's rating measures how risky a country's economy is for foreign investors. Successive downgrades make it more expensive for the Saudi government to borrow money on the global market.
S&P grades every country from "AAA" – the best credit rating – to "D." On Oct. 30, 2015, the agency downgraded Saudi Arabia from "AA-" (the low end of the "very high grade credit" range) to "A+" (the high end of the "high grade credit" range).
The agency cut it again from "A+" to "A-" (the middle of the "medium grade credit" range) on Feb. 17.
"In our view, the decline in oil prices will have a marked and lasting impact on Saudi Arabia's fiscal and economic indicators given its high dependence on oil," S&P said on Feb. 17.
With crude oil prices today hovering below $40, the country's economy will continue to suffer until the market fully stabilizes.
But there's still one way for Saudi Arabia to alleviate its debt, regardless of how crude oil prices move.
That's because this solution requires the Kingdom selling its $2 trillion crown jewel…
Alex McGuire is an associate editor for Money Morning who writes about energy. Follow him on Twitter for all the biggest oil and gas updates.
Like us on Facebook: Money Morning