Global investors are concerned about the undeniable slowdown in the Chinese economy, but that obsessive focus on bottom-line economic growth means that people are missing out.
You see, there are immense shifts underway in China right now. The economy is maturing, and a recognizable middle class - already larger than the United States' at 109 million people - is coming into existence... in a country where a middle class was once unthinkable and indeed prohibited.
This means the country's economy is transforming into a consumer-driven one, much like the United States'.
Companies the world over, like Apple Inc. (Nasdaq: AAPL), Toyota Motor Corp. (NYSE ADR: TM), and Koninklijke Phillips NV (NYSE ADR: PHG), are already making a killing in China, supplying the Chinese middle class' every material desire.
But those firms that can provide for this group's basic needs effectively have a license to print money now.
That's where the company I'm about to show you comes in; no human can live without it for very long.
This company has a virtual lock on one of the fastest-growing segments in China, but you can easily buy its shares on the New York Stock Exchange.
And even better, those shares are on sale right now...
From Modest Roots to Rapid Growth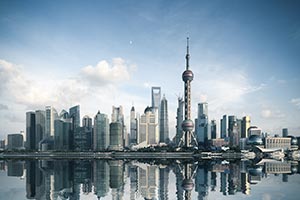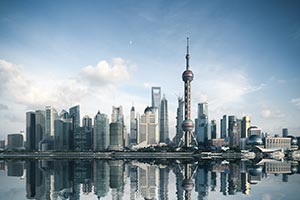 Urbanization is helping to drive middle-class growth in China.
For most of the country's 5,000-year history, China's population was, by nature and by design, dispersed, rural, and relatively isolated, such that, by 1990, just 26% of the mainland population lived in cities.
But the pace of reform and the incredibly fast growth of the economy has meant that, in 2015, more than 56% of China's citizens live in its cities. From 2010 through 2025, China's Ministry of Housing and Urban-Rural Development estimates 300 million Chinese will move to the cities, creating at least CN¥1 trillion ($154 billion) in annual infrastructure investment opportunities alone.
But even that huge opportunity pales in comparison to the possibilities in the Chinese healthcare sector. Right now, few sectors of that juggernaut economy are as dynamic. For that, investors can thank the trend toward urbanization; people moving out of the sticks and into China's bigger towns and cities are looking to improve their lot (and their children's) with access to healthcare.
It's growing faster than the population, and one segment in particular - we'll call it "medical e-commerce" - is leading the way.
According to Caixin Online, in 2009, China's online healthcare delivery business was worth about $31 million.
But by 2015, that figure had jumped more than 674% to $2.4 billion.
In a very telling case, online retailer Tencent Holdings Ltd. (OTCMKTS ADR: TCEHY) is investing $100 million in its new startup, We Doctor Group (aka Medical Service Guahao). Tencent has also set up China's first Internet-connected hospital.
What's more, this disruptive technology is being embraced by both the healthcare industry and the Chinese government. Allowing patients to access some routine healthcare functions by Internet, whether it's filling a prescription or consulting with a physician, lets smaller facilities serve the local community better.
That means less travel and more effective care for people who may live out in the country and can't or won't go into town for medical treatment without a significant reason.
China's industry is coalescing behind this medical e-commerce trend, and there's now a race underway to fill the space the fastest.
It's China's technology firms that are stepping up to the plate. Nevertheless, the best play here isn't actually Tencent.
It's a name you've heard before...
This Is Like Amazon.com on Steroids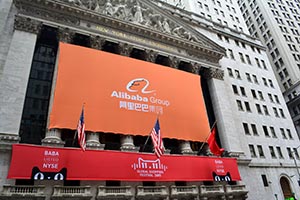 Alibaba Group Holding Ltd. (NYSE: BABA) made U.S. headlines in September 2014 with the biggest, richest initial public offering (IPO) in Wall Street history.
It's big Stateside, but it's even bigger in in China. Visionary founder and CEO Jack Ma has built an enormous enterprise that spans direct-to-consumer and business-to-business (B2B) retail; domestic and global media and entertainment; finance and investment services; and now online healthcare access and delivery.
Alibaba's "secret sauce" is its home-team advantage. It's a Chinese-owned and operated company.
That means a great deal - almost everything - to the powers that be in authoritarian China. Officials there still tend to be very suspicious of foreign companies seeking a piece of the domestic pie, and China's large, notoriously creaky bureaucracy favors homegrown business that knows the ground rules.
This has given Alibaba a strategic depth that foreign companies can't even buy. Ma has been able to expand operations quickly, broadly, deeply, smoothly, and of course, cheaply across the vast country.
And it's pulled off some very interesting projects, including a slam-dunk "proof of concept" for medical e-commerce...
In January, Alibaba set up a connection between a small, remote fishing village and a hospital hundreds of miles away.
Villagers were able to teleconference with their doctors about their conditions, and doctors were able to diagnose and prescribe. For example, one fisherman filled out an online health form and spoke with the doctor online. That doctor wrote him a prescription and it, you guessed it, Alibaba's service and supply chain delivered the medicine to the fisherman's house the next day.
Getting prescriptions filled is key here, because Alibaba is the one that is getting the prescriptions from point "A" to point "B." So the more patient-customers Alibaba can get into an online healthcare system, the more money it will make delivering products to customers.
And there's a lot of money to be made.
Demographics Are the Key
Healthcare spending in China is expected to rise from about $350 billion last year to a $1 trillion by 2020, according to research firm McKinsey & Co. That's as good as a triple in four years.
Plus, there are two other, related trends that are working in Alibaba's favor in this sector.
One is "the graying of China." According to Reuters, 223 million Chinese will be 65 or older by 2030. This kind of shift to an aging population - one increasing its medicine consumption - is a huge opportunity for Alibaba's services.
What's more, in 2014, China accelerated pharmaceutical drug deregulation. That has released more control of distribution and supply management to privately held companies like Alibaba.
Economic slowdown just can't stop this growth.
These kinds of sea changes are happening and will happen whether China's economy grows at 6% a year or 10%. Bear in mind that the U.S. economy is barely growing at 2%, so even if China isn't firing on all cylinders, it's still trouncing the growth in other parts of the developed world.
Growth-obsessed investors can't see that fact. Stalled infrastructure and building projects, a market crash, and cooling GDP growth has obscured the true growth underway throughout China. This country is more - a lot more - than the sum of its parts.
Some of the biggest players in the global market are paring down their China exposure. That's great news for us, because it means these shares are on sale right now.
Just look at FY 2015 performance. In a year when China's stocks crashed and the economy slowed, Alibaba grew year-on-year revenue by 45%. Net income grew by 4%, and revenue jumped 33% to $8 billion.
This goes to prove again that China is more than its markets. Now we can get Alibaba at a price virtually everyone else is missing out on.
Follow Michael on Facebook and Twitter.
Technology is about to shake the currency market, too. It's a market where you don't expect to see a lot of innovation, but the dollar, euro, and yen are all under pressure from a disruptive new player. Click here for Michael's latest tech investor briefing on this new technology, and you'll receive his Strategic Tech Investor research, too.
Join the conversation. Click here to jump to comments…
About the Author
Michael A. Robinson is a 36-year Silicon Valley veteran and one of the top tech and biotech financial analysts working today. That's because, as a consultant, senior adviser, and board member for Silicon Valley venture capital firms, Michael enjoys privileged access to pioneering CEOs, scientists, and high-profile players. And he brings this entire world of Silicon Valley "insiders" right to you...
He was one of five people involved in early meetings for the $160 billion "cloud" computing phenomenon.
He was there as Lee Iacocca and Roger Smith, the CEOs of Chrysler and GM, led the robotics revolution that saved the U.S. automotive industry.
As cyber-security was becoming a focus of national security, Michael was with Dave DeWalt, the CEO of McAfee, right before Intel acquired his company for $7.8 billion.
This all means the entire world is constantly seeking Michael's insight.
In addition to being a regular guest and panelist on CNBC and Fox Business, he is also a Pulitzer Prize-nominated writer and reporter. His first book Overdrawn: The Bailout of American Savings warned people about the coming financial collapse - years before the word "bailout" became a household word.
Silicon Valley defense publications vie for his analysis. He's worked for Defense Media Network and Signal Magazine, as well as The New York Times, American Enterprise, and The Wall Street Journal.
And even with decades of experience, Michael believes there has never been a moment in time quite like this.
Right now, medical breakthroughs that once took years to develop are moving at a record speed. And that means we are going to see highly lucrative biotech investment opportunities come in fast and furious.
To help you navigate the historic opportunity in biotech, Michael launched the Bio-Tech Profit Alliance.
His other publications include: Strategic Tech Investor, The Nova-X Report, Bio-Technology Profit Alliance and Nexus-9 Network.