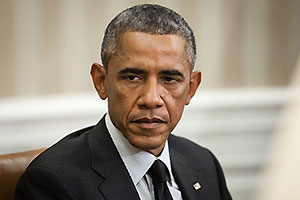 Well, your retirement investment advisor is about to become your fiduciary -- whether you like it or not.
All thanks to a new fiduciary rule unveiled today by the U.S. Department of Labor that's sure to be pushed through by our executive branch. After all, U.S. President Barack Obama is the one who tasked the DOL with creating this rule in the first place...
The new standard applies to financial advisors of retirement accounts, including individual accounts, and mandates that they always act in the best of their own clients.
While this may seem like a positive development, let's make one aspect of this new regulation explicitly clear: you, the average American, had no say in it whatsoever. Not in what the new standard entails, nor in how it affects you.
And you'll most certainly be affected by it.
After all, $7.4 trillion worth of investor assets make up the nation's Individual Retirement Accounts (IRAs). And defined investor/employer contribution plans hold about $6.8 trillion in assets, according to a statement presented to the U.S. House of Representative by Investment Company Institute last July.
Chances are, you or someone you know has retirement money invested in asset management firms and brokerages - all businesses about to be seriously impacted by the president's new fiduciary rule.
Here's how this regulation came to be, and how you'll inevitably be affected by it...
POTUS' Fiduciary Rule Has Lots of Moving Parts
[mmpazkzone name="in-story" network="9794" site="307044" id="137008" type="4"]
The debate surrounding the new fiduciary rule is a multiyear saga that started in 2010. That's when the Labor Department first introduced a proposal requiring brokers who offer advice about retirement investments keep only the "best interests" of the investors in mind. As such, it was meant to replace the Financial Industry Regulatory Association's (FINRA) looser "suitability standard" that simply requires an adviser have a reasonable basis to believe a recommended transaction is suitable for the customer.
Industry groups came out against the proposal, and again when it was reintroduced to Congress in 2011, because the new rule - and the specifics it would entail - would change how financial professionals do business. They argued that it would overturn 40 years of business practices that allowed these individuals to recommend investments in which they receive a commission. They also decried being made to sound like crooks and argued the DOL didn't provide a cost/benefit analysis with its proposal, which made its research biased and incomplete.
So the proposal was "tabled" until Feb. 23, 2015, when the president summoned the DOL again to resubmit a proposal.
"Today, I'm calling on the Department of Labor to update the rules and requirements that retirement advisors put the best interests of their clients above their own financial interests. It's a very simple principle: You want to give financial advice, you've got to put your client's interests first." - President Barack Obama, Feb. 23, 2015
In response to the POTUS' request, the anti-fiduciary lobbyists upped their game and actually began to pick up sway. They maintained that the rule would reduce the industry's willingness or ability to assist middle- and low-income financial consumers (we'll get to why that is later in this article). They even managed to add Democrats to their side, presenting a massive partisan threat for the president.
Still, the president vowed to see the DOL's proposal through to implementation.
He started that process a year ago by pushing the proposal immediately to the Office of Management and Budget (OMB) - the largest executive office within the president's executive parameters that's in charge of the POTUS' budget. The OMB wrapped up its review of the proposal this past Sunday and, of course, gave it the green light.
Which gets us to where we are today.
The new standard has been set. It will officially go into effect on Jan. 1, 2018.
And because of the bipartisan disapproval, it's expected that the POTUS will issue an executive order in the near future to make sure the proposal gets all the way through.
Now here's precisely how your retirement assets stand to be directly affected by the fiduciary rule...
Small brokerage firms account for 98% of IRAs with less than $25,000. Under the new DOL rule, these firms would be subject to liability risks and heavy regulatory costs that could ultimately lead them to simply abandon these small accounts. That means advisers will be incentivized not to work with investors that have only modest retirement assets.
As a result, the new fiduciary rule could prove "particularly devastating for those with less than $25,000 to invest, which is the lowest required minimum investment for a fee-based advisor we could find," said financial services firm Primerica, according to an Aug. 16, 2015, Wall Street Journal report.
The result may be that the advisors will choose to turn low-asset accounts over to robo-accounts.
That's right, a robot could be your new "financial adviser." No more are the days where middle- to low-income Americans with modest retirement accounts can go to human beings for investment advice.
And in fact, the DOL is a fan of robo-advisors. It has heralded them as the main alternative for broker-dealers tasked with handling low balances in individual retirement accounts.
There are countless other ways retirement investors could be affected.
But we won't see the impact for sure until the new fiduciary rule goes into effect.
And by then it will be too late.
Do you think new fiduciary standards are necessary? Or do you think they're government over-reach? Tell us on Twitter @moneymorning, or like us on Facebook.
Snip, Snip: The bipartisan budget bill passed by Congress and signed by President Barack Obama on Nov. 2 goes into effect in less than a month. This means that on May 1, a few key Social Security benefits will be officially nixed from the books...
Related Articles: