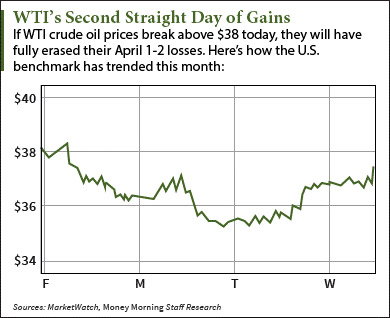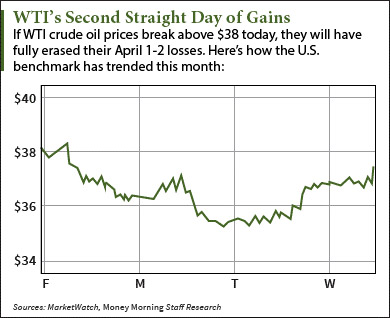 Another day, another country speaking out about the April 17 OPEC meeting.
WTI crude oil prices rocketed 4.5% higher this morning after an OPEC heavyweight renewed hopes that global producers will freeze output at the meeting later this month. At 11 a.m., the U.S. benchmark was trading at $37.50 a barrel. Futures for May delivery are now on track to erase April 1 and April 2 losses.
Brent crude oil prices today were also moving higher. The global benchmark - priced in London - gained 3.6% to $39.25 a barrel. Futures for June delivery are poised to close at their highest level of the month.
And it's mostly thanks to the fifth most powerful OPEC nation...
How This Country Is Boosting WTI Crude Oil Prices Today
The main reason why crude oil prices are up today is Kuwait - the cartel member with the fifth most oil reserves (101.5 billion).
Yesterday, Kuwait's OPEC governor expressed confidence that both cartel and non-cartel countries attending the April 17 summit will agree to freeze output. She said the move will help set a floor for oil prices, which will then begin their long-term rebound.
"Oil producers have no option but to freeze their production as oil prices are low and hurting everyone," Kuwait OPEC Governor Nawal al-Fezaia told Bloomberg in a telephone interview yesterday. "All early signs before the meeting point to this conclusion."
Another factor pushing WTI crude oil prices higher today is the better than expected supply report from the U.S. Energy Information Administration (EIA). The agency said oil inventories declined by 4.9 million barrels last week to a total of 529.9 million. According to Bespoke Investment Group, that's the largest decline for the last week of March since at least 1997.
And Money Morning Global Energy Strategist Dr. Kent Moors - a 40-year veteran of the energy market who's served as an advisor to top U.S. and Russian energy agencies - says there's one reason why supply has been declining lately.
And this chart explains why it will keep falling...
One Trend Will Push WTI Crude Oil Prices Higher in 2016
The declining number of active oil rigs is gradually reducing supply.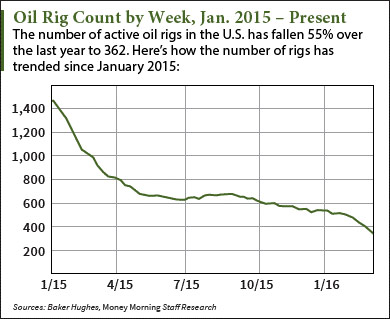 Oil field services giant Baker Hughes Inc. (NYSE: BHI) tallies the number of active oil and gas rigs each week. Since January 2015, the number of active U.S. oil rigs has dropped 75% from 1,421 to 362 as of the first week of April. That's the lowest since November 2009.
"The U.S. rig count has declined precipitously... that can't help but lead to a drop in supply," Moors noted in December. "It's only a matter of time now before we start to see a reduction in supply on the American side of the market."
Increasing demand will also reduce the supply glut. According to the EIA, global consumption will reach 96.5 million barrels a day in 2017. That's up nearly 3% from 93.8 million in 2015.
As of March 31, Moors predicts the WTI crude oil price will hit $42 to $45 by mid-June. The midpoint of that range marks a 16% jump from this morning's price of $37.50.
Alex McGuire is an associate editor for Money Morning who writes about the energy market. Follow him on Twitter for the biggest WTI crude oil price updates.
Like us on Facebook: Money Morning
What to Expect from the Breakout in Oil Prices: Crude's rallied higher in March, even though supply hasn't changed much since December. But supply doesn't drive oil prices anymore. Today, perception is more important than reality - and that perception is now changing fast...