With Saudi Arabia debt expected to reach $57 billion this year and crude oil prices hovering below $37, the Kingdom needs an immediate solution.
You see, Saudi Arabia ran a massive $98 billion budget deficit last year due to the 40% drop in crude oil prices. According to the International Monetary Fund (IMF), the country is on track to be completely broke by 2021. That's why the country is developing a $100 billion-a-year plan to restructure its economy.
Before we show you the chart of this historic economic model, here's just how bad the Saudi Arabia debt crisis has become...
Saudi Arabia's Black Hole Budget Deficit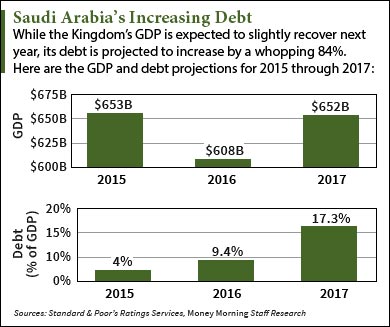 Saudi Arabia's debt is expected to reach $57 billion - or 9.4% of the country's gross domestic product (GDP) - by the end of 2016. This debt is projected to grow to 17.3% by the end of next year.
That's why Standard & Poor's (S&P) - one of the biggest credit rating agencies in the world - has cut Saudi Arabia's debt rating twice in just the last six months.
You see, a nation's debt rating indicates that economy's level of risk for foreign investors. On the S&P's long-term scale, "AAA" is the highest rating and "D" is the lowest.
Last October, S&P lowered the Kingdom's rating from "AA-" (the low end of the "very high-quality credit grade" range) to "A+" (the high end of the "high-quality credit grade" range).
And the agency did it again on Feb. 17 when it cut the nation's rating from "A+" to "A-" (the middle of the "medium-quality credit grade" range). These consecutive cuts make it more expensive for the Saudi government to borrow money on the global market.
In its Feb. 17 downgrade report, S&P said it doesn't expect the Saudi Arabia debt situation to improve anytime soon.
"In our view, the decline in oil prices will have a marked and lasting impact on Saudi Arabia's fiscal and economic indicators given its high dependence on oil," the agency said.
But the country has a plan to reduce its mountain of debt. And it involves the Kingdom focusing on a $100 billion source of revenue that it's largely ignored in the past...
This Subversive Economic Plan Will Alleviate the Saudi Arabia Debt Crisis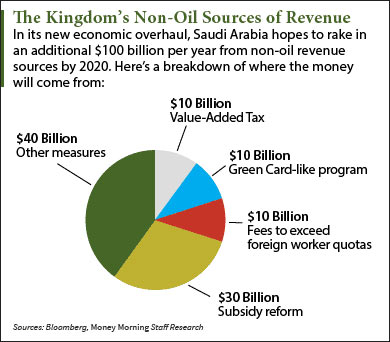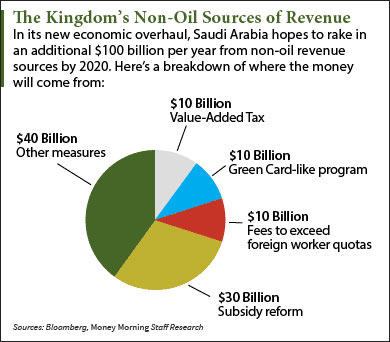 The country's new economic model will focus on bringing in extra cash from non-oil revenue streams.
In an interview with Bloomberg, Saudi Arabia's Deputy Crown Prince Mohammed bin Salman said his country is looking to raise an additional $100 billion a year from non-oil revenue sources by 2020. That's more than three times the country's current non-oil revenue, which comes from expatriate programs and various tax measures.
One of the model's biggest targets is energy subsidies. These are payments given out by the Saudi government to compensate for the economic effects of low oil prices. For example, a subsidy for an oil worker could be a yearly bonus since low oil prices affect his company's profitability, which could consequently lower his salary.
However, the oil price collapse has pushed Saudi Arabia to save money wherever possible. That's why the country plans to save at least $30 billion in revenue by reducing subsidies over the next four years.
The Kingdom's new model marks a historic transition for Saudi Arabia. After all, oil exports have made up 80% of the country's total revenue ever since the Saudis struck oil nearly 80 years ago.
But this only constitutes half of Saudi Arabia's plan to get rid of its debt. In fact, the country also intends to sell its crown jewel to the public.
This asset is worth a whopping $2 trillion, and it would undoubtedly become the largest initial public offering of all time...
Alex McGuire is an associate editor for Money Morning who writes about the oil market. Follow him on Twitter for all the biggest updates on the Saudi Arabia debt crisis.
Like us on Facebook: Money Morning
Related Articles: