Stocks continue to experience a rough start to April, with the Dow Jones Industrial Average falling more than 174 points today (Thursday). Shares of Apple Inc. (Nasdaq: AAPL) were the largest weight on S&P 500 and the Nasdaq, while shares of Goldman Sachs Group Inc. (NYSE: GS) hit the Dow Jones hardest. Investors remain concerned about global growth and the sanity of global central banks' monetary policy efforts. The S&P 500 erased its gains for the year.
Here's what you need to know about the markets on Thursday, April 7, 2016.
First up, check out the results for the Dow Jones, S&P 500, and Nasdaq: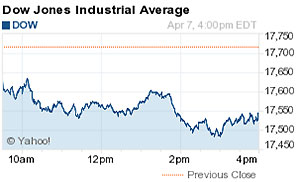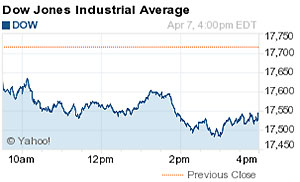 Dow Jones: 17,541.96; -174.09; -0.98%
S&P 500: 2,041.91; -24.75; -1.20%
Nasdaq: 4,848.37; -72.35; -1.47%
Now, here's the top stock market news today…
DJIA Today: Earnings Season Kicks Off, Oil Prices Slump
We've officially entered a new earnings season, and this quarter is expected to be one of the toughest for U.S. companies in years. That said, there are plenty of ways to make money. As Money Morning Options Specialist Tom Gentile explains, it all starts with understanding how earnings reports drive the markets. Some traders might tell you that earnings season means nothing in the broader scheme of things. But if you're an options trader, that couldn't be further from the truth. Get started and make money, right now.
WTI crude oil prices today slumped 1.3% to $37.26 after Iraqi export levels increased abroad and market intelligence firm Genscape reported a build in domestic inventories at Cushing, Okla. Shares of Exxon Mobil Corp. (NYSE: XOM) declined 1.1%. But Money Morning Global Energy Strategist Dr. Kent Moors just released his latest oil price forecast after returning from Abu Dhabi, and this could be a very profitable time for investors.
On the economic front, pay attention to weekly jobless claims and two events featuring prominent members of the U.S. central bank, including Fed Chair Janet Yellen. Jobless claims have remained quite low in recent months, a positive sign for the labor market. Meanwhile, Yellen is expected to take part in a conversation with other former Fed chairs – Ben Bernanke, Alan Greenspan, and Paul Volcker.
A new fiduciary rule released by the U.S. Department of Labor is causing a stir with investors. U.S. President Barack Obama tasked the DOL with creating a rule set to go into effect on Jan. 1, 2018. The new standard applies to financial advisors of retirement accounts, including individual accounts, and mandates that they always act in the best interest of their clients. While this may sound like a positive development for investors like you, there are a few hidden traps and consequences of such a broad rule on retirement investors. Here's how the law came to be and the inevitable ways that it can impact your retirement.
But the big talk today was happening at the U.S. Treasury Department. Following the agency's new rules aimed at preventing tax inversions – a deal where a firm relocates its headquarters abroad through a deal in order to avoid the American corporate tax code – Secretary Jack Lew has a new target: shell companies. The federal agency's new rules specifically target husk companies that don't have active operations or major resources but rely on a tax loophole that allows firms to hide their identities and reduce their financial burden. The new rules forced pharmaceutical giant Pfizer Inc. (NYSE: PFE) to walk away from a $160 billion deal with Allergan Plc. (NYSE: AGN). Calling off the deal has cost several banks hundreds of millions of dollars in fees.
Don't make this popular mistake: Wall Street has soured on automakers. But it's missing an incredible opportunity with this carmaker. This company's pre-emptive strategy could mean a 41% surge in its stock…
Now, let's look at the day's biggest stock movers and today's must-own stock…
Top Stock Market News Today
The rise of super PACs and "dark money" organizations is undermining the democratic power of you, the average American voter. In this video, we uncover exactly how wealthy donors have hijacked American politics…
Follow Money Morning on Facebook and Twitter.
Negative Interest Rates Will Kill America's Free Market… Negative interest rates are the latest central bank "flavor of the month," and the fact that this disastrous policy hasn't worked in Europe – or anywhere – won't stop the Federal Reserve from taking NIRP for a spin in the United States. Now's your chance to gain immediate protection from the downside – and even position yourself to profit – when Team Yellen takes rates negative. Don't delay…