The Under Armour stock price opened at $45.27 this morning (Friday), the day following the Under Armour stock split.
Now that Under Armour Inc. (NYSE:UA) has finally completed its third stock split in as many years, investors are asking us where the Under Armour stock price is headed in 2016.
But before we get to our outlook for UA stock, here's what investors need to know about the Under Armour stock split…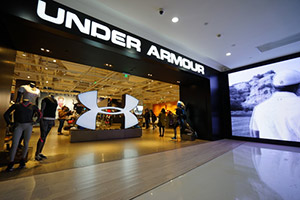 When a company splits its shares, the market cap before and after the split remains the same. Shareholders own more shares, but each is valued at a lower price per share. However, a lower-priced stock on a per-share basis often attracts a wider range of buyers, which can boost the stock price.
The Under Armour stock price was down slightly in morning trading today, about 3.8%.
The UA stock price has soared since the Baltimore sports apparel firm made its debut as a publicly traded company on Nov. 18, 2005, at $13 per share. Over the last three and five years, the Under Armour stock price is up 201.68% and 381.62%, respectively.
Today's split, which took effect after yesterday's close, includes a new class of shares. All stockholders of record of Class A and Class B shares on March 28 received a new Class C shares on a 1-for-1 basis. That has the same effect as a 2-for-1 split.
The new shares trade under the ticker "UA.C." Shares of Under Armour's Class A stock continue to trade under the ticker "UA." While the company has indicated more stock splits can be expected, future splits will not include the Class C shares.
The new Class C shares don't give holders the power to vote on board elections, company resolutions, or other matters. The split was structured in a way that ensures CEO and founder Kevin Plank retains control of the company.
Plank argued for the new Class C stock as a way to maintain a "founder-led approach" to corporate governance that has indeed resulted in soaring sales, profits, and stock value for a decade.
Plank owns all the Class B shares, which have 10 times as much voting power as Class A shares. As of Sept. 30, Plank owned approximately 16.6% of the total Class A and Class B outstanding stock and roughly 66.5% of the voting power.
Various class structures like Under Armour's, although controversial, have become more common. Nearly 7% of large-cap S&P 500 firms have dual or multiple-class voting structures in place, according to the ISS QuickScore database.
Now that the Under Armour stock split is behind us, here's our position on the Under Armour stock price in 2016…
Is the Under Armour Stock Price Heading Higher in 2016?
History suggests more upside is likely in the short term for the Under Armour stock price. Stock splits make shares more attractive to new investors.
But let's take a look at the bigger picture…
Today, Under Armour sells sneakers, golf shoes, workout accessories, and tech devices that help athletes improve performance.
At the Consumer Electronics Show in January, Under Armour unveiled a Connected Fitness products portfolio with strategic partnerships with HTC and Harman. Devices include the $400 HealthBox, featuring the UA Band, UA Scale, and UA Heart Rate. The Under Armour "smart shoe" debuted on Feb. 29. Two models of wireless headphones have also been introduced.
Under Armour has lucrative sponsorship agreements with star athletes including Tom Brady, Stephen Curry, Lindsey Von, Jordan Spieth, and Dwayne Johnson.
The Baltimore-based company is also aggressively tapping into the profitable and growing athleisure wear space. UA recently hired new executives to lead its women's apparel and footwear division. Plank forecasts its women's business will eventually outsell its men's business.
Money Morning Technical Trading Specialist D.R. Barton is bullish on the UA stock price and sees it climbing this quarter…
"I think [Under Armour stock] is going up," Barton said on his regular appearance on FOX Business. "I think they're going to get a great hit as the NBA season winds down. Steph Curry, the company's bell cow, is really doing amazing things."
And the company's star power isn't the only reason for optimism.
"They have a lot of good things going on, especially in China. They're catching Adidas for number two in China, so they're doing some really great things overseas as well."
B Riley upgraded Under Armour to "Buy" from "Neutral" earlier this year.
Tuesday, FBR Capital raised its Under Armour pre-split price target to $118 from $115. The firm said Under Armour's domestic footwear and international growth will increase the company's visibility and drive growth.
FBR also increased its earnings per share estimates for 2016, 2017, and 2018. The firm's new estimates are $1.39, $1.89, and $2.34, respectively. That's up from $1.35, $1.79, and $2.31.
Stay informed on what's going on in the markets by following us on Twitter @moneymorning or liking us on Facebook.
Related Articles: