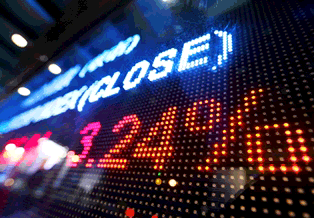 The broader markets are mostly flat to start April. That's why Money Morning experts have picked the best stocks to buy now that will perform well in the long term no matter what direction the market moves.
But before we get to our April stock picks, let's take a closer look at the latest market rally.
So far, the Dow is up over 1,800 points, or 12%, after its 8.7% drop from Jan. 1 to mid-February. The Dow is up 1.4% for the year.
That's good news, except for the reason behind this market surge. There's only one catalyst that's driving the Dow's climb...
And that's the U.S. Federal Reserve.
New research from ValueBridge Advisors shows that 93% of all major market moves since 2008 have been caused by the Fed. So while this current rally has been a boon to many investors, it's really built on the back of an overpowered central bank. And that's not something that's sustainable...
No longer are stocks being propelled by fundamentals like strong balance sheets, a healthy economy, or encouraging earnings reports.
But investors, particularly those with retirement in mind, can't afford to not be involved in the markets. And despite how wayward the markets are, they still offer plenty of investment opportunities.
Our newest stock additions have either huge long-run growth potential, or a history of strong, earnings-driven growth. They're also equipped to handle a market that's controlled by the Fed.
Money Morning Defense & Tech Specialist Michael A. Robinson likes a global shipping company with stellar profit-growth potential and an attractive dividend to go with it.
Robinson also likes a big online retailer that's poised to capture huge profits from China's growing healthcare industry by 2020.
And as a bonus, Chief Investment Strategist Keith Fitz-Gerald sees a video game stock that's a perfect short opportunity.
It's all here - and more - in our latest best stocks to buy now list...
Money Morning's Best Stocks to Buy Now
Most people know that Amazon.com Inc. (Nasdaq: AMZN) wants to be the king of e-commerce. And that includes its expansion into shipping and logistics. Amazon investors will sit back and watch Amazon's master plan unfold. That's OK - but don't forget the global shipping giant with a 108-year head start on Amazon. Money Morning Defense & Tech Specialist Michael A. Robinson knows this company won't bow down to Amazon easily. And for once, Amazon will be met with resistance as it moves into a new industry. This company drops off more than 15 million packages a day in more than 200 countries. It earns $0.14 on every dollar of revenue, which is 37% more than its chief rival. And its stock has huge potential as the company directs its resources toward e-commerce. Find out more about this company's long-term growth potential here...
For all the talk about China's incredible economic growth, a lot of people miss its largest-growing sector: healthcare. And one healthcare segment in particular, which Robinson calls "medical e-commerce," is leading the way. In 2009, China's online healthcare delivery business was worth nearly $31 million. By 2015, that figure spiked more than 674% to $2.4 billion. Robinson took notice of a popular e-commerce company that is already developing projects to capitalize on this trend. In fact, Robinson says this company has a powerful "proof of concept" to profit from the medical e-commerce market. As healthcare spending in China is expected to rise to $1 trillion by 2020, this company has a huge opportunity to increase its shareholder value. Find out more about this company's new medical e-commerce venture here...
Some stocks that have already boasted huge returns might turn off some investors. That's because they believe there's no upside left. Well, sometimes that's the case. Other times, they couldn't be more wrong. And we've found one tech stock that's posted a stunning two-year gain of more than 87%, but still has plenty of upside. In fact, this company hasn't even come close to unleashing its full potential. Find out more about this growth machine here...
Bonus: Our bonus stock pick for April isn't one that you'll want to hold. It's one you'll want to short - big time. This video game company is down 23% year over year and will fall further. That's because it has failed to adapt the gaming industry's huge increase in digital sales. We're in the middle of a $111 billion gaming boom, according to our Chief Investment Strategist Keith Fitz-Gerald. But this gaming company has managed to shrink its revenue right in the middle of it. Find out more about this company's dismal outlook and this huge shorting opportunity here...
Follow Money Morning on Facebook and Twitter.