We've compiled a list of hot penny stocks to watch this week, and one of them has already posted a gain of 110% year to date.
It's those kind of double- and triple-digit gains that draw investors to hot penny stocks. Every company on our hot penny stock list posted at least a double-digit gain in the past week.
While penny stocks can bring huge profits, they can also be extremely volatile. That's why Money Morning experts advise that penny stocks should only represent a small percentage of your portfolio. And one stock should never account for more than 2% of your investing capital.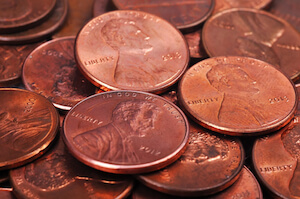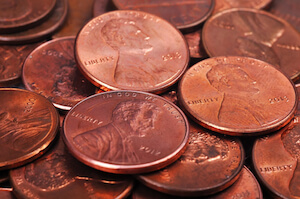 According to Money Morning Chief Investment Strategist Keith Fitz-Gerald, the key to finding the best penny stocks in 2016 is the same as finding any strong investment. You need to know what to look for and have the right risk tolerance and perspective.
At Money Morning, we focus primarily on hot penny stocks listed on major exchanges like the NYSE and the Nasdaq. That's because they are less risky than penny stocks trading on the Over-the-Counter market or the Pink Sheets.
While they don't trade for pennies per share, they still offer the prospect of substantial gains over a short time frame. And they're much less risky.
Here's our list of five hot penny stocks this week, including one that's already brought a profit of 110%...
5 Hot Penny Stocks This Week with Market-Beating Gains
Hot Penny Stocks No. 5: Ezcorp Inc. (Nasdaq: EZPW) is an Austin, Texas-based company that provides pawn and consumer loans in the United States, Mexico, and Canada. For fiscal 2015, EZPW reported U.S. and Mexican pawn segments increased 1% and 6%, respectively, year over year. Q1 2016 revenue increased 7% YOY to $198.5 million. The company recently completed the acquisition of six stores in the Houston area. In Mexico, the business is focusing on new store openings, with four set to open in the coming months. At a shareholder meeting last week, the company said it continues to see potential growth in core U.S. and Mexico pawn businesses. "By focusing on meeting our customers' needs better than anyone else in the market and creating a more efficient organization, we expect to see ongoing improvements in our business operations," the company said. Shares ended last week at $3.84, up 29.9%.
Hot Penny Stocks No. 4: OncoCyte Corp. (NYSEMKT: OCX) focuses on the development and commercialization of novel, non-invasive blood and urine diagnostic tests for the detection of breast, bladder, and lung cancers. Incorporated in 2009, OCX is based in Alameda, California. Last week, OCX announced "positive" research results for a lung cancer diagnostic test in development. OCX will now attempt to finalize and lock down both the assay and the algorithm that interprets test results. The company is planning an internal analytical validation study in Q3 to be completed in Q4. The process will confirm whether the test results can be reproduced in its laboratory. If the validation study is successful, OCX will be ready to implement its commercialization plans, including hiring its sales force, building out its commercial infrastructure, moving towards completion and obtaining certification of a diagnostic laboratory, and ultimately launching its lung cancer diagnostic test in the first half of 2017. Shares closed at $5.78 last week, a 37% gain. Shares added another 3% Monday.
Hot Penny Stocks No. 3: Lucas Energy Inc. (NYSEMKT: LEI) is a Houston, Texas-based independent oil and gas company engaged in the acquisition and development of crude oil and natural gas from various formations. Thursday, LEI announced it has entered into a series of agreements with an institutional investor whereby it will receive $10 million of equity capital, subject to meeting certain conditions. The initial investment is structured as a Redeemable Convertible Subordinated Debenture, which will automatically convert into common stock at an initial conversion price of $3.25 per share upon meeting certain conditions. Shares rose 95% on the news and closed the week at $5.48, an 80% weekly advance. LEI rose another 9% to $5.97 Monday.
Hot Penny Stocks No. 2: SteadyMed Ltd. (Nasdaq: STDY) is a California specialty pharmaceutical company focused on the development and commercialization of therapeutic products in orphan and other specialty markets. Its lead product candidate Trevyent is under development for the treatment of pulmonary arterial hypertension. The company plans to submit a new drug application for Trevyent later this year. STDY is also developing two products for the treatment of post-surgical and acute pain in the home setting. Shares rose last week on a favorable patent ruling against much larger United Therapeutics Corp. (Nasdaq: UTHR). STDY also said it will host an analyst and investor reception on April 20 in New York. STDY shares ended last week at $4.65, up 80.9%.
Hot Penny Stock No. 1: Transenterix Inc. (Nasdaq: TRXC) is a North Carolina-based medical device company focused on the development and commercialization of surgical robotic systems. The company offers the ALF-X System, a multi-port robotic surgery system, which allows up to four arms to control robotic instruments and a camera in Europe. The company also develops the SurgiBot System, a single-incision, patient-side robotic-assisted surgery system. In addition, it develops and manufactures flexible and rigid laparoscopic surgical instruments used in abdominal surgery, such as scissors, graspers, clip appliers, and suction and irrigation instruments. Shares rose more than 51% last month and are up 160% over the last three months. Shares were active last week on news the FDA will decide by mid-April whether to allow the sale of the company's surgical robot. A nod would make TRXC the first competitor to industry giant Intuitive Surgical Inc. (Nasdaq: ISRG). At $5.19, TRXC is up 110% year to date.
Stay informed on what's going on in the markets by following us on Twitter @moneymorning or liking us on Facebook.
What the World's Leading Energy Insiders Fear Most: There's a crisis brewing in America's oil fields that's not unlike the 2008 credit crunch. Soon, it's going to spread to the rest of the world. The fallout won't be pretty, but don't worry. You'll be prepared - and ready to play it for some gains...