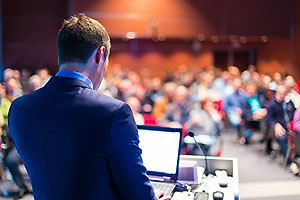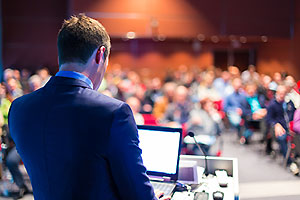 Facebook Inc.'s (Nasdaq: FB) annual developer conference (F8) will take place on April 12 and April 13 in San Francisco.
Ahead of the important F8 conference, investors are wondering if they should buy Facebook stock today. That's because the FB stock price is down 3.2% over the last three trading sessions, and investors hope good news from the conference will send FB share prices higher.
But before we discuss buying FB shares, we wanted to make sure Money Morning readers know more about the F8 developer conference.
On its website for the F8 event, the social media giant states that the conference is a "glimpse into the future of Facebook."
There are at least 14 topics that will be covered during the two-day event. Facebook will discuss everything from Instagram to emerging markets. But Re/code expects there will be two big themes Facebook will cover extensively: Messenger and live video.
Facebook Messenger now has over 900 million monthly active users, but CEO Mark Zuckerberg has yet to monetize the service. Like he did with Facebook, Zuckerberg wants to slowly introduce ads.
Right now, Facebook's CEO only wants Messenger users to communicate and see ads from businesses they want to interact with.
For instance, Messenger users can catch rides with Uber or Lyft through the communication service. And according to The Wall Street Journal, some users are starting to see ads for Uber and Lyft inside the app.
When Facebook does monetize its Messenger and WhatsApp communication services, Evercore ISI analyst Ken Sena believes these two platforms could generate $4 billion annually.
Because of its recent push into live video, Re/code believes Facebook will also extensively cover live video capabilities.
Facebook started out promoting its live video features by having celebrities and big media organizations use the service. As rivals like Twitter Inc. (NYSE: TWTR) and Snapchat push to attract user growth through live capabilities, Facebook is making sure it meets the growing demand.
At the conference, Re/code believes Facebook will discuss how it's overhauling the app to encourage more live video consumption and creation.
Could the Facebook stock price start climbing this week if Facebook releases more plans on generating revenue through Messenger and live videos? Here's what you need to know…
How to Play Facebook Stock Following the F8 Conference
The 2016 F8 conference will allow developers to learn more about the new ways they can monetize apps and make money through Facebook. It will also provide FB shareholders with insight on how Zuckerberg plans to grow the company.
While the conference will present exciting announcements for developers, the Facebook news generated from F8 will not have a significant short-term impact on the Facebook stock price.
But here's why we think FB is a great investment for long-term investors…
Messenger, WhatsApp, and sales from live video ads could add billions of dollars to Facebook's revenue totals. And Facebook has a lot of other sources for revenue growth, including:
Instagram
Oculus Rift
Facebook at Work
Facebook didn't release information on how much ad revenue Instagram brought in for 2015. But analysts project that the picture app generated revenue between $650 million to $750 million. By 2017, research company eMarketer projects Instagram could account for as much as 10% of Facebook's global ad revenue.
Aside from Instagram, Facebook also has a foothold in a $150 billion revenue source…
The first orders of virtual reality headset Oculus Rift just started hitting homes at the end of March. Although the Rift has a $599 price tag, Credit Suisse believes Facebook will sell the headset at a loss.
But hardware is not the reason Zuckerberg purchased Oculus VR for $2 billion in 2014. It's the future capabilities of software that virtual reality provides. Right now, virtual reality is mostly associated with gaming. But Zuckerberg has grander ambitions.
"After games, we're going to make Oculus a platform for many other experiences," Zuckerberg stated in a Facebook post. "Imagine enjoying a courtside seat at a game, studying in a classroom of students and teachers all over the world, or consulting with a doctor face-to-face – just by putting on goggles in your home."
Research company Digi-Capital projects the virtual reality industry will bring in $150 billion in revenue by 2020.
Finally, Facebook is quietly rolling out its Facebook at Work program. As of July 2015, over 60,000 companies applied to work with Facebook on its new program. Facebook only accepted 300 companies, though.
Facebook at Work will operate as a free model. But if companies want to utilize analytic data, integrate it with their current software, and have more customer service options, they will pay "a few dollars per month, per user," according to Julian Codorniou, director of global platform partnerships for Facebook at Work.
While exact costs aren't known for the service, startup Slack has been very successful in the business communication sector. As of July 2015, CEO Stewart Butterfield believed Slack would make $30 million in revenue for 2015.
All of these revenue sources have Money Morning extremely bullish on FB stock. But there could be a temporary setback that you need to know about…
The Possible FB Stock Price Pullback After the Q1 2016 Earnings Report
Deutsche Bank AG (NYSE: DB) warned shareholders on April 4 that Facebook's first-quarter growth may slow.
Facebook increased ad revenue by 57% in Q4 2015 from Q4 2014, so Wall Street has high expectations for Q1 2016. Deutsche Bank expects Facebook to increase ad revenue by 53% in Q1 2016 from Q1 2015, which could prove disappointing to Wall Street's unrealistic expectations.
But the key thing to focus on is that ad revenue growth is still expected to increase by more than 50%.
Wall Street may have an initial knee-jerk reaction after Facebook's Q1 2016 earnings report, which could drop FB share prices. Lower prices, though, will make FB stock an even bigger bargain. Deutsche Bank projects that the Facebook stock price will climb during the spring or summer, and it still maintains a "Buy" rating.
Analysts at Thomson First Call have a one-year price target of $134.13 for FB stock. From the opening price of $110.69 this morning, that's a 21% gain.
And those estimates may be too conservative…
Money Morning Defense & Tech Specialist Michael A. Robinson believes FB stock will trade for $250 per share by 2020.That's a 125% increase in just four years.
You see, Robinson believes that technology is the best place to invest for market-beating gains. And his newsletter Strategic Tech Investor puts YOU directly in touch with high-tech research analysis, stock picks, and strategies that can double, triple, or even quadruple your investments. Best of all, Robinson's Strategic Tech Investor newsletter is free…
Jack Delaney is an associate editor for Money Morning. You can follow him on Twitter and follow Money Morning on Facebook.