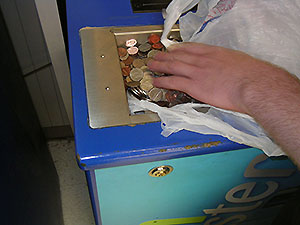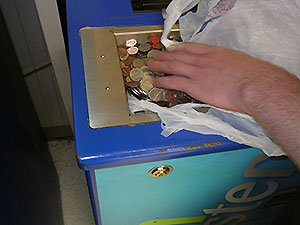 Some folks who live up and down the Eastern seaboard may be familiar with Toronto-Dominion Bank's (NYSE: TD) "penny arcade." Children, in particular, tend to like these coin-counting machines. They are, after all, used to count one's piggy bank loot.
Unfortunately, tests performed by The Today Show last Wednesday on these kid-favorite kiosks revealed that the accuracy of the devices was a little… off.
You see, these penny arcades claim to charge just 8% of a depositor's total.
But in one particular case, a customer report picked up by ABC News in Philadelphia the day after The Today Show segment aired, revealed that a TD Bank machine in the Philly area had once delivered back just $204 on a $248 deposit.
That's an 18% fee.
Looks like you and I – and the little kiddies – are all being ripped off…
Proof the Penny Arcade Comes Up Short
Those looking to save a little money on how their coin jar loot is calculated often prefer TD's kiosks to those of, say, Coinstar, because the latter charges upwards of 10% on deposits.
As previously mentioned, The Today Show sent a team of investigators out to do a little research on the matter last Wednesday after receiving multiple tips that customers were being fleeced by these machines. They had investigators deposit $300 worth of coins at five Coinstar and five TD Bank locations. While the more expensive Coinstar machines delivered accurate counts back to the investigators, the show reported, several TD Bank penny arcades did not. One member of the team received a total back that was only $0.05 off the declared 8% TD Bank fee (of his $300 deposit). Another member received a total back that was $0.70 off his penny arcade deposit.
Seventy cents may not seem like much, but such miscalculations add up over time. Imagine customer after customer after customer being short-changed $0.70…
After The Today Show ran its segment on the penny arcade debacle, a representative from TD Bank told NBC News on Thursday that it is now pulling all coin machines out of service nationwide for evaluation and retesting. Those machines will go back into service only when the bank is satisfied they meet performance requirements.
Have you been ripped off by one of TD Bank's penny arcades? Tell us about it on Twitter @moneymorning, or like us on Facebook.
"Helicopter Ben" Cleared for Landing: One current and three former members of the American branch of The Committee to Destroy the World – otherwise known as the Federal Reserve – met last week in a public forum to discuss former Fed Chair Ben Bernanke's imminent return. Here's what's in store after "Helicopter Ben" lands again…