One of silver's biggest strengths is its versatility…
It's a monetary metal, a proper currency. It's a critical industrial material used in everything from automobiles to solar panels. And of course it's an ornament, too, that people wear as jewelry.
Here's the thing… As diverse as it is, the global silver market is relatively "small"; as of 2014, the physical market had about $20 billion in play. So this versatility and small size can add up to volatility. The silver market can explode and recede like a wave, sometimes in very short order.
Silver's price is highly influenced by gold's price, too, though there are many other drivers and catalysts at work.
But right now, silver's relationship with gold and a combination of those other forces are all are working together to ensure that silver is unnaturally, incredibly cheap.
The white metal won't be "on sale" forever, though. I'm recommending we move right now, because I believe we're about to see a huge move up very soon…
High Demand Is Back in Style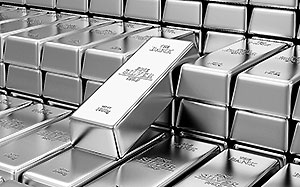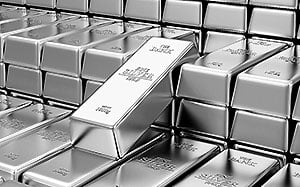 Silver jewelry is back in fashion. And that's great news for silver investors.
A recent survey by the Silver Institute indicates that U.S. silver-jewelry sales rose again in 2015. That makes it the seventh straight year of gains.
Sixty percent of jewelry retailers saw higher sales, with the average increase being 15%. Nearly half of silver retailers said that silver items boasted the highest turnover rate last year.
And those silver-jewelry retailers are pretty confident this trend will continue. Impressively, 87% of retailers said they were optimistic the strong sales of silver jewelry will persist.
That has caused more than half of surveyed jewelry retailers to boost their silver inventory by an average of 21%. So look for jewelry to remain a strong component of silver demand in the future.
But that's just part of the picture.
As it turns out, those who want physical silver aren't just resorting to jewelry; mint sales are way up, too.
People, it seems, simply can't get enough silver coins and bars. The U.S. Mint has sold nearly 15 million ounces of silver American Eagle coins since the start of 2016. That's already 25% higher than by this time last year.
Should this pace continue, the Mint could sell 60 million ounces in 2016. That would be a historic record.
Australia's Perth Mint Chief Executive Richard Hayes recently said that sales have been exceptionally strong lately. He added, "World markets have helped, there is a lot of uncertainty."
Hayes considers demand from China for cast bars and healthy orders for coins and bullion from Germany and the United States to have contributed.
But this isn't the only method investors are using to acquire their silver.
With Sentiment, Silver Fund Inflows Are Surging Now
While inflows into gold-backed exchange-traded funds (ETFs) have slowed slightly of late, the reverse is true of the silver variety.
According to Commerzbank, current silver ETF holdings are at their highest since late 2014. The bank commented, "Whereas interest in gold ETFs appears to be dwindling somewhat at present, interest in silver ETFs is growing… The silver ETFs tracked by Bloomberg recorded inflows almost every day in March… Holdings have been increased by 903 [metric] tons since the beginning of the month and currently find themselves at their highest level since December 2014."
According to Newsmax, "Investors are buying silver through funds at the fastest pace in more than two years. Holdings in silver-backed exchange-traded products jumped 845.6 metric tons in March, heading for the biggest monthly increase since August 2013."
While supply and demand are certainly important long-term drivers of the price of silver, sentiment typically has bigger sway in the near and medium term.
Thanks to silver's small global market footprint, investors typically look to gold for a sense of direction.
But there's an important caveat…
Two Numbers… One Huge Opportunity
Silver suffers from delayed reaction to gold price moves. And sometimes, that delay can last for months.
It's happened numerous times since the silver-gold secular bull market launched in earnest back in 2001.
Typically, the silver price will leverage that of gold by a factor of 2-to-1, but that's over the long term.
Looking at the returns on these two metals since their mid-December lows confirms silver's delayed reaction. While gold's recent peak brought it into "official" bull territory with a 20% gain, silver only mustered about 14%.
But to gain even better insight into silver's future potential, there's plenty to glean from the gold/silver ratio. By simply dividing the gold price by the silver price, it tells us how many silver ounces we can buy with a single gold ounce.
When that ratio moves to multiyear extremes, it usually means there's a tremendous opportunity at hand.
As it turns out, that's the case right now.
If you look back over the last five years since silver peaked at $49, it's fallen pretty hard, by about 72% when it bottomed in December. Gold, on the other hand, gave up about 45%.
And that has pushed the gold/silver ratio to a point it last reached, above 80, during the depths of the financial crisis in 2008. After that, when silver soared to $49, the ratio bottomed around 32.
Ever since then, the gold/silver ratio has been working its way back to an extreme high of 83, which it recently touched in early March.
The end result: silver, relative to gold, has been getting very, very cheap.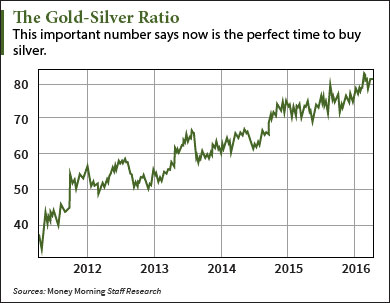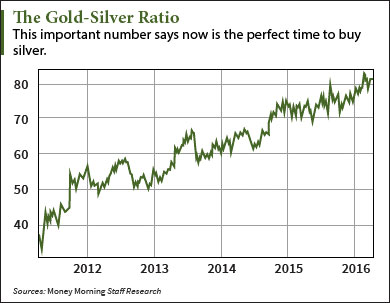 But remember – markets tend to revert to their means. So that would have the silver/gold ratio return to its pre-financial crisis average of 55.
If gold were to remain at $1,230, a gold/silver ratio of 55 implies $22.35 silver. That's a 48% gain!
If it stopped there, that would be great news, but it gets better. Much better.
You see, I don't expect the gold price to remain at $1,230. I expect it to instead rise much, much higher. So that implies even higher silver prices yet.
Silver is now primed to outpace gold's gains and soar much higher from current levels.
Here's a simple way to sprinkle your portfolio with silver: the Sprott Physical Silver Trust ETV (NYSE Arca: PSLV).
PSLV is an exchange-traded vehicle that holds its silver bullion, fully allocated and stored at a secure third-party location in Canada, and is subject to periodic inspections and audits.
There's no levered financial institution involved, and the tax advantages for U.S. investors are such that holding for at least 12 months allows one to benefit from a 15% (approximately) capital gains tax versus the 28% rate with most precious metals ETFs.
But there's another play here, too, one with even more punch that could really juice up the gains from your PSLV holdings.
This Could Deliver Twice the Gains
Have a look at the ProShares Ultra Silver ETF (NYSE Arca: AGQ). AGQ gives you a way to get twice the daily gains that just holding silver can bring you. And the leverage is built in, internally managed, and packaged within the units. That means you don't invest on margin, and you don't need to worry about margin calls.
Nevertheless, I recommend using capital you have set aside for speculative moves – evaluate your risk tolerance, and by all means don't stake your retirement on this one. This ETF will move both up (and down) by twice as much as silver does on any given day, so you could face twice the daily losses if things go against you.
To protect yourself as much as possible, check this holding every day, and be sure to use either a trailing stop, or at least a hard stop. I recommend setting one at $26.67, the low AGQ reached back in December 2015.
Keep in mind that silver is more volatile than gold, but can far outpace it on the upside. According to the gold/silver ratio, silver is due to play catch up and even pull ahead.
I'd be willing to bet sentiment is turning in silver's favor, and dramatically so. Just don't expect it to remain this cheap for long.
Follow Money Morning on Facebook and Twitter.
Here's how you can scoop up profits on the "source" of the silver boom. Silver stocks are directly tied to the price of gold – and right now, gold is headed straight up. In his 2016 Gold Playbook, Michael Lewitt shows you his favorite gold miners, ETFs, and physical gold dealers, plus tips on when and how to buy. As a bonus, he also shows you how gold will help protect you from the coming $200 trillion "Super Crash." Click here to access Michael Lewitt's free special report now and to receive his twice-weekly Sure Money.
Join the conversation. Click here to jump to comments…
About the Author
Peter Krauth is the Resource Specialist for Money Map Press and has contributed some of the most popular and highly regarded investing articles on Money Morning. Peter is headquartered in resource-rich Canada, but he travels around the world to dig up the very best profit opportunity, whether it's in gold, silver, oil, coal, or even potash.