Oil Price Prediction 2016: It took 20 months, but crude oil prices finally bottomed out.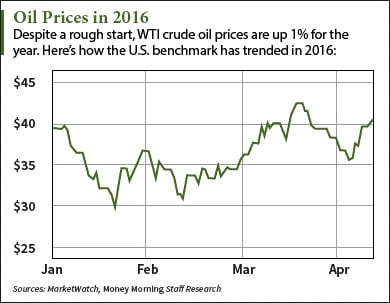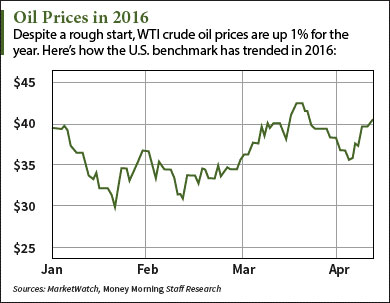 On Feb. 11, West Texas Intermediate (WTI) crude oil prices cratered 4.5% to $26.21 - their lowest closing price in nearly 13 years. That was roughly 20 months after the beginning of the oil bear market, which began on June 30, 2014, when futures peaked just above $92 a barrel.
Since that bottom two months ago, WTI crude oil prices have rebounded a massive 54%. Yesterday, futures for May delivery settled at a three-week high of $40.36.
Those recent gains occurred even though U.S. oil inventories currently sit at an 80-year high of 530 million barrels. And what's even more baffling is how the United States is still importing more than 8 million barrels of foreign oil every day despite the excess supply.
But Money Morning Global Energy Strategist Dr. Kent Moors - a 40-year veteran of the oil market who's advised U.S., Russian, and Iraqi energy agencies - says this shouldn't be a cause for concern.
In fact, this relationship between imported and U.S.-produced oil plays a key role in his revised 2016 oil price prediction, which we're going to share with you today.
First, here's the reason why U.S. oil companies are buying imports when domestic supply is at historic levels...
How Imports Play into Our Oil Price Prediction 2016
The reason U.S. companies are buying imports is because the oil market is currently in a state of contango.
You see, oil is in contango when the spot price of oil - or the cost of buying oil on the spot right now - is cheaper than the price of the futures contract. This typically happens during periods of low prices and high production.
During periods of contango, it's more affordable for U.S. refiners to buy oil from other countries rather than from producers here at home. That's why imports have surged in 2016.
"Under these market conditions, it makes good business sense for those refineries to buy as much oil as they can, from whomever and wherever they can now, while it's cheap, as opposed to later when futures show it will be more expensive," Moors explained on April 7.
The last time oil contango occurred was the "supercontango" of the 2008 financial crisis. That was when oil tanker ships stockpiled millions of barrels of crude oil off the coasts of the Gulf of Mexico because prices would be cheaper by the time exports arrived at their destinations. The spread between WTI spot prices and futures prices a year later was over $23 a barrel.
According to Moors, the spread between futures for next year and the spot price is roughly $8. But the current contango is nowhere near the biggest factor affecting crude oil prices.
As Moors mentioned back in March, the perception of U.S. supply is having a huge impact on crude oil prices. In fact, that perception is having a bigger impact that the actual supply. Although the Baker Hughes Inc.'s (NYSE: BHI) weekly rig count is down 75.1% over the last year, total U.S. supply has still climbed 9.9% over the same period. Still, the perception is that U.S. supply is gradually falling.
While there may be quick jumps and dips in the short term, this bullish sentiment will slowly stabilize prices this year.
Here's our precise Brent and WTI crude oil price targets for 2016 - as well as the stocks you can buy to profit from their rebalance...
Oil Price Prediction 2016: Our Targets for Brent and WTI
As of April 7, Moors sees WTI crude oil prices ranging from $42 to $45 a barrel by June. Brent crude oil prices - the global benchmark priced in London - will near the $50 mark by the same time.
And the best oil stocks to buy during this kind of price environment are companies engaged in vertical, shallow, formula (VSF) drilling.
You see, VSF drilling is a cost-efficient way to quickly produce large volumes of oil. Since these wells only go a few thousand feet below the surface, they don't require high maintenance and operating costs. This type of drilling is profitable when oil prices are in the $40 range since the wells only cost between $280,000 and $750,000 to maintain throughout the production process.
Fracking projects that cost upwards of $5 million can drown companies in debt when oil prices are low. The high volume doesn't make up for the high operating costs when prices are at their lowest level in a decade.
One notable VSF driller is Baytex Energy Corp. (NYSE: BTE). The Canadian oil and gas firm has drilled $750,000 vertical, shallow wells in the oil-rich city of Lloydminster for over 20 years. As of today (April 12), BTE stock is up a whopping 49.1% in 2016.
Alex McGuire is an associate editor for Money Morning who writes about energy. Follow him on Twitter for all the biggest "oil price prediction 2016" updates.
Like us on Facebook: Money Morning
What to Expect from the Breakout in Oil Prices: Crude's rallied higher this month, even though supply hasn't changed much since December. But supply doesn't drive oil prices anymore. Today, perception is more important than reality - and that perception is now changing fast...