As of April 11, Hillary Clinton was favored by 29 points over Donald Trump in a general election, according to an NBC/WSJ/Marist poll.
That's why we've pinpointed the best stock to buy now if Hillary Clinton becomes president.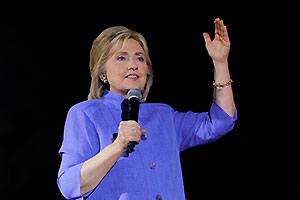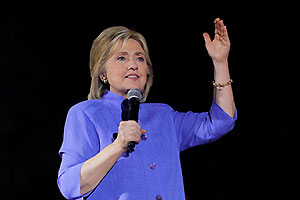 In fact, we think you could net a profit of as much as 94% from this one stock. But before we get to the pick, here's the industry that Clinton is targeting that will provide us our top stock to invest in if she wins the 2016 presidential race.
In April 2015, Clinton addressed the need to reform the criminal justice system at former Mayor of New York David Dinkins' Leadership and Public Policy Forum at Columbia University.
At the forum, she addressed:
Poverty
Unemployment
Stopping federal funds being used to militarize law enforcement
Ending mass incarcerations
Bolstering treatment for mental health
These issues obviously lack simple solutions.
But there was one topic that Clinton addressed that actually has actionable steps.
And it's going to put more money in the pockets of long-term investors...
"We should make sure that every police department in the country has body cameras to record interaction between officers on patrol and suspects. That will improve transparency and accountability, it will help protect good people on both sides of the lens," Clinton stated.
According to CNN, Clinton wants body cameras to be the "norm everywhere."
In her speech, the former first lady discussed how the trust between law enforcement and communities is broken. Clinton said President Barack Obama has helped create a plan to address the issue. But she believes more can be done.
"President Obama's task force on policing gives us a good place to start. Its recommendations offer a roadmap for reform, from training to technology, guided by more and better data," Clinton stated.
You see, it's the word "better data" that has revealed one of the best
stocks to invest in
now if Hillary Clinton becomes president of the United States. Here's our top stock pick and the incredible profit potential it provides...
The Best Stock to Buy Now Has 94% Upside
TASER International Inc. (Nasdaq: TASR) first marketed its "stun gun" to law enforcement agencies and police departments in 1998. Now, 18,000 police forces in 107 countries use the device.
But it's TASER's newest product line that is really going to reward long-term investors...
TASER offers a series of body cameras known as Axon. A single-unit Axon costs $399, while the Axon Flux, which can be worn on different body parts, costs $599. As of June 2015, roughly 3,500 law enforcement agencies across the globe were using 52,700 Axon units.
That means Axon units had sales between $21 million and $31 million as of June 2015. If Hillary Clinton becomes President, even more police forces will use body cameras, which will be an even bigger boost in body camera sales.
This alone makes TASER stock a great investment. But it gets even better...
Remember how we mentioned Clinton talked about "better data" in her speech? Well, TASER offers a subscription-based website called Evidence.com. The subscription service allows police and the security industry to upload films from their body cameras and instantly share footage.
TASER offers three tiers of subscription services. The media storage for its cloud service costs between $15 to $89 a month per officer. According to the U.S. Department of Justice, federal police employed 120,000 full-time law enforcement officers.
If each of those officers has a body camera, that's potential revenue of $21 million to $128 million per year.
You see, TASER had the foresight to know it couldn't just sell hardware. The wearable camera company GoPro Inc. (Nasdaq: GPRO) thought it could just sell cameras, and sluggish sales have sent GPRO stock plummeting 73.66% in the last 12 months.
But TASER has avoided GoPro's fatal flaw. By providing the software to capture, review, and share footage, TASER created a way to generate revenue after it sells its body cameras. In Q4 2015, Axon revenue increased by 47% to $9.3 million. The company also has contracts that are worth roughly $159 million in the future.
TASER stock opened this morning at $18.52 a share. But analysts at Thomson First Call have a one-year price target of $26.60. That's a potential profit of 44%.
And even those estimates may be too conservative...
Money Morning Technical Trading Specialist D.R. Barton believes that TASER will surpass its 52-week high of $35.95. That's a potential 94% gain for patient investors.
If Hillary Clinton becomes president, TASER is the best stock to buy. And even if she doesn't, this is still an undervalued stock. Police officers still need body cameras and the ability to review and share footage. This will protect the rights of American citizens as well as officers from false accusations. It will also reduce the amount of costly settlements.
The Bottom Line: If Hillary Clinton becomes president, TASER is the best stock to buy now. She wants every law enforcement agency to not only have the cameras to record an officer's interactions with the public, but she also wants those interactions to be easily reviewed. With a conservative one-year price target of $26.60, long-term investors could profit by 44%. But Money Morning Technical Trading Specialist D.R. Barton believes you could see as much as a 94% gain on your investment.
Jack Delaney is an associate editor for Money Morning. You can follow him on Twitter and follow Money Morning on Facebook. 
Profit Alert: TASER is prepared to make new investors a lot of money over the long term. But imagine if you were able to "get in on" such company before it went public, when it was truly it its strongest growth phase. That's just the sort of moneymaking opportunity I want to show you. I'm talking about a chance to invest directly alongside one of the most successful venture capitalists in the world. Click here to learn more.