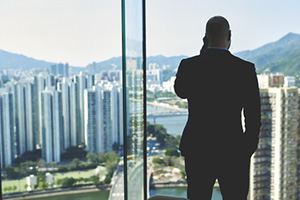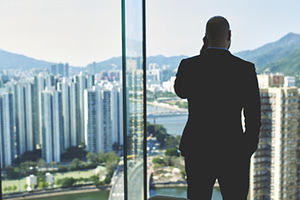 So far in election 2016, over $300 million has been spent to promote the five remaining presidential candidates. Donors for election 2016 have poured money into massive super PACs and nonprofits, which create ads, flyers, mailers, and media stunts to influence your voting preferences.
We've complied a campaign donor list with the top contributors in this election cycle. Here's who they are and a short explanation of what their "special interests" are...
The Top 5 Donors for Election 2016
1. Computer Scientist and Hedge-Fund Manager Robert Mercer: $14,140,000 donated.
Mercer is the biggest donor in the election 2016 race. And according to Bloomberg, Robert Mercer is one of the most puzzling and influential forces in U.S. politics.
Mercer mostly aligns himself with conservative candidates and causes, and has put at least $32 million behind the campaigns of conservative candidates. Most of his money in this election - nearly $11 million - has gone toward Texas Sen. Ted Cruz.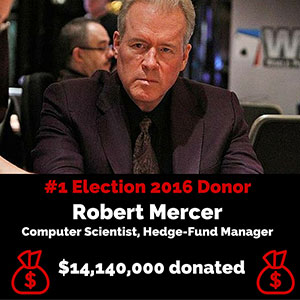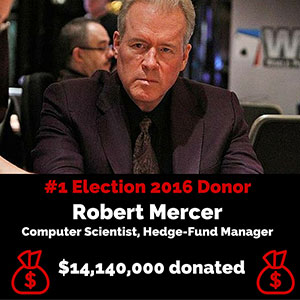 Mercer began amassing his fortune as a promising computer scientist in the early 90s tech boom. He worked at IBM before moving on to Renaissance Technologies, a New York hedge fund. The hedge fund has one of the best records in investing history, famed for annualizing over 35% returns in a 20-year span. Mercer was instrumental in pioneering the hedge fund's first use of "quantitative trading," which uses powerful algorithms to guide investments.
According to Bloomberg, the framework for Cruz's 2016 campaign run was decided at a private meeting in Palm Beach, Florida, with a handful of wealthy donors. Both Robert Mercer and his daughter, Rebekah Mercer, were among the attendees. Mercer was an influential voice at the meeting that helped the Cruz campaign gauge the risks and opportunities for a political "outsider" in this election cycle.
Mercer was one of the first big donors to take advantage of the Citizens United decision in 2010, which eased the rules around political spending by eliminating some restrictions on political fundraising and expenditures. Nearly eight months after Citizens United, Mercer funded one of the country's first super PACs to help elect a political upstart for Congress in Oregon, according to Bloomberg.
While the upstart, Arthur Robinson, failed to win office in 2010, it was a close call in a district dominated by a Democrat for two decades. The incumbent, Rep. Peter DeFazio, recalled how Mercer spent about $650,000 on attack ads and other efforts in support of Robinson, according to The New York Times. Even though he lost, Robinson had the best performance by a Republican in the Oregon district in decades, according to Bloomberg.
While Mercer is active in Republican circles, he likes to keep a low profile. He has never spoken publicly about his political objectives, according to Bloomberg.
Mercer is also known for investing in think tanks like the Heritage Foundation, the conservative media outlet Breitbart.com, and Cambridge Analytica, a data company that analyzes voter behavior.
The rise of super PACs and "dark money" organizations is undermining the democratic power of you, the average American voter. Watch the video to learn more about how "dark money" has changed the rules of American politics forever.
2. Hedge-Fund Manager, Philanthropist, and Environmentalist Thomas Steyer: $13,044,744 donated.
Thomas Steyer is a staunch environmental activist who spent at least $70 million in the 2014 midterm election cycle advocating climate issues. He plans to spend even more money in this year's election than he did in 2014, according to The Washington Post.
According to The Center for Responsive Politics, Steyer is a single-issue donor. He cares about climate issues, and so does his money.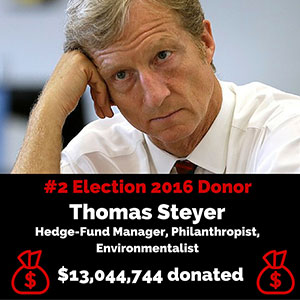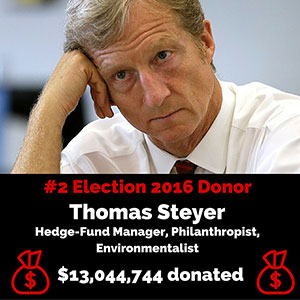 Steyer made his fortune by running a hedge fund called Farallon Capital. In 2012, he sold his stake in the company and turned his focus to politics and environmental issues. He is a vocal advocate of clean energy and was strongly against the Keystone XL oil pipeline.
Steyer is president of a super PAC called NextGen Climate Action, which he has poured the majority of his donations into this year. The super PAC supports candidates, elected officials, and policymakers across the country that will "take bold action on policy claims." While it mostly supports liberal and democratic officials, NextGen isn't aligned with any political party.
So far, none of Steyer's money has gone toward directly influencing the presidential race. That separates him from most of the other big donors this year. The hedge-fund manager hasn't directly or indirectly contributed to either of the Democratic candidates, Bernie Sanders or Hillary Clinton.
3. Oil Magnates Farris and Dan Wilks: $10,125,000 donated.
Farris and Dan Wilks are brothers that made their billions from the West Texas fracking boom. They sold their company Frac Tech for $3.5 billion in 2011, according to CNN. They are heavy backers of Republicans and conservative causes.
The two brothers are deeply religious, and Farris is a pastor in his small town of Cisco, Texas.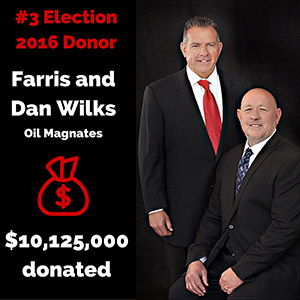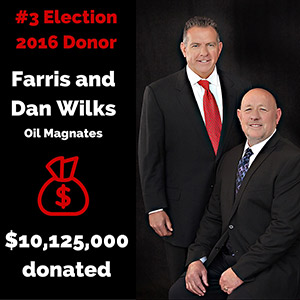 This election, the Wilks brothers bestowed their financial support on Cruz. They gave a record-setting contribution of over $10 million to the pro-Cruz super PAC, Keep the Promise.
Before election 2016, the brothers mostly kept a low donor profile. They made clandestine donations to conservative nonprofit organizations, also known as dark money groups, according to CNN. Political nonprofits aren't required to reveal their donors.
Now that the brothers have donated directly to the pro-Cruz super PAC, they're no longer able to avoid detection.
The Wilks brothers join Robert Mercer as some of the major individuals having significant control over Keep the Promise.
4. Energy Investor Toby Neugebauer: $10,001,000 donated.
Toby Neugebauer is the son of Rep. Randy Neugebauer, a Texas Republican. He is the co-founder of Quantum Energy Partners, a private-equity group that invests in the oil and gas sectors.
Neugebauer is yet another wealthy donor supporting the pro-Cruz super PAC, Keep the Promise. All of his $10 million spent this year has gone to the super PAC.
According to The New York Times, Cruz isn't the only politician Neugebauer has supported in the past. The energy investor has flown the former governor of Texas, Ricky Perry, around in his private jet to discuss the energy and gas industry. Neugebauer has also donated more than $100,000 to Perry in previous election cycles, according to the NYT.
Neugebauer currently lives in Dorado, Puerto Rico, where he moved in 2014. Some in Texas questioned whether Neugebauer relocated there because of Puerto Rico's easy-going tax policies, according to the NYT.
5. Hedge-Fund Manager and Activist Investor Paul Singer: $9,962,782 donated.
Paul Singer owns the hedge fund Elliot Management Corp., which specializes in acquiring companies with too much debt.
Although singer supports Republicans and some conservative causes, he is a vocal backer of same-sex marriage. This year, he has given over $1 million to the super PAC American Unity PAC, which promotes fiscally conservative candidates regardless of gender or sexual orientation.
Last year, Singer gave more money to Republican causes than any other donor in the United States, according to the NYT. This made him a highly desirable financial backer for election 2016. Singer also has a large network of other close wealthy donors, which some Republican candidates sought to tap into.
Former Florida Gov. Jeb Bush, New Jersey Gov. Chris Christie, and Florida Sen. Marco Rubio were all fervently seeking the financial support of Singer this year, the NYT reported. Singer eventually threw his financial support behind Rubio, who left the Republican race after losing the Florida primary on March 15.
Singer liked how Rubio was a fresh face for the Republican Party - someone who was a solid communicator and a promoter of modern conservatism, according to the NYT.
Singer has given $5 million to the former pro-Rubio super PAC, Conservative Solutions PAC. In addition, Singer has also given $1 million to the anti-Trump super PAC, Our Principles PAC.
Tweet the author @cgsaucier, or leave a comment on Money Morning's Facebook page.
The Ultimate Must-Have Investment: Water is going to be the single most important investment of this century. It's likely to deliver big returns to investors who make the right moves, like the ones in this report. Read More...