Last month, doctors from C.S. Mott Children's Hospital in Ann Arbor, Mich., used a special type of splint to save an adolescent girl's life.
The splint was made of a "miracle material" called polycaprolactone (PCL). If you saw the technology behind this life-saving procedure in action, you'd be amazed.
Even more amazing: That same life-saving technology - 3D printing - is deeply out of favor on Wall Street.
"Throughout 2015, 3D printing spending slowed considerably across the industry," one popular mainstream investing publication recently wrote. That "was caused by an oversaturation of 3D printers already in the marketplace."
True, 3D printing suffers from some of the same "growing pains" as any young technology. But brushing off the entire sector is foolishness.
For one thing, 3D printing is on pace to become a $1 trillion sector able to disrupt everything from your neighborhood jewelry artisan to the world's biggest vehicle manufacturers.
What's more, a series of 3D printing "pure plays" just exceeded analyst earnings expectations, which tells me this is a sector on the rebound.
Now, those "pure plays" are mostly the sorts of inherently volatile small-cap stocks that we don't usually invest in here. But I've found a mature tech stock that's at the cutting edge of the entire 3D printing "ecosystem" - and is already operating as a leading software firm.
I'm talking about the kind of profit-creator that will provide stellar long-term gains for investors like you - and whose shares could soar 77% in the next 12 months.
Let me show you why...
"Desktop Factories"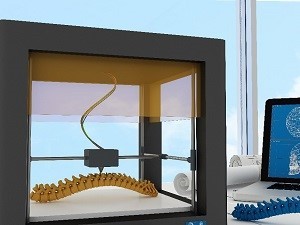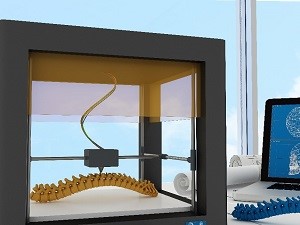 Before we get there, however, let me give you some background - on 3D printing... and that Michigan procedure.
Tracheobronchomalacia (TBM) is a condition in which the walls of our central airways - the trachea and bronchi - are weak and floppy. That leads to shortness of breath, a bad cough, buildup in the lungs, and frequent infections.
In adults, TBM is treatable, if not curable, and usually doesn't cause much harm. For young children, however, this rare disease is life-threatening.
Just last month, researchers from the University of Michigan used a biomaterial called polycaprolactone (PCL) to create a special tracheal splint. Then doctors from C.S. Mott used that splint to correct an adolescent girl's severe case of TBM.
That's the fifth time in recent months that this team from Michigan has used PCL splints to treat TBM in children.
The Michigan team's new solution saves a lot of time and money, relieving parents of tons of stress and heartache.
As high-tech advances go, you'd be hard-pressed to find one that will have as much impact as 3D printers.
These "desktop factories" will one day become a $1 trillion industry - completely changing the traditional factory model forever.
Here's why...
In just a few years, everyone from consumers to big businesses to solo inventors will be able to make their own unique products in just a couple of hours.
Need a special tool? A new spare part? A medical implant?
Now you can fire up the 3D printer and make one from plastic, metal, or "biomaterials" like PCL.
Technically, you don't really "print" a new product, though the process is similar. Rather than putting ink on paper, the user feeds the product's design into the 3D printer using computer-aided design (CAD) software. Then the printer system creates the product by adding thin layers of special materials.
Because the devices can be used to make parts in any industry, some analysts even refer to 3D printing as the Industrial Revolution 2.0. If the first Industrial Revolution was all about mass production, this new one is all about mass customization.
3D printing is big now because major manufacturers and cutting-edge small businesspeople are using it. But it will really take off toward its $1 trillion destiny once there's a 3D printer in every office and every home.
That's when it will become the 21st century equivalent of the laser printer and desktop publishing.
But don't take my word for it.
Big Adopters
Take a look at what Boeing Co. (NYSE: BA) is doing with 3D printing.
The aerospace giant used 3D printers to make 300 distinct parts for 10 aircraft and, so far, has turned out more than 20,000 parts for planes now flying. For example, the F/A 18 Super Hornet fighter jet has 150 3D-printed parts.
Ford Motor Co. (NYSE: F) is a 3D printing pioneer. In 1986, Ford bought SLA 3, the third 3D printer ever made. Since then, Ford has printed well over 500,000 parts and saved billions of dollars and millions of hours of work. For example, 3D printing cuts the cost of designing an intake manifold for instance, from $300,000 to $3,000 - and the prototype is available in days, not weeks.
Johnson & Johnson (NYSE: JNJ) finds itself at the leading edge of this field. It just joined forces with a new startup called Carbon 3D. The smaller firm came up with a new printing method called continuous liquid interface production (CLIP) that J&J intends to use to make 3D-printed surgical instruments.
CLIP also solves one of the biggest issues with 3D printers. As amazing as these machines are, they are slow - with it often taking six to 12 hours to "print" a product. Carbon 3D's technology prints 25 to 100 times faster than current platforms - bringing that time down to just minutes.
Analysts at Wohlers Associates forecast a seven-fold climb in the eight years ending in 2020, rising from $3 billion in the base year of 2013 to $21 billion. And everyone from Business Insider to The Washington Post thinks 3D printing has the potential to become the next $1 trillion industry.
Not surprisingly, those kinds of forecasts hobbled 3D printing stocks in their early days.
Wall Street oiled up the Hype Machine and ran it full throttle. That led to frothy stock values that were bound to come back down to Earth as brokers issued a wave of sell orders.
See Stratasys Ltd. (Nasdaq: SYSS). This Wall Street darling peaked at $136.46 back on Jan. 3, 2014. Trading at $25.15, the stock has lost more than 80% of its value in just over two years.
However, the firm is showing clear signs of progress - it beat forecasts by 20% in the most recent quarter. And from its low on Jan. 28, it has regained 65%.
It's a similar story at 3D Systems Corp. (NYSE: DDD). The stock peaked at $96.42 a share back on Dec. 30, 2013. At $15.30 now, shares remain 84% below their high.
Like SSYS, though, DDD is in a major rebound. Recent sales were 10% higher than the previous years, and earnings came in 533% above forecasts.
Still, this is "early days" for 3D printing's comeback - and, like I said before, these "pure plays" are small and risky stocks.
Therefore, it makes more sense to find a "backdoor play" on the whole 3D sector... one that will let us ride this $1 trillion trend without suffering huge bumps along the way.
Add This Spark to Your Portfolio
Autodesk Inc. (Nasdaq: ADSK) offers us that. Years ago, Autodesk blazed a trail in CAD software - and it's stayed at the forefront ever since. In fact, Autodesk is the globe's second-largest CAD software company and 22nd-largest software company overall.
Whether it's a surgical tool, artificial aorta, fuel nozzle, or bike helmet, the firm's CAD software plays a role in it all. And that means 3D printing is a perfect fit.
Most visibly in the 3D printing space, Autodesk is working with Mattel Inc. (NYSE: MAT) on a system that would allow children, teachers, and parents to design their own toys with mobile software apps from Autodesk. Six weeks ago, Mattel began taking pre-orders for its $300 Thingmaker 3D aimed at families.
Beyond this high-profile project with Mattel, Autodesk runs an open-platform 3D printing website - Spark. Among other things, the Spark portal unites 3D printer makers and designers so they can add tools directly to the printers themselves.
Spark allows users to print right from Autodesk apps as well as fix any problems they see in their designs on the fly. They also can build an online gallery of creations.
Spark has attracted some high-profile users - including Microsoft Corp. (Nasdaq: MSFT), HP Inc. (NYSE: HPQ), and 3D printer makers Jet Ltd. and ExOne Co. (Nasdaq: XONE).
Autodesk is an end-to-end play on the whole 3D printing "ecosystem."
Besides developing the CAD software that every 3D designer needs, Autodesk also makes the Ember 3D printer that employs complex algorithms to yield highly precise products. Using the system, privately held Slice Lab came up with a complete line of fine jewelry in just four months.
Plus, Autodesk is using Spark to run a $100 million fund to invest in firms that "push the boundaries of 3D printing." Thus, with this stock, investors are also de facto 3D printing venture capitalists.
The stock opened today at $56.85, giving it a $12.48 billion market cap. Margins remain thin at present, but they are quickly getting better. In its most recent quarter, the firm beat earnings forecasts by 42%.
And the stock is priced to move. A price/earnings-to-growth (PEG) ratio of 1 denotes "fair value." Autodesk has a PEG ratio of minus 4.7.
Analysts currently have a $100 high-water price target on the company's stock. That would be a 77% upside from where shares are now in just 12 to 18 months.
I think that's just the start of where this stock could go, though - and we could see triple-digit gains in three or four years. Maybe we should rename those "3D gains."
Follow Money Morning on Facebook and Twitter.
This Shipping Company's Stock Is Rising - No Matter What Amazon Does: Amazon has sets its sights on global shipping and logistics, giving both average investors and Wall Street the feeling now's a poor time to invest in the other major shipping firms. But this shipping company is so competitive and innovative that it'll flourish no matter what Jeff Bezos does. Plus, it'll pay you a healthy dividend while you watch its stock climb and climb...
Join the conversation. Click here to jump to comments…
About the Author
Michael A. Robinson is a 36-year Silicon Valley veteran and one of the top tech and biotech financial analysts working today. That's because, as a consultant, senior adviser, and board member for Silicon Valley venture capital firms, Michael enjoys privileged access to pioneering CEOs, scientists, and high-profile players. And he brings this entire world of Silicon Valley "insiders" right to you...
He was one of five people involved in early meetings for the $160 billion "cloud" computing phenomenon.
He was there as Lee Iacocca and Roger Smith, the CEOs of Chrysler and GM, led the robotics revolution that saved the U.S. automotive industry.
As cyber-security was becoming a focus of national security, Michael was with Dave DeWalt, the CEO of McAfee, right before Intel acquired his company for $7.8 billion.
This all means the entire world is constantly seeking Michael's insight.
In addition to being a regular guest and panelist on CNBC and Fox Business, he is also a Pulitzer Prize-nominated writer and reporter. His first book Overdrawn: The Bailout of American Savings warned people about the coming financial collapse - years before the word "bailout" became a household word.
Silicon Valley defense publications vie for his analysis. He's worked for Defense Media Network and Signal Magazine, as well as The New York Times, American Enterprise, and The Wall Street Journal.
And even with decades of experience, Michael believes there has never been a moment in time quite like this.
Right now, medical breakthroughs that once took years to develop are moving at a record speed. And that means we are going to see highly lucrative biotech investment opportunities come in fast and furious.
To help you navigate the historic opportunity in biotech, Michael launched the Bio-Tech Profit Alliance.
His other publications include: Strategic Tech Investor, The Nova-X Report, Bio-Technology Profit Alliance and Nexus-9 Network.