Yes, the crude oil price is in the midst of a massive rebound.
Since bottoming out at $26.21 on Feb. 11, the West Texas Intermediate (WTI) crude oil price has surged 58.2%. Meanwhile, the Brent crude oil price - the global benchmark - is up 47.1% over the same period.
You see, the 35% crash in oil prices from January through Feb. 11 came from a large volume of bearish positions. However, those positions are being sold off at a rapid pace. This decline in short bets is partly responsible for the current rebound.
But there's still one Wall Street firm betting on oil prices falling again. That's why this company is notorious for having the highest number of short positions in the world.
Before we get to that, here's a breakdown of the recent oil shorts, which hit an all-time high earlier this year...
This Is Why the Crude Oil Price Has Skyrocketed Recently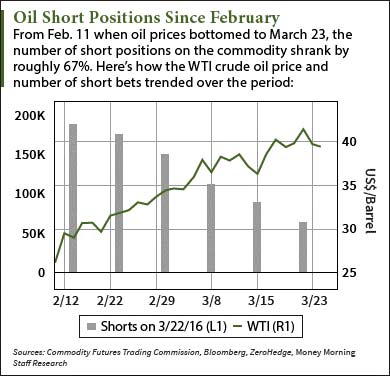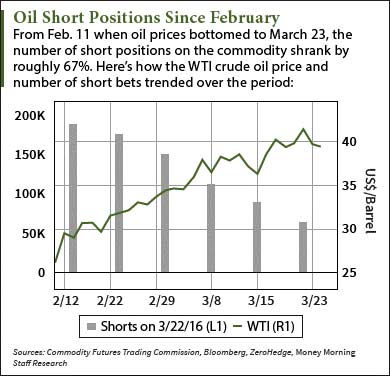 The number of short bets - which allow investors to make a profit when the value of a stock or commodity falls - on the Brent crude oil price neared 200,000 back in February. According to data from the Commodity Futures Trading Commission (CFTC), that was the highest amount of oil short positions ever recorded.
That means any hedge fund or investment bank with oil short positions earlier this year posted incredible returns when oil prices were bottoming out. After all, oil futures plunged nearly 35% during the first two months of the year to their lowest levels since May 2003.
Although this overwhelming amount of bearish sentiment helped deflate oil prices, the eventual sell-off of these short bets helped push prices higher. From Feb. 2 to March 28, shorts on WTI dropped by a massive 131,617 contracts - the biggest liquidation of oil shorts in history. Meanwhile, the crude oil price gained 18.5% over that period.
"The upward pressure on prices appears to have come from traders cashing out of bearish wagers at an unprecedented pace," Bloomberg reported on March 27. "The liquidation of short positions during the last seven weeks covered by data from the [CFTC] was the largest on record."
But one Wall Street vampire is still short on crude oil prices. In fact, this $67 billion company is the largest shorter of oil in the world.
Not to mention it was largely responsible for causing the 2008 subprime mortgage crisis and collapse of the U.S. economy...
The Wall Street Titan Behind the Huge Crude Oil Price Short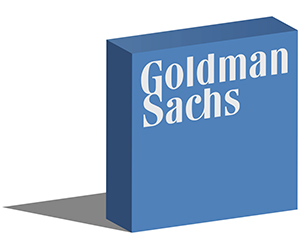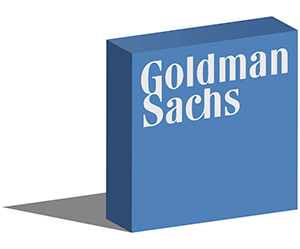 Goldman Sachs Group Inc. (NYSE: GS) - one of the oldest and largest investment banks in the world - is the world's biggest oil shorter.
According to Money Morning Global Energy Strategist Dr. Kent Moors, Goldman Sachs is purposefully bearish on oil prices. When Goldman analysts predict oil will drop to $20, it convinces everyday investors to sell their oil futures. This manipulation ultimately boosts the bank's short bets and makes the company money.
"One of the main culprits behind the price drop is Goldman Sachs, which is continually talking down the price of oil," Moors told readers back in September. "This analysis is far from objective, given that Goldman is the largest shorter of oil in the market."
If you still think Goldman Sachs doesn't have greedy motives, look no further than this week's headlines.
On April 11, the bank finally admitted to repackaging and selling shoddy mortgage-backed securities for its own gain between 2005 and 2007. This fraudulent practice was instrumental in causing the 2008 collapse of the U.S. housing market, which was the catalyst for the ensuing global recession. Goldman agreed to pay a $5.1 billion settlement for the federal lawsuit.
"This resolution holds Goldman Sachs accountable for its serious misconduct in falsely assuring investors that securities it sold were backed by sound mortgages, when it knew that they were full of mortgages that were likely to fail," acting Associate Attorney General Stuart F. Delery said in a press release Monday.
Despite Goldman Sachs' crude oil price shorts, Moors believes bullish sentiment will take over the market and slowly stabilize prices this year.
And it will happen regardless of how large U.S. inventories become.
Here's his precise Brent and WTI crude oil price targets for 2016...
Alex McGuire is an associate editor for Money Morning who writes about energy. Follow him on Twitter for all the biggest crude oil price updates.
Like us on Facebook: Money Morning
Related Articles: