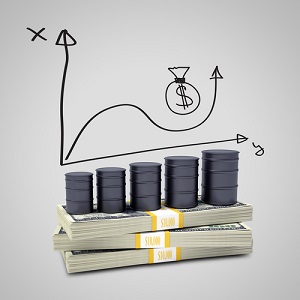 The WTI crude oil price climbed higher today (Thursday, April 14) after the release of a new global supply report and ahead of a critical meeting of oil titans this weekend.
In early morning trading, WTI crude oil prices were up $0.18, or 0.25%, and trading at $41.94 a barrel.
Oil prices jumped higher following a bullish report from the International Energy Agency (IEA) today. In its monthly report, the agency said global oil markets will "move close to balance" in the second half of the year as low crude oil prices weigh on production outside of OPEC.
The IEA also said the world oil surplus will shrink to 200,000 barrels a day in the last six months of 2016. That's down from 1.5 million barrels in the first half of the year. Additionally, non-OPEC production is poised to fall by the most since 1992 as the U.S. shale boom fades.
The oil glut is also set to ease off despite Iran gradually ramping up exports after sanctions were lifted in January. According to the report, sliding output levels around the world will restore the supply-demand balance in 2016.
That's some much-needed good news for the struggling WTI crude oil price.
You see, the oil price has been in a downward spiral since June 2014, when WTI peaked around $110 a barrel. Since then, crude oil prices have plunged more than 60% due to surging global supply levels.
With triple-digit oil prices long gone, oil company profits around the world have significantly declined. As a result, layoffs have been widespread, subsidies have been slashed, and hundreds of billions of dollars in investments have been canceled.
But many investors hope the market will stabilize after this Sunday's meeting of the world's largest oil nations. Here's what you need to know now ahead of this historic meeting…
Will the OPEC Meeting Boost the WTI Crude Oil Price?
Saudi Arabia, Russia, and more than a dozen other oil-producing countries will gather in Doha, Qatar, this weekend to discuss freezing oil output.
According to Bloomberg, OPEC's daily output is 1.2 million barrels over the average required in the first half of 2016. The cartel's 13 members produced 32.47 million barrels a day in March. That was a decrease of 90,000 a day from February.
Investors are worried a deal won't be reached on Sunday. And if the countries do reach an agreement, the widespread opinion is it will have a small impact on the crude oil price.
In a research note earlier this week, Morgan Stanley (NYSE: MS) said any boost in the WTI crude oil price will be limited to current price levels. Even if the deal falls apart, the investment bank expects a "positive spin and commitment to continue talks."
The IEA shares a similar sentiment. The agency said a decision to freeze instead of cut production will have a limited impact on prices.
And despite the 33% rally in WTI crude oil prices recently, investors have been skittish regarding Iran's involvement.
Iranian oil officials have repeatedly refused to participate in the freeze. That's because the oil-rich country wants to increase production to pre-sanctions levels.
Another key country is Saudi Arabia – the world's largest oil exporter wields powerful influence over global oil markets. It maintains it won't sign any deal unless other major oil producers, including its political rival Iran, follow suit.
Stay informed on what's going on in the markets by following us on Twitter @moneymorning or liking us on Facebook.
What to Expect from the Breakout in Oil Prices: Crude's rallied higher this month, even though supply hasn't changed much since December. But supply doesn't drive oil prices anymore. Today, perception is more important than reality – and that perception is now changing fast…
Related Articles: