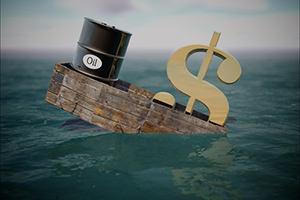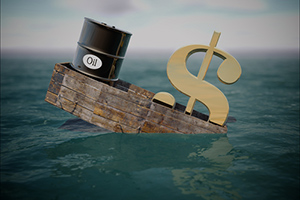 Despite the 23% rebound over the last two months, the WTI crude oil price is still down over 60% since June 2014.
This plunge has caused U.S. oil companies to suffer record losses. Chevron Corp. (NYSE: CVX) posted its first quarterly loss in more than 13 years during the fourth quarter last year. Exxon Mobil Corp. (NYSE: XOM), the world's largest publicly owned energy company, saw its earnings fall by nearly 50% in Q4 2015 from the year-ago quarter.
But there's one company that made a killing from the WTI crude oil price crash. In fact, this firm just reported a 2015 profit of $1.6 billion – its fourth-highest ever. And with oil prices set to stay in the low $50s all year, its profit is on track for another record-breaking year.
First, here's why prices have crashed over the last year…
Two Reasons Why the WTI Crude Oil Price Has Plunged
One reason why crude oil prices tanked is soaring supply levels.
According to the U.S. Energy Information Administration (EIA), inventory levels hit an 80-year high of 487.4 million barrels on Dec. 30. The agency also reported that total world production reached a record high of 95.8 million barrels a day in 2015.
But the biggest reason why the WTI crude oil price hit a 13-year low of $26.21 back in February was China's struggling economy.
You see, the world's second-largest economy hit a rough patch this year due to fears over slowing growth. During the first two months of 2016, the country's Shanghai Composite Index dropped 24% to its lowest level since November 2014. The Hong Kong-based Hang Seng Index fell 12.7% over the same period.
As the second-largest oil-consuming nation in the world, China's economic turmoil indicated decreasing demand. The country's nosedive in January and February sent crude oil prices down 7.5%.
But one type of company is enjoying low WTI crude oil prices.
In fact, they posted a profit of $1.6 billion because of – not despite – the oil price crash over the last 22 months…
This Company Made $1.6 Billion from the WTI Crude Oil Price Crash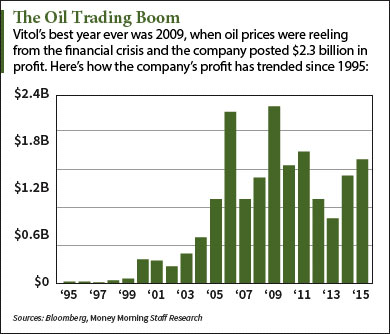 The firm profiting from the oil price volatility is the Switzerland-based trading company Vitol Group BV.
Although it's not a household name, Vitol is the largest independent energy trading firm in the world. According to the Financial Times, it has more than 7,500 employees and trades more than 5 million barrels of oil a day. That's about the same as the daily oil consumption of Japan, which is the third-largest oil consumer in the world behind the United States and China.
You see, companies like Vitol reap huge benefits from commodity price volatility. Oil, gold, and silver futures have seen huge price fluctuations recently, which means they constantly trade in huge volumes. These firms make these trades possible and earn a percentage via trading fees.
So for Vitol, the more volatility, the better.
And one publicly traded firm profiting from low oil prices is Tullett Prebon Plc. (LON: TLPR), one of the largest brokerage firms in London. The company earned revenue of 125 million pounds ($179.5 million) during the last two months of 2015 thanks to its energy arm PVM Oil Associates, which it acquired in November 2014.
As of today (April 14), Tullett stock trades at $331.30. Shares are down 11% this year, but we expect TLPR stock to rebound as the company sees more revenue growth from the short-term oil price volatility.
And as a Money Morning Member, you can profit from these short-term gains…
When you become a Money Morning Member, you become eligible for one free international trade and 20 domestic trades through EverTrade Direct Brokerage. This perk allows you to buy and sell stocks once you open an EverTrade account.
Since Tullett stock lists on the London exchange, you can use your free international trade to bank profits from this overseas company.
Here's everything you need to know about this exclusive Money Morning membership deal – and the several other free benefits you'll receive…
Alex McGuire is an associate editor for Money Morning who writes about energy. Follow him on Twitter for all of the biggest oil and gas updates.
Like us on Facebook: Money Morning