While the gold price today is mostly flat, its rise this year continues to attract attention and investors.
But the past week has been a mixed bag. Gold prices started out quite strongly, but then fizzled and gave those gains back by mid-week.
It seems the U.S. dollar is the biggest factor pulling down the price of gold, as the greenback initially hit a six-month low before rebounding from there.
Since the gold price has surged more than 15% year to date, it has so far consolidated rather than sell off.
That's bullish behavior that may well point to ongoing strength as we move further into 2016.
But before we discuss what will drive up gold prices in 2016, let's examine the metal's recent volatility…
Gold Price Today Flat After a Rocky Week of Trading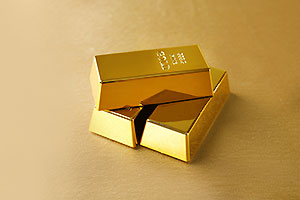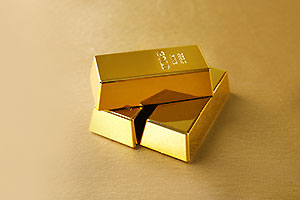 The gold price started the week off strong by surging to its highest level in nearly a month. On Monday, gold futures jumped 1.2% to $1,258 – the highest settlement since March 17.
But the rest of the week was marked by a series of losses due to the unpredictable U.S. dollar.
After gold prices lost 0.2% the following session, the dollar gained 0.8% to a two-week high of 94.78 on Wednesday. That caused gold to shoot up 0.7% to $1,250 before falling back down to settle at $1,242.
On Thursday, the U.S. Dollar Index saw even more gains, running up to around 95.00. The rising dollar weighed on the price of gold for the third straight day. It fell 1.2% to close at $1,227.
As of 10:25 a.m., the gold price today (Friday, April 15) is up 0.2% to $1,226.90. Futures are on track for a weekly loss of 1.3%.
Now, let's step back and look at the gold price action in recent months – and how prices will see big gains this year despite recent setbacks…
Why the Gold Price Will Recover from Recent Losses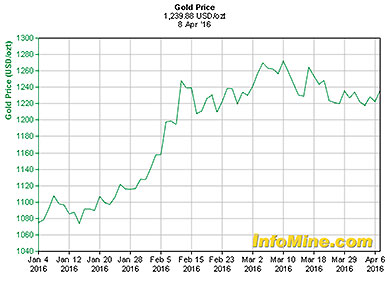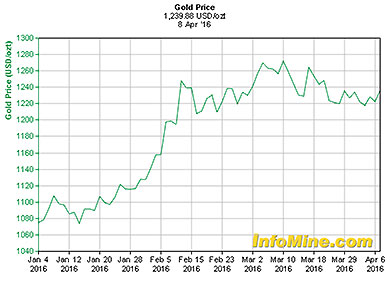 You see, gold prices were just below $1,080 in mid-January before running higher through January and mid-February. It finally hit an interim peak of $1,245 before consolidating, then moved higher into early March.
Here's how the S&P 500 performed compared to the price of gold over that same time frame…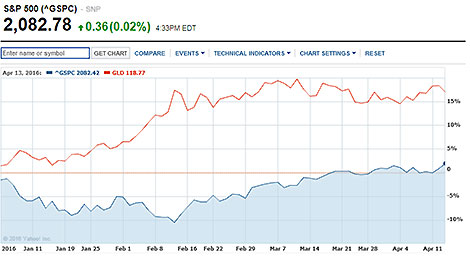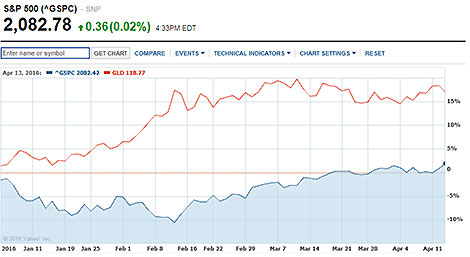 From the outset of 2016, gold prices have had a high negative correlation with the S&P 500, moving higher as the stock market tanked. What's impressive, though, is as stocks began to recover in mid-February, gold didn't sell off. Instead, it moved sideways, then ran higher again in early March as the S&P 500 continued to recover.
So far this year, the gold price peaked at $1,270 and has gradually worked its way lower over the past month. Until now, the $1,210 level has held pretty well.
The fact that the price of gold has managed to consolidate between about $1,210 and $1,270 for the last two months is a sign of strength.
What's been driving this kind of action?
As I explained earlier, dollar weakness has supported higher gold in the short term. But there's more to it than that.
The fact is Janet Yellen and her band of U.S. Federal Reserve members recently backed off raising interest rates. The market sell-off in January clearly told her that the economy couldn't handle higher rates. So the Fed had to oblige.
And elsewhere, negative nominal rates have people concerned and even afraid.
In Japan, for instance, gold bar sales climbed 35% to 8,192 kilos in the first quarter, according to the country's largest gold retailer, Tanaka Kikinzoku Kogyo K.K.
The World Gold Council said Japanese consumer demand nearly doubled from 17.9 metric tons in 2014 to 32.8 metric tons last year.
Europe, where the ECB also decided negative rates would be a good idea, has also seen strong gold demand, too.
In fact, the World Gold Council summed it up perfectly: "History shows that, in periods of low rates, gold returns are typically more than double their long-term average. Over the long run, negative-interest-rate policies may result in structurally higher demand for gold from central banks and investors alike."
Stay informed on what's going on in the markets by following us on Twitter @moneymorning or liking us on Facebook.
The Essential Guide to Buying Gold and Silver: Precious metal investing is widely regarded as the best "crisis insurance" for your portfolio. This guide gives you everything you need to know about the best stores of value in history, gold and silver. Read more…
Join the conversation. Click here to jump to comments…
About the Author
Peter Krauth is the Resource Specialist for Money Map Press and has contributed some of the most popular and highly regarded investing articles on Money Morning. Peter is headquartered in resource-rich Canada, but he travels around the world to dig up the very best profit opportunity, whether it's in gold, silver, oil, coal, or even potash.