SunEdison Inc. (NYSE: SUNE) shares surged 58% to $0.58 yesterday (Thursday). But will this SUNE stock price rally last?
Before we get into whether the SUNE stock price rally has legs, here's what sent shares of the embattled solar company soaring this week.
According to a U.S. Securities and Exchange Commission filing released Thursday, a board investigation found that the renewable power firm delivered an "overly optimistic" prognosis on the company's financial position and revealed poor accounting practices, but the analysis uncovered no fraud.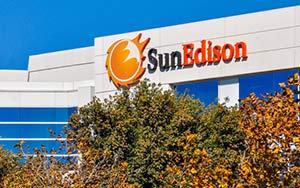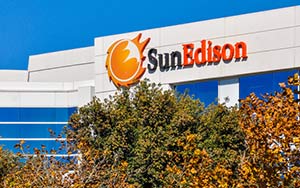 Conducted by independent board members and an audit committee, the investigation found no "material misstatements" in earnings reports and "no substantial evidence to support a finding of fraud or willful misconduct of management," according to the public filing.
However, the probe did take aim at the company's management for lacking "sufficient controls and processes" in cash forecasting and allowing "overly optimistic" cash projections and risk assessment.
A non-executive employee, who has since been fired, was also accused of wrongdoing in connection with the person's role in SunEdison's attempt to acquire Vivint Solar Inc. (Nasdaq: VSLR). The Vivint deal was called off last month after banks backed away from providing funding for the deal.
The SunEdison stock price rallied once the news was released. Turns out that plenty of investors were encouraged that the company didn't commit fraud. In short, Thursday's news wasn't good news, it just wasn't as bad as anticipated.
SunEdison still faces a number of serious financial challenges. One is the substantial risk of bankruptcy, according to a recent filing by one of its subsidiaries, TerraForm Global Inc. (Nasdaq: GLBL).
Another is a U.S. Justice Department investigation over its accounting. The biggest issue is whether SunEdison misrepresented its liquidity position last fall.
In a January 2016 business update, SunEdison said it expected to have $56 million in cash on hand at the end of Q4 after paying down margin loans and committing cash for construction.
But SunEdison has yet to release its 2015 financials. That's left investors in the dark about the company's actual cash and financial positions. The delay has raised a number of red flags and has put even more pressure on the tanking SUNE stock price.
Once a high-flying darling of the green environment world, the outlook for the SUNE stock price in 2016 continues to look bleak…
Why the SUNE Stock Price Rally Won't Last Much Longer
SunEdison became the No. 2 solar-installation firm in the United States with a 4.2% market share. It achieved success by taking advantage of record-low interest rates and an influx of hedge fund cash.
The company used the cheap and ready credit to grow, and grow, and grow…
Some of SunEdison's growth was financed via yieldcos, a financially sophisticated system of firms created by SunEdison to own and operate the power plants it built. The aim was to provide SunEdison with a stream of at-hand cash that would allow SUNE to continue growing.
The yieldcos attracted investors thanks to their healthy yield, which came during a yield-starved environment. But as investors grew concerned with SUNE's debt disclosures and backed away from riskier assets like yieldcos, SUNE's cash stream dried up.
The company's market capitalization reached a high of $17.5 billion in November 2007, as high oil prices ignited interest in renewable alternatives to fossil fuels, according to S&P Global data.
Today, SUNE's market cap is just $294 million. Shares slumped 25% Friday to $0.43 following Thursday's brief rally. Year to date, the SUNE stock price has dropped 91.45%.
With bankruptcy a real possibility and a number of lawsuits in the waiting, SUNE's future looks dark and its shares are best avoided in 2016.
Stay informed on what's going on in the markets by following us on Twitter @moneymorning or liking us on Facebook.
What the World's Leading Energy Insiders Fear Most: There's a crisis brewing in America's oil fields that's not unlike the 2008 credit crunch. Soon, it's going to spread to the rest of the world. The fallout won't be pretty, but don't worry. You'll be prepared – and ready to play it for some gains…
Related Articles: