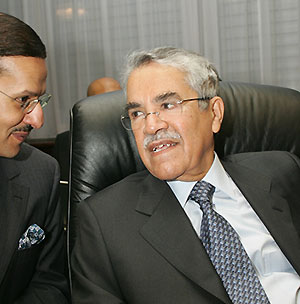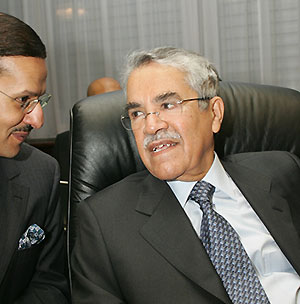 The future of crude oil prices hinges on the most important oil meeting in decades, which is taking place today (Sunday, April 17) in Doha, Qatar.
Anticipation for the meeting has sent oil prices on a 35% rally ever since it was announced back in February. But investors are anxious to know how crude oil prices will perform after the meeting.
Before we get to Money Morning Global Energy Strategist Dr. Kent Moors' post-meeting forecast for oil prices, here's a breakdown of why the Doha meeting is so important…
Everything You Need to Know About the Doha Meeting and Crude Oil Prices
Today, 15 oil-producing OPEC and non-OPEC nations will meet in Qatar's capital, Doha, to discuss a possible output freeze.
The confirmed attendees are the most dominant oil players in the world. These include Saudi Arabia, Russia, Kuwait, the United Arab Emirates, Venezuela, Nigeria, Algeria, Indonesia, Ecuador, Bahrain, Oman, and Qatar.
To understand how this meeting's outcome will unfold, it's important to look at these countries' economies. And this chart shows how some of them are on the brink of collapse…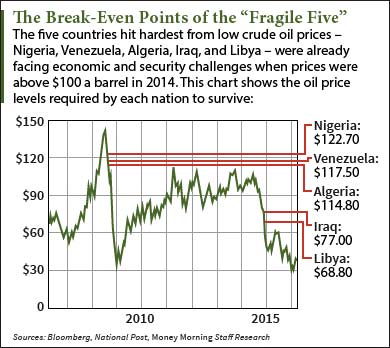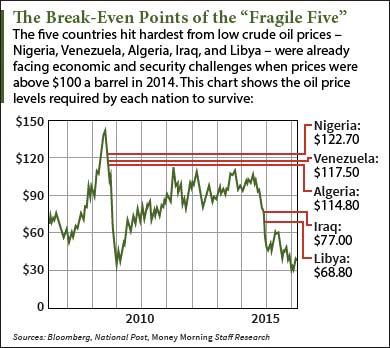 Since crude oil prices started crashing in June 2014, countries like Venezuela and Nigeria have struggled to keep their economies afloat. Because these OPEC members rely so heavily on oil revenue, the crude oil price crash has hit them hard. Venezuela's economy shrank 5% in 2015 due to the 40% plunge in prices. Saudi Arabia – the world's largest oil exporter – saw its annual debt increase to 9.4% of the country's total GDP.
"Even Saudi Arabia is cutting spending and increasing taxes," said Moors – a 40-year oil industry veteran who's advised U.S. and Russian energy agencies – in March. "Some OPEC economies – Venezuela, Libya, and Nigeria being among the worst – are either careening headlong into crisis or are already basket cases."
That's why these countries are willing to meet to freeze output. They believe capping production at January levels – when OPEC output was at an all-time high of 32.4 million barrels a day – will keep the supply market in check and stabilize crude oil prices.
Although Moors says the meeting will help push crude oil prices higher in the near term, frozen output levels won't be the reason for it.
That's because the meeting's purpose isn't quite what it seems…
The Real Reason Why Crude Oil Prices Will Stabilize After the Doha Meeting
You see, the 
perception
 of the world's oil supply is having a huge impact on oil prices right now. In fact, that perception is having a bigger impact than the actual supply.
Although Baker Hughes Inc.'s (NYSE: BHI) weekly rig count has fallen more than 52% since last April, total U.S. supply has still climbed 11% over the same period. With WTI crude oil prices up 27% over the last two months, the perception is that U.S. inventories are declining, when they are actually climbing.
If all 15 countries agree to freeze production, the perception will become even more bullish and send prices into the $41 to $45 range.
"Oil's influential traders will gain the accurate perception that there is now a 'floor' in oil, because the cap changes supply expectations," Moors said on April 15. "After a production 'freeze,' rising demand will have time to catch up to supply."
Global demand will slowly catch up with these January output levels, and the struggling economies will start to balance out. After that, crude oil prices will remain stable and the energy sector will start to recover.
Stay tuned to Money Morning for more updates on the Doha meeting and crude oil prices. Follow us on Twitter and Facebook.
Saudi Arabia Is About to Make the Deal of the Century… Oil's plunge since late 2014, combined with rapid growth in renewable energy investments, has the OPEC leader scrambling for money. With its debt projected to nearly double in 2017, Saudi Arabia is planning to make a fundamental change in its strategy. And it involves creating the single largest publicly traded stock in history…