Last week, I told you that the world was just beginning to reckon with the fallout from the Panama Papers, the 11.5 million emails hacked from Panamanian law firm Mossack Fonseca.
That's because investigators around the world have only just begun to sift through the wreckage.
After U.S. tax authorities, the U.S. Justice Department, Panamanian, Brazilian, Thai, British, and a handful of other outraged countries launched their own inquiries, the Joint International Tax Shelter Information and Collaboration (JITSIC) Network convened a meeting of 28 nations in Paris on Wednesday to coordinate joint investigations.
The unprecedented international coalition intends to look into the 210,000 companies domiciled in 21 different offshore jurisdictions uncovered in the Mossack Fonseca emails.
Not only are investigations going to lead to a lot of buried treasure, they're going to bury a lot of rich, powerful, and crooked people.
And that's not all…
Of the over 500 banks and bank subsidiaries implicated in the Panama Papers, some are major global banks.
That creates a major trading opportunity for us – and I'll show you how to get into position to catch profits as investigators follow the paper trail.
But first, let the digging begin…
Digging Up the Dirt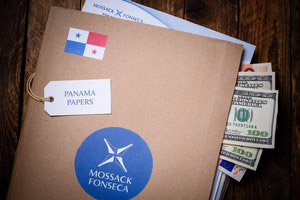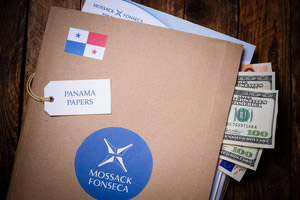 So far, we know 15 people already named are either current or former heads of state or government leaders. They include: Sigmundur Gunnlaugsson, the prime minister of Iceland, who already temporarily stepped aside over disclosures of his interest in a shell company; Saudi King Salman bin Abdulaziz Al Saud; UAE President and Emir of Abu Dhabi Khalifa bin Zayed Al Nanyan; Ukrainian President Petro Poroshenko; UK Prime Minister David Cameron; former Italian Prime Minister Silvio Berlusconi; and former Pakistan Prime Minister Benazir Bhutto.
Hundreds of other government officials and friends of government bigwigs are disclosed in the Papers, including: former minister of finance of France and former managing director of the IMF Dominique Strauss-Kahn; former president of the Supreme Federal Court of Brazil Joaquim Barbosa; former head of North Korea's Daedong Credit Bank Kim Choi Sam; eight current and former members of China's Politburo Standing Committee; family members of China's past and present presidents and party leaders; and friends of Russian President Vladimir Putin.
And of course a lot of rich and powerful moguls, celebrities, Hollywood royalty, and sports icons are beneficial owners or investors in uncovered shell companies.
Entertainment billionaire mogul and co-founder of Dreamworks David Geffen is on the list. So is actor Jackie Chan and American Idol creator Simon Cowell. And sports legends: golfer Nick Faldo, winner of three Master's tournaments, and soccer icon Lionel Messi, are all implicated.
Even the CIA shows up in Mossack Fonseca's email files. We may never know who they were fronting, backing, enriching, for what reasons, and to whose ultimate detriment. But maybe some of it will come out.
As I told you last week, there are lots of legitimate reasons to set up so-called shell companies – and it's possible that many of the people listed above were not party to any illegal activity.
It's the shady setups rigged to evade taxes and clean dirty money that investigators are going after – and there are plenty of those domiciled in Panama and elsewhere around the world.
Department of Justice spokesman Peter Carr said of the Panama Papers:
We are aware of the reports and are reviewing them. While we cannot comment on the specifics of these alleged documents, the U.S. Department of Justice takes very seriously all credible allegations of high-level, foreign corruption that might have a link to the United States or the U.S. financial system.
We already know there are direct and indirect links to the United States, to U.S. citizens, and U.S. intermediary shell companies. More than 200 scanned U.S. passports were in Mossack's email files, and more than 3,500 listed shareholders have U.S. addresses. As far as shell companies, the Papers reveal 3,100 companies tied to offshore "professionals" based in Miami alone.
Besides direct and indirect beneficiaries and investors in the questionable shell companies set up by Mossack Fonseca, there are thousands of other linked shell companies set up by other law firms in other jurisdictions that investigators will have to chase down.
But don't count on too many law firms getting into hot water. For the most part, firms manage to protect themselves and their practices by distancing their interests from the activities that go on inside companies they create.
Still, not all of the hundreds of law firms in the U.S. and around the world that set up these offshore shells are going to be clean. There will be lawyers and law firms that sink along with the shady characters and companies they're involved with.
Mossack Fonseca maintains it's done nothing wrong. Ramon Fonseca, the law firm's founding partner, distances the firm from beneficiaries and investors – who may be evading taxes or laundering dirty money by saying – normally the firm required banks to provide "due diligence" information verifying owners' identities and confirming that they were not involved in overt criminal activity before setting up or managing companies created for banks' clients.
Whether or not that's entirely true, it directly points to banks as intermediaries and facilitators, if not outright masterminds.
These Banks Are in Hot Water Again
Back in 2013, when banks were once again under intense scrutiny for aiding and abetting U.S. tax cheats, a Credit Suisse private banker explained that "the current trend is that lawyers prepare the structure, and the bank's focus is on managing the bank accounts (and not the structure)."  That quote comes from a Mossack Fonseca employee's notes of a meeting with the bank.
Banks are in the thick of it again.
While lawyers in the United States and in some other countries are under no legal requirement to report "suspicious activity," all banks doing business in the United States are required by law to do so.
So far, no big U.S. banks have been implicated in any of the Panama Papers, but that might change. However, it looks like a lot of the "usual suspects" who have been implicated, investigated, found guilty, and fined by U.S. regulators and the Department of Justice are back to their old tricks.
Past offenders caught aiding and abetting U.S. tax cheats, now featured prominently in the Panama Papers, include UBS Group AG (USA) (NYSE: UBS) and Credit Suisse Group AG (NYSE ADR: CS).
In 2009, UBS paid $780 million in fines, interest, and restitution to avoid prosecution in a highly charged case that drew the ire of the Swiss government over Swiss banking secrecy laws UBS thought would shelter it from U.S. authorities looking into tax shelters UBS bankers set up for thousands of U.S. citizens.
And in 2014, Credit Suisse pled guilty and paid a $2.8 billion in fines to settle criminal charges for, among other actions, "assisting clients in using sham entities to hide undervalued accounts." Eighty Swiss banks subsequently settled with U.S. authorities over matters related to helping U.S. citizens evade taxes.
More than 500 banks and their subsidiaries registered at least 15,600 shell companies through Mossack Fonseca, according to the Papers.
There's little doubt bankers may face fines and jail time for their part in the gaming.
Mossack emails show that from 2010, some banks began transferring companies out of the banks' names and into the names of individual bank employees.
According to McClatchy, the newspaper company with complete access to all the Mossack emails, a 2010 email from Mossack Fonseca to HSBC "reveals the firm put companies into the personal names of seven HSBC bankers, including Judah and Nessim el-Maleh. Nessim el-Maleh was later convicted along with another el-Maleh brother in a cannabis-for-cash scheme in Paris, where bags of money from drug deals were laundered through HSBC accounts."
Investigations are going to be the end of some bankers – and maybe even some banks. But, to be sure, none of the big European banks that just pay fines for their misdeeds, like you and I pay a toll to use a bridge, are going down.
But their stock prices just might head that way…
The Best Way to Short the Dirty Banks
One way to play the exposure of big European banks to fallout from the Panama Papers is to short the iShares MSCI Europe Financials ETF (Nasdaq: EUFN). HSBC Holdings Plc. (NYSE ADR: HSBC) accounts for 7.74% of EUFN's portfolio, and UBS another 3.75%.
Fallout from the Panama Papers is just beginning to stir some dark waters, so shorting EUFN now may be a bit premature. The exchange-traded fund looks like it could get above $19 and make a run for $21 to $22 if more stimulus out of the European Central Bank tickles bank investors.
But with the Panama Papers hanging over some giant European financial institutions, shorting EUFN above $21 to $22 is a good bet.
I'll be keeping you updated on everything to do with the Panama Papers, and as more specific details come out, I'll be making some very specific recommendations on how to profit from what could prove to be a treasure trove of salacious facts.
Follow Money Morning on Facebook and Twitter.
The "Panama Papers" Are Just the Tip of a Giant Iceberg: The Panama Papers are already having a profound effect across the globe, but it's just getting started. The fallout will drown more world leaders, banks, and even entire governments – so it's important to understand how the shell game is really played…
Join the conversation. Click here to jump to comments…
About the Author
Shah Gilani is Chief Financial Strategist for Money Map Press and boasts a financial pedigree unlike any other. He ran his first hedge fund in 1982 from his seat on the floor of the Chicago Board Options Exchange. When options on the Standard & Poor's 100 began trading on March 11, 1983, Shah worked in "the pit" as a market maker. The work he did laid the foundation for what would later become the Volatility Index (VIX) - to this day one of the most widely used indicators worldwide. After leaving Chicago to run the futures and options division of the British banking giant Lloyd's TSB, Shah moved up to Roosevelt & Cross Inc., an old-line New York boutique firm. There he originated and ran a packaged fixed-income trading desk and established that company's "listed" and OTC trading desks. Shah founded a second hedge fund in 1999, which he ran until 2003. Shah's vast network of contacts includes the biggest players on Wall Street and in international finance. These contacts give him the real story - when others only get what the investment banks want them to see. On top of the free newsletter, as editor of The 10X Trader, Money Map Report and Straight Line Profits, Shah presents his legion of subscribers with the chance to earn ten times their money on trade after trade using a little-known strategy. Shah is a frequent guest on CNBC, Forbes, and MarketWatch, and you can catch him every week on FOX Business' "Varney & Co."