In a meeting with The Washington Post's editorial board earlier this month, GOP presidential primary candidate Donald Trump said the economy was so dicey that the United States was headed for "a very massive recession."
As I noted on FOX Business' "Varney & Co.," I think we're already there, even if the Fed doesn't realize it yet.
Here's the thing - the measures the Fed uses to judge economic activity are based on a manufacturing economy that we enjoyed more than 100 years ago. They simply don't reflect the services-based system we live in presently.
The hard truth is millions of American families are living paycheck to paycheck. The economic "recovery" that the Fed and legions of economists are so proud of having engineered doesn't exist - and hasn't for a very long time.
Here's the real state of American prosperity - and what you can do to ensure you're not left behind...
Your Economic Future Doesn't Have to Be This Grim
Look at income, for example. Incomes have grown by less than inflation in 28 states since 2007, according to Yahoo! Finance. Manufacturing activity has fallen off a cliff, dropping in 44 states over the same time frame. Median household income is still lower than it was in 2000, according to Sentier Research and BLS data.
Long story short: Many families are earning less than they did 16 years ago.
Never mind what the "official" definition is. That's a real recession - one that's leaving millions of families in the lurch.
Obviously, I don't want you to be one of them.
In fact, I want you to have the retirement of your dreams no matter what the Fed does next, no matter what happens this election cycle, and no matter how Wall Street tries to hijack your money.
Right now, that means paying attention to the data.
History shows that individual investors don't usually do that very well. In fact, they do it very poorly on average - selling when they should be buying and buying when they should be selling.
Consider what happened from September 2008 to January 2016. Over that period, Domestic Equity, Long-Term Mutual Fund Flows experienced monthly withdrawals totaling more than $875 billion versus $129 billion of additions - and over that time, the S&P 500 rose by a 51.8%.
Ergo... they sold low and bought high.
How Investors Are Walking Away from Big Gains
Right now you're seeing the same thing... again.
According to the TDAmeritrade Investor Movement Index (IMX), a proprietary behavior-based index tracking individual investor sentiment, the markets are drifting sideways to up even as individual investors are backing away.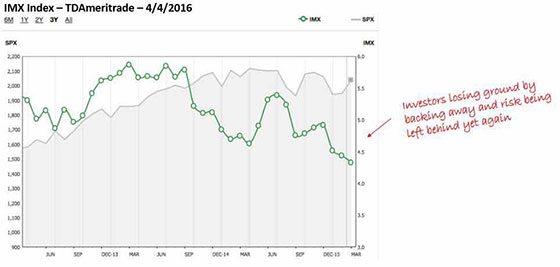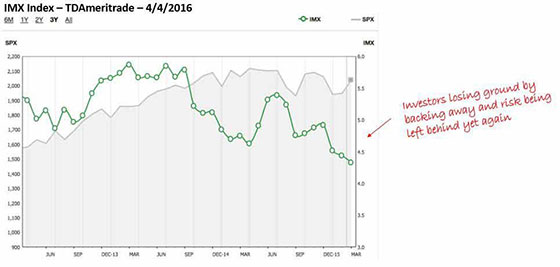 That tells me the risk of being left far behind is rising... again!
I say that because traders are warming up to the idea that central bankers may try to manipulate their way higher in response to increasingly challenging deflationary inputs around the world.
We all know that's terrible from a macroeconomic standpoint, but that doesn't change the fact that they're going to try anyway.
And that means you've got to be on board even if you don't want to be.
Let me prove it to you.
Take the 10 years from 1994 to 2004. The markets rose and fell, but ultimately you would have earned 6.5% a year over that time frame. However, if you missed out on just the 10 best days of that tumultuous time, your annual return would have been... wait for it... a whopping 0%. As in
zero
,
zilch
,
nada
,
bupkis
.
Yes, you read that correctly: You would have earned all your money in just 10 days... out of 3,827 total.
So if you're tempted to run for the hills like a lot of people at the moment, ask yourself if you can afford to throw that kind of potential away.
The vast majority of investors can't.
But obviously, investing blindly won't cut it. I believe the best returns in this market are going to come from just six "Unstoppable Trends:" Demographics, Scarcity/Allocation, Medicine, Energy, Technology, and War, Terrorism & Ugliness.
In fact, I'm willing to bet that every dime you'll make over the next ten years will come from one or more of these trends. They've created more billionaires than any trend not on the list above in history.
Right now, this means buying companies like Raytheon Co. (NYSE: RTN), American Water Works Co. Inc. (NYSE: AWK), and NextEra Energy Inc. (NYSE: NEE). Each of these companies has rock-solid potential right now, and of course they're all "powered" by Unstoppable trends like War, Terrorism & Ugliness, Scarcity/Allocation, and Energy.
The gains they provide aren't about to be stopped by any recession, either, even if the Federal Reserve and the government never get around to admitting we're in one.
Follow Keith on Twitter on Facebook.
The 2016 presidential election is already forecast to be the most expensive in history, with billions yet to be spent in the run-up to November. Those billions are very much in play, and there's one company poised to swoop in and grab the lion's share of that windfall - gains of up to 420% from 97 television stations in every battleground state. Click here to learn the ticker, and get all of my Total Wealth research, too, at no charge.
Join the conversation. Click here to jump to comments…
About the Author
Keith is a seasoned market analyst and professional trader with more than 37 years of global experience. He is one of very few experts to correctly see both the dot.bomb crisis and the ongoing financial crisis coming ahead of time - and one of even fewer to help millions of investors around the world successfully navigate them both. Forbes hailed him as a "Market Visionary." He is a regular on FOX Business News and Yahoo! Finance, and his observations have been featured in Bloomberg, The Wall Street Journal, WIRED, and MarketWatch. Keith previously led The Money Map Report, Money Map's flagship newsletter, as Chief Investment Strategist, from 20007 to 2020. Keith holds a BS in management and finance from Skidmore College and an MS in international finance (with a focus on Japanese business science) from Chaminade University. He regularly travels the world in search of investment opportunities others don't yet see or understand.