The Yahoo stock price today (Wednesday) is climbing for two reasons: Yahoo! Inc. (Nasdaq: YHOO) met Wall Street's earnings expectations for Q1 2016, and the company is inching closer to an acquisition.
Yahoo's Q1 2016 earnings report did show revenue is declining year over year, but Yahoo still remains an attractive takeover target for the right company. YHOO stock shareholders hope a deal emerges soon.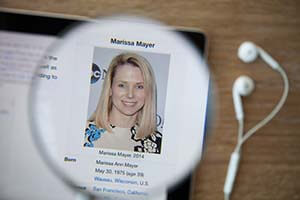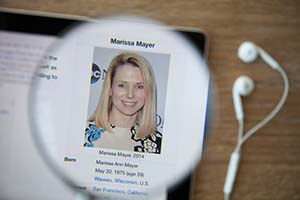 Before we get to that, Money Morning wanted to make sure our readers knew more about Yahoo's Q1 2016 earnings report and why the Yahoo stock price today is higher.
Yahoo reported adjusted earnings per share (EPS) of $0.08 on $1.087 billion in revenue. That beat Wall Street's expectations of $0.07 on $1.08 billion in revenue. Wall Street didn't set the bar high, though, as profits were expected to fall.
In Q1 2015, Yahoo reported revenue of $1.23 billion. That means revenue fell by 11.62% from the same time a year ago.
To keep up with competitors, CEO Marissa Mayer has made a bigger push in generating mobile ad revenue. She introduced Livetext, a mobile app that is similar to Snapchat and Instagram, in July 2015. She also introduced a new mobile mail app in October 2015.
But the efforts did little to increase mobile ad revenue for Q1, and Yahoo announced it would shut down Livetext in March. Revenue fell from $291 million in Q4 2015 to $260 million in Q1 2016. That's a 10% decline.
And the drop off in total revenue will most likely continue…
Yahoo told its potential bidders to expect a drop in revenue, according to
Re/code
. In fact, Yahoo told bidders that revenue for 2016 could drop as much as 15%. This quarter's nearly 12% decline in revenue reinforces those estimates.
So the gains from the Yahoo stock price today stem from investors' hopes the company soon will sell itself.
And even though Yahoo is losing money, it's still going to receive a buyout offer. Here's why companies want to acquire the Internet giant…
Yahoo Stock Price Today Climbs, Shareholders Still Hopeful for a Buyout
First-round bid offers for Yahoo ended on April 18, and there are three confirmed bidders, according to Re/code: Verizon Communications Inc. (NYSE: VZ), private equity firm TPG, and a partnership between Bain Capital and Vista Equity Partners.
While the results from Q1 2016 show that Yahoo is clearly losing money, here's why Mayer's company is still an attractive acquisition for the right buyer…
According to Business Insider, Yahoo's patents could be worth as much as $4 billion. Over the years, Yahoo has built a portfolio of over 6,000 intellectual patents in data, advertising, and mobile technologies.
It still isn't clear if Yahoo will sell just its Internet business, its patents, or a combination of both. But whatever company ends up owning the rights to the patents, that company will have less hurdles to go through when it comes to creating new technology and devices.
Companies are also interested in acquiring Yahoo because of Yahoo News and Yahoo Mail.
According to The Wall Street Journal, Yahoo Mail and Yahoo News were the third-most visited sites in the United States in 2015. Those two sites alone received a combined total of 210 million visitors in October 2015.
All of Yahoo's platforms have a strong built-in user base. For the right company, these platforms could be turned into a massive source of new revenue. Analysts at Thomson First Call have a one-year price target of $38.85 for YHOO, which is a gain of 4.9% from today's opening price of $37.03.
The Yahoo stock price today is moving closer to that one-year price target, and it could climb even higher as the public receives updates about the bidding process.
Jack Delaney is an associate editor for Money Morning. You can follow him on Twitter and follow Money Morning on Facebook.
Profit Opportunity: Money Morning Executive Editor, Bill Patalon, shared a stock with his readers in 2011 that has returned profits of 130%. And he believes this exact same stock still has plenty of upside. Find out more about Bill's pick in his exclusive Private Briefing newsletter.