Democratic presidential candidate Bernie Sanders has long been a staunch critic of the Citizens United decision, which granted super PACs unprecedented fundraising and spending freedom.
But, under the same ruling, labor unions were also given more spending flexibility. And while Sanders reserves his harshest attacks for Wall Street donors and super PACs, he doesn't criticize the large role labor unions have in campaign fundraising...
You see, as much as he tries to distance himself from "corrupt" money in politics, Bernie Sanders benefits from the outside money of big labor unions.
One labor union in particular, National Nurses United, has spent nearly $2.8 million on ads and flyers supporting the Vermont senator in 2016, according to the Center for Responsive Politics. The union has formally endorsed Sanders for president. It buses some of its 185,000 registered nurses to his campaign rallies from state to state, The New York Times reported.
And another union, the Communications Workers of America, also spent $124,080 in support of Sanders' campaign, according to the Center for Responsive Politics.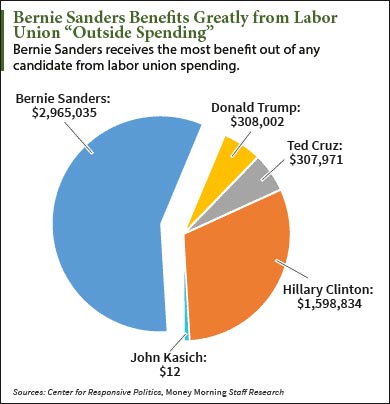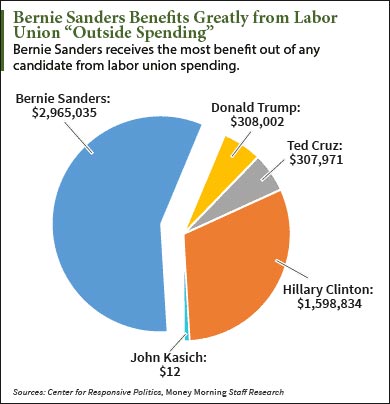 From 2012-2014, labor unions donated $418 million to Democrats and left-wing causes, according to a report from the Center for Union Facts.
To be fair, Sanders has benefited from far fewer outside spending groups than Democratic presidential front-runner Hillary Clinton has, as he has noted. Clinton has received $6.2 million more than Sanders in benefits from super PACs and nonprofits.
But another irony in the Sanders' campaign is his attendance at donor retreats that hosted Wall Street lobbyists and other donors...
Last July, Sanders went to the Democratic Senatorial Campaign Committee retreats, whose guests included lobbyists, lawyers, and members of the financial industry,
The
Wall Street Journal
reported.
And last year, Sanders directly accepted around $55,000 in Wall Street donations, according to The Wall Street Journal.
As a voice for campaign finance reform, Sanders is still one of the most trustworthy. He's accepted far less money from major industries than any other presidential candidate, save real estate magnate Donald Trump.
Even so, Sanders isn't untainted by the touch of big money in politics.
Tweet the author @cgsaucier, or leave a comment on Money Morning's Facebook page.
Beyond Obamacare: As controversial as Obamacare has been, it doesn't go nearly far enough for Bernie Sanders. His healthcare plan proposal, "Medicare for All," is essentially the single-payer type of system common in much of Europe and Canada. In short, the government runs the healthcare system, and everyone is covered for everything. Sounds great. But you'll be shocked when you see what it's going to cost...