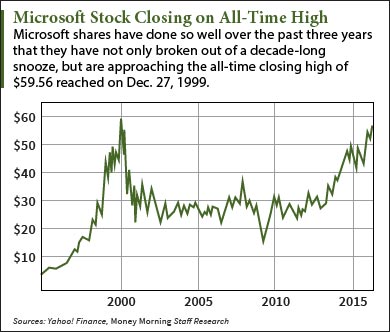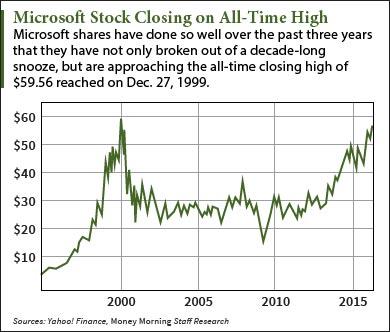 A beat on fiscal Q3 earnings could lift Microsoft stock this week, as we're likely to get more evidence the company's long-term strategy is working.
Microsoft Corp. (Nasdaq: MSFT) is due to report earnings after the market close tomorrow (Thursday). Analysts expect Microsoft to earn $0.64 a share, up from $0.61 in the year-ago quarter. The forecast for revenue is $22.1 billion, which would be a 1.7% increase over sales from the same period a year ago.
Microsoft has beaten earnings expectations for 10 straight quarters, and the Microsoft stock price has reflected the tech giant's success. MSFT stock is up 36% over the past 12 months. It's also edging close to its all-time closing high, a split-adjusted $59.56 reached Dec. 27, 1999.
The steady rise in the MSFT stock price is a tribute to the leadership of CEO Satya Nadella, who took over from Steve Ballmer in February 2014. Nadella almost immediately embarked on a "mobile first, cloud first" strategy that so far has paid off.
Microsoft has been trying to counter the impact of a steep decline in the PC market, which affects the sales of its two flagship products, Windows and Office. Sales of PCs fell 10.6% in 2015 and dropped 11.5% in the first quarter of this year (Microsoft's fiscal third quarter).
Microsoft has countered by emphasizing its Azure commercial cloud business as well as the transition of Office to a subscription-based model.
Azure grew 140% in the last quarter, while Office 360 subscriptions grew 70%. Office sales are soaring in part because of Nadella's savvy decision to make it available on the rival Android and iOS platforms.
Over the past few quarters, growth in the cloud businesses has more than offset the ripple effects of lower PC sales.
As of last quarter, Microsoft's commercial cloud business had grown to an annual run rate of $9.4 billion. The company's goal is to get the cloud run rate to $20 billion by 2018.
Whether the pace of this growth is on track is just one of the things investors will want to keep an eye on in the Microsoft 2016 Q3 earnings…
What Matters for Microsoft Stock in 2016 Q3 Earnings
Nadella also revamped the Windows business model. Microsoft offered Windows 10 to users as a free upgrade, although PC manufacturers must still pay for the privilege of pre-installing the operating system on new PCs.
Microsoft is doing everything it can to spread the use of Windows 10, in fact. The same operating system runs on PCs, tablets, and smartphones. The idea is to make the Windows platform more competitive with the mobile-based ecosystems of rivals Apple Inc. (Nasdaq: AAPL) and Alphabet Inc. (Nasdaq: GOOGL, GOOG).
Expect Nadella to report on the progress of Windows 10 adoption in the analyst conference call. The most recent figure was 270 million. Microsoft has said it wants Windows 10 on 1 billion devices by 2018.
Microsoft wants to spread Windows a widely as possible to make it easier to monetize with add-on software and services.
Money Morning Defense & Tech Specialist Michael A. Robinson likes Microsoft stock for a reason most analysts fail to mention – its leadership in the area of augmented reality.
"This is a market that's set to go mainstream in 2016, and the market will be huge," Robinson said. The virtual reality/augmented reality market is forecast to be worth $150 billion by 2020, with the augmented reality portion – the part Microsoft is targeting with its HoloLens technology – dominating.
Overall, analysts appear to expect an upbeat Microsoft 2016 Q3 earnings report – a good sign for MSFT stock going forward.
The Long-Term Outlook for Microsoft Stock
"Every piece of the business seems to be moving in the right direction," wrote UBS analysts Brent Thill and Michael Turrin in a note to clients last month.
Unless Microsoft stumbles unexpectedly, Nadella's strategy should continue to grow earnings steadily over the next several years, which is why Microsoft stock is a buy right now.
Bullish analysts have one-year price targets in the mid $60s, about a 16% gain from the current Microsoft stock price of $56.
Looking ahead to 2017, Morningstar's consensus estimate for earnings is $3.14 a share. That would put the MSFT stock price at about $70 – a 25% gain from the current price.
Follow me on Twitter @DavidGZeiler or like Money Morning on Facebook.
Apple Dividend Forecast: Most expect Apple to announce a dividend increase when it reports its Q2 earnings, as it has done the past several years. The only suspense lies in how big the increase will be. And while past Apple dividend increases have been generous, there's good reason to expect a major surprise this year…