Official stats (like April's annual inflation rate of -0.2%) would have us all believe that inflation is extremely low, scraping levels we last saw at the nadir of the financial crisis seven years ago.
But we all know that's not true. We feel the effects of inflation every day at gas stations, grocery stores, restaurants - anywhere we spend money.
Virtually everything the Fed has done - all those trillions printed, all that market interference with historic levels of easing - has ostensibly been to achieve the central bank's stated goal of pushing inflation back up to 2%.
So far all that's really done is boost stocks and buybacks to stratospheric levels, thwart the free market, increase wealth inequality, and saddle future generations with debt: a staggeringly expensive failure.
At least that's what most sensible people would say. For central bankers, the conclusion is, "We simply haven't printed enough money yet."
And that means "helicopter money" and inevitable out-of-control inflation are on the verge of becoming a reality. So I'm going to show you the one investment to own for the day these bankers go over the edge.
How the Dual Mandate Comes into Play
In addition to conducting monetary policy (insane or not), and unlike most of the world's major central banks, the U.S. Federal Reserve has the so-called "dual mandate" that includes achieving optimal employment.
On the surface of it, monetary policy and employment seem to be totally unrelated concepts... but when you're in the basement printing billions of dollars each month while simultaneously heaving precious capital into a giant dumpster fire, you're likely prone to all sorts of leaps in logic.
In any case, Janet Yellen's Federal Reserve is big on unemployment. After all, that is in fact Yellen's specialty, and it's why we hear so much about it from her.
Although official U.S. unemployment was recently at an eight-year low, it just rose from 4.9% to 5.0% in March.
That's considered good news, because more people have become "encouraged" enough to seek employment and reenter the job market. It's a sign of confidence, and there are others.
Indeed, a March report from the San Francisco Fed concluded: "While higher-wage baby boomers have been retiring, lower-wage workers sidelined during the recession have been taking new full-time jobs. Together, these two changes have held down measures of wage growth."
But... if we look at the Atlanta Fed's "Wage Growth Tracker," as suggested by the authors of the San Francisco Fed report, then a different picture gets painted.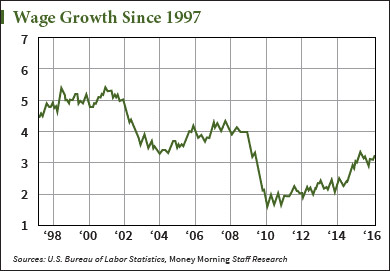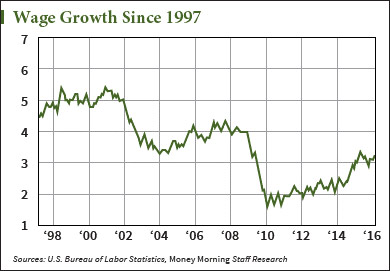 When factoring out part-timers and more highly paid senior employees (approaching retirement), the results show increasing wages since the end of the Great Recession.
By this measure at least there's some signs that inflation may be on the horizon. But the Fed is likely be getting more - a lot more - than it bargained for.
History and current events show they're clearly after inflation at any cost.
Central Banks Are Pushed Toward an Inevitable Conclusion
Still, central bankers are frustrated that they can't seem to kick-start inflation. The Fed alone has printed $3.5 trillion, while Europe and Japan have injected trillions more and activated negative-interest-rate policies (NIRP).
That was supposed to kick-start the world economy and get inflation percolating, but the needle has barely budged on both counts.
In fact, global growth is slowing, and inflation is the lowest it's been since the worst of the financial crisis.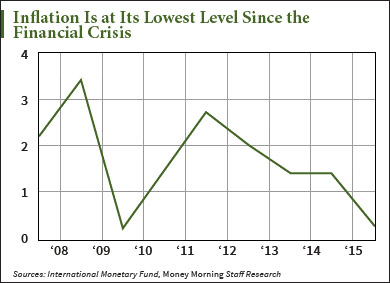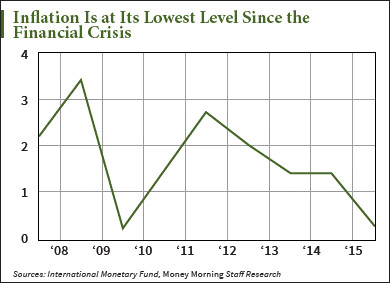 You can (and indeed should) bet that central bankers will respond to this problem in the worst way imaginable...
For example, Finland, Switzerland, and Japan are on a growing list of countries seriously debating the idea of unconditional basic income for every citizen.
But not everyone in Europe on is ready to go along on the helicopter ride.
German Finance Minister Wolfgang Schäuble told Reuters that the European Central Bank's record-low rates are leading to "extraordinary problems" for German banks and pensioners.
When asked if "helicopter money" was in the ECB's toolbox, Mario Draghi, president of the European Central Bank, said, "It's a very interesting concept that is now being discussed by academic economists and in various environments."
That set off a maelstrom in Germany. Schäuble went on the appeasement circuit, saying ""I don't have the impression that serious discussions are taking place within the ECB on this."
Right. And central bankers are die-hard Austrian economists.
This terrible idea is gaining increased traction. Growing numbers of mainstream economists advising too-big-to-fail banks and fund managers are entertaining helicopter money. The Wall Street Journal recently published "The Time and Place for 'Helicopter Money,'" lending an air of legitimacy to the concept.
Former Fed Chairman Ben Bernanke, in his recent Brookings Institution blog post, does a fine job of revisiting the idea, concluding helicopter drops could well become "necessary."
And Yellen herself, in February, admitted NIRP could come to America. Never mind that they've had the opposite of the desired effect in the Eurozone, Denmark, Sweden, Switzerland, and Japan. "We're taking a look at them ... I wouldn't take those off the table," she told Congress.
Consider too that the International Monetary Fund, that bastion of conservative economic policy, has just downgraded its global economic outlook for this year and next. Its spring World Economic Outlook recommends, you guessed it, more aggressive policies and fiscal support to boost growth.
By now it's easy to conclude that inflation is the end game; central planners be damned if they don't eventually achieve it.
That's what the markets are sensing. And that's why commodities have awoken.
So here's what you can do about it...
This Investment Is Already on the Way Up
This is the kind of environment where investors look to tangible goods as a means of preserving their purchasing power.
The PowerShares DB Commodity Index Tracking Fund ETF (NYSE Arca: DBC) provides a simple and affordable way to invest in commodities futures. It includes fourteen of the most heavily traded and relevant physical commodities: aluminum, Brent crude, copper, corn, gold, heating oil, light crude, natural gas, gasoline, silver, soybeans, sugar, wheat, and zinc.
DBC last peaked in April 2011 at $31.90, then proceeded to lose 60% by last February as QE goosed markets and siphoned capital away.
But now the markets are realizing the gig is up and NIRP plus helicopter money are bound to bring on the desired inflation, eventually beyond what central planners are planning on.
DBC is up 7.2% in the last two-and-a-half months, and I expect it will continue climbing as investors lose faith in paper assets and opt instead for hard assets.
Given the run-up in gold and silver, the inflation thermometer's mercury is on the rise. And the worst kept secret in Washington, that Yellen is a Keynesian dove, has long been out.
All that, and there's also an election on the way.
Follow Money Morning on Facebook and Twitter.
We expect the Fed will get its inflation in the end, no matter what it costs the American people. So we're giving you free and immediate access to Michael Lewitt's 2016 Gold Profit Playbook. Gold is another great way to protect yourself from what's coming, and in order to profit, it's essential to get in now before the yellow metal goes straight up. Click here to get Michael's gold playbook plus his Sure Money investor briefings at no charge whatsoever.
Join the conversation. Click here to jump to comments…
About the Author
Peter Krauth is the Resource Specialist for Money Map Press and has contributed some of the most popular and highly regarded investing articles on Money Morning. Peter is headquartered in resource-rich Canada, but he travels around the world to dig up the very best profit opportunity, whether it's in gold, silver, oil, coal, or even potash.