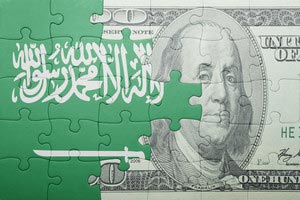 President Obama's trip to the Saudi capital of Riyadh this week comes at an awkward time…
That's because Saudi Arabia sent a clear warning to the United States last month while Congress circulates a bill that would hold the Saudi government responsible, in part, for the Sept. 11 attacks.
The bill would restrict the U.S. government from granting immunity to any country found responsible for terrorist attacks on U.S. soil. Since 15 of the 19 Sept. 11 hijackers were Saudi citizens, the bill's passing would lead to an investigation of the Saudi government's role in the attacks.
In response to the legislation, the Saudi foreign minister, Adel al-Jubeir, visited lawmakers in D.C. to make a threat…
He said his country will sell up to $750 billion in U.S. investments – including bonds and stakes in individual companies – if the bill passes. According to The New York Times, the Saudis would go through with the sale before the U.S. government could freeze their assets.
The move could hypothetically create massive stock market turmoil.
But there's a catch.
You see, Saudi Arabia's threat is largely futile…
Why Saudi Arabia's Warning Holds Little Water
If the Kingdom decides to sell $750 billion worth of U.S. bonds and other investments, it would barely harm the U.S. economy.
For example, Saudi Arabia's sale of billions of dollars' worth of bonds would put upward pressure on interest rates. But the Federal Reserve could easily insulate the entire economy by managing interest rates to counter the blow of the sale's effects.
Meanwhile, U.S. indexes like the Dow Jones Industrial Average would rally from the bond price sell-off since bond prices move opposite stock prices. When bond prices posted the biggest weekly sell-off in four months during the week ended March 4, the Dow Jones gained 3% that same week.
If Congress passes the bill and the Saudis follow through on their threat, the United States might actually have to thank the country for its boost to U.S. markets.
Stay tuned to Money Morning for more of the latest news on Saudi Arabia. Follow us on Twitter and like us on Facebook.
Saudi Arabia Will Create the World's Largest Public Company… Saudi Arabia is in a transitional period right now. As renewables and natural gas transform the global energy landscape, the Saudis are tapping into a new mantra – "diversify or die." And this strategy includes creating the single largest publicly traded stock in the world…
Related Articles: