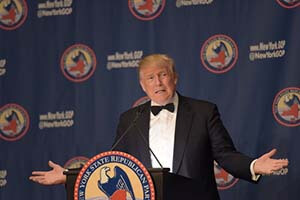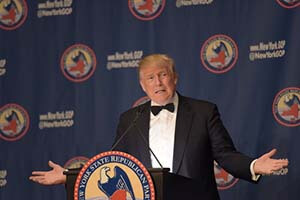 Yes, the often pugnacious Republican front-runner Donald Trump will be adopting a more presidential image, according to his new campaign chief, Paul Manafort.
At a private meeting on Wednesday in Hollywood, Florida, Manafort met with around 100 Republican National Committee members, The New York Times reported. There, he talked with the members about how Trump's persona for the last several months has been "evolving." Manafort continued to say that people will start to see more "depth to the person, the real person."
The NYT received a tape of the meeting, although no members of the press were invited. It's clear that the Trump campaign's strategic shift was meant to be kept under wraps…
How Trump Is Acting More Presidential
For the majority of election 2016, Donald Trump has adopted an abrasive, confrontational campaign style. This has helped him tap into the anger of many anti-establishment Republicans. His tough rhetoric has sent him surging in the polls, maintaining a sizeable lead over his Republican opponents for much of the race.
But now that the primaries and caucuses are nearing an end, Trump seems to think it's time to pare his aggressive tone.
Manafort told CNN a day after his private meeting that Trump realizes campaign styles change.
"…What is right to start the campaign isn't necessarily the way you finish the campaign," Manafort said.
Many believe that Trump started acting more presidential after his string of Super Tuesday victories. That was when he first started talking about unifying the Republican Party.
Trump discusses unifying the GOP after his Super Tuesday victories.
But not everyone believes Trump's intentions regarding the well-being of the GOP are genuine.
In a response to Manafort's private meeting, Trump's main rival Ted Cruz said that Trump is duping Republicans on the "Mark Levin Show."
Cruz told conservative personality Mark Levin that Trump is a liberal trying to pretend he's conservative. He also accused Trump of lying to Republicans by putting on an "act and a show."
Here's a CBS report that discusses whether Trump is actually acting more presidential…
Is Trump is acting more presidential
? Let us know what you think
@moneymorning
or on 
Facebook
.
You can continue following Money Morning for more coverage of the 2016 presidential election.
Who's Afraid of Donald Trump? A powerful group of men joined together on Jekyll Island. Their goal was to secretly work their influence over the American people. And to stop the progress of Donald Trump's presidential campaign… at all costs…